Only In India: Dog Gets Aadhar Card And He Can Now Apply For Government Job
Earlier, we had heard news about cow getting a driving license or a buffalo getting admit card to sit for an exam. The cases seem to be pretty common these days. In yet another government official goof up, a 7-years old canine Tommy Singh, son of Sheru Singh has been officially registered as an Indian citizen with Aadhar card issued by UIDAI via an agency in Madhya Pradesh's Bhind district on April 27, 2015.
According to the details in his Aadhar card, the lucky dog, Tommy singh was born on November 26, 2009 to his father Sheru Singh and his unique citizenship number is 5485 5000 8000. While being arrested and interrogated by the district police, Azam Khan, the proud owner of this pet dog said that the reason for getting a card for his dog is simply because the dog stays with him. But Khan didn't have explanation for why he has given his dog a surname as Singh.
Further report says that the Aadhar enrollment agency involved in issuing the card has a history of making cards for animals like birds and dogs. This hilarious incident came into light when residents in the village complained to police about difficulties getting Aadhar cards from the agency. The supervisor of the agency has been arrested by the police for forgery and further investigation.
So, all the while, the agency has been issuing cards to animals and not to humans? It seems Aadhar's computers and their biometric system need to be updated for proper 'human identification'.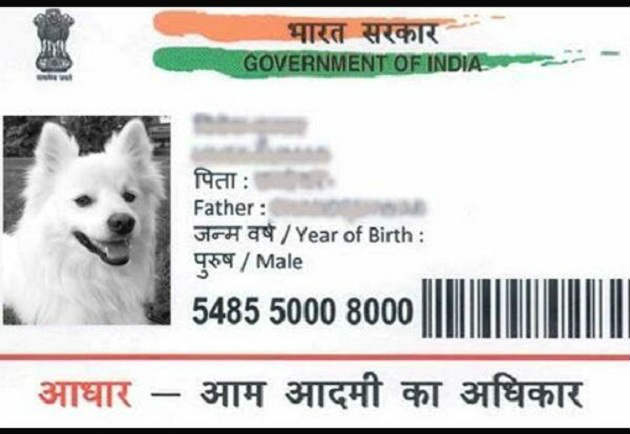 We are now waiting for Tommy Singh's reaction on becoming a new citizen of India.