An Indian Girl Says She Doesn't Date Indian Guys. And Then She Learns A Shocking Lesson Of Her Lifetime.
Racism and discrimination have been a problem in the world of online dating. Here, Manoj created a profile on an online dating site POF and messaged an Indian girl whom he knows, after which he got a reply from that girl saying – "Sorry, but I don't date Indian guys."
Here is the screenshot of the messages exchanged between Manoj and the girl.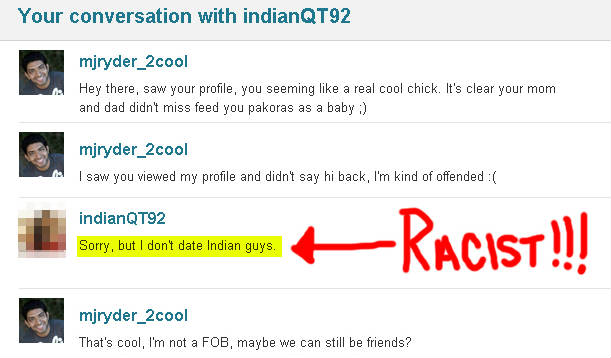 Later, Manoj and his friend decided to teach the girl the biggest lesson of her life which she would never forget. Manoj's friend created an account on the same site and messaged the girl on which he got an instant reply for a date. Watch this video and see what happens next…
"It's NOT OK to be a racist…hope you learned the lesson."
Source: Gthtjkt