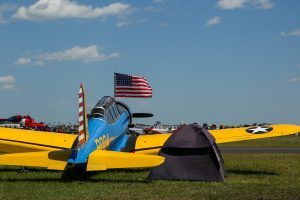 If you're looking to buy a new aircraft, or just want to experience the events and atmosphere of the SUN 'n FUN Aerospace Expo, you want to make sure you don't forget anything before jetting off. That's why BWI Aviation Insurance has released a checklist of everything you need to remember before attending.
In it, you will find details on all the essentials such as aircraft camping, flight lines, budgets for aircraft shopping, and aircraft insurance.
Check it out at https://bwifly.com/blog/sun-n-fun-aircraft-checklist-dont-forget-insurance
By providing their checklist, the aircraft insurance provider makes it easier for you to prepare for your visit to ensure you make the most of the SUN 'n FUN Aerospace Expo.
Florida's SUN 'n FUN Aerospace Expo offers a wide range of events, workshops, and forums for aircraft owners and enthusiasts. Furthermore, if you are looking to invest in a new aircraft, the expo is an opportunity for you to speak with dealers and browse the options available. BWI Aviation Insurance understands that with so much on offer, it is important that you are well-prepared prior to arrival.
The checklist gives you practical advice for camping in Florida, such as what clothing and toiletries to bring. Additionally, you'll learn about the required documentation and parking designation signs you need for your aircraft.
If you are looking to purchase an aircraft at the event, you are also advised to conduct research before attending the expo. BWI Aviation Insurance also reminds you of the importance of aircraft insurance and recommends getting quotes on the types of aircraft you may be considering buying to have a better understanding of the overall costs.
Having been working in the aviation industry for over 55 years, BWI Aviation Insurance has both the experience and insight needed to provide you with insurance options. This includes finding the right rates for everything you may need for your airplanes, UAVs, and hangars.
When quoting for insurance, the company takes into consideration all of your criteria, such as your flight hours, aircraft type, and passenger load. They also understand that this can be a lengthy and complicated process, and therefore provide a trusted and streamlined service that makes it easier for you to get the right coverage for your needs.
A spokesperson for the insurance provider said, "Here at BWI, we take pride in not only providing affordable aircraft insurance but providing a great experience as well. Our knowledgeable representatives are friendly, patient, and ready to assist you with any problems or questions you may have."
Make sure you're ready for the 2023 SUN 'n FUN Aerospace Expo with this essential checklist today!
For more information, you can visit https://bwifly.com/blog/sun-n-fun-aircraft-checklist-dont-forget-insurance where you can see the full checklist.