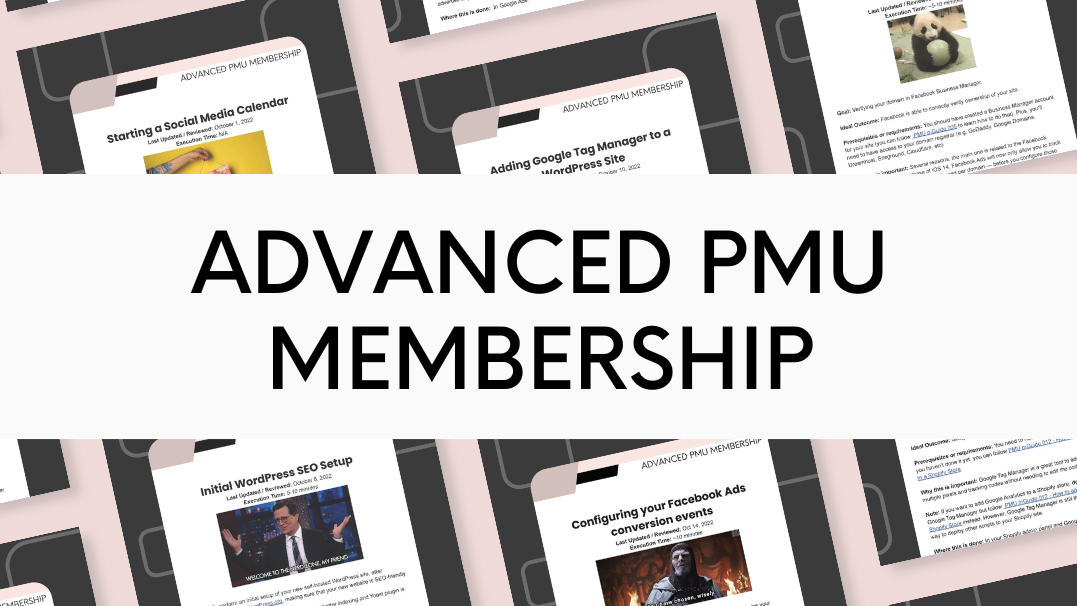 Looking to build a successful PMU business? Advanced PMU has everything you need to attract customers and grow your own company!
Their new membership program gives you a full range of marketing materials, resources, tips, e-books, and advice to help you launch and grow your very own shop. Memberships range from the introductory "guides only" level to a one-time payment lifetime membership that gives you valuable, unlimited access to all digital marketing strategies, tools, and materials, and access to all future updates.
Learn more and get your marketing membership now, at https://advancedpmu.com/membership
More and more people are realizing that the only way to achieve a high salary and enjoy a life of financial freedom is to put their passions to work as a business owner. And if you're a successful PMU artist, you know you have what it takes to go into business for yourself. But do you have the marketing acumen?
This is where Advanced PMU can help. Your membership to their digital marketing service helps you cut through all the clutter and noise online so you can stand out from the crowd and supercharge your bookings.
Learn how to develop your own branding, how to show up on Google with compliant SEO tactics, how to build a website your customers will love, and how to launch email marketing campaigns and a social media presence that current and future customers can't ignore.
Imagine learning all the tricks to attracting and engaging your own group of evangelists and heading up a popular, growing business.
You'll get all the support, tips, and info you need with your Advanced PMU membership. The agency offers step-by-step guides to accomplishing key marketing tasks; comprehensive resources that include stock photos, videos, and swipe files; a range of templates for your social media, email marketing, and advertising; and How-To e-books and videos that provide website training and easy-to-understand strategizing.
Materials and insights are updated monthly so you can stay on top of the latest marketing trends and search engine regulations.
A company representative says, "Our memberships give you everything you need to know about growing your PMU business online. Have everything at your fingertips instead of wading through tons of YouTube videos and get the best advice on the latest marketing trends monthly."
Are you ready to crush your PMU business goals? Learn more at https://advancedpmu.com/membership