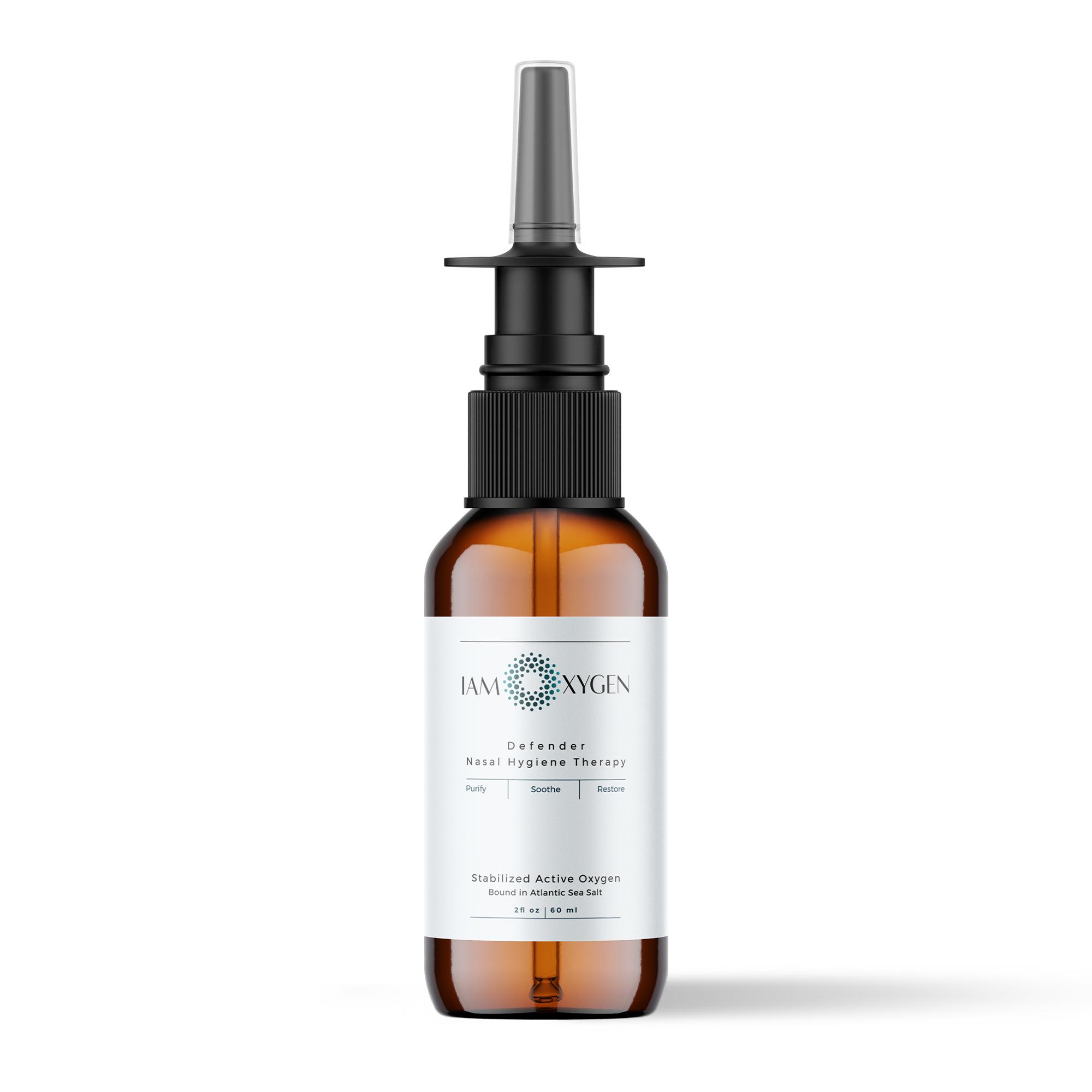 Can't seem to kick that lingering flu?
IAMOXYGEN's new bio-available solution contains stabilized active oxygen, to help wash and free the nasal passages of many toxic pathogens or disease-causing organisms in the sinuses.
The advanced spray uses the healing properties of oxygenation to lower inflammation and hydrate the sinuses thereby rinsing the airways and relieving nasal discomfort.
It can be used by people who suffer from respiratory illnesses such as hay fever, sinusitis, or the typical cold and flu.
Find more details here https://iamoxygen.com/product/defender-nasal-hygiene-therapy
According to recent research published by the United States National Library of Medicine, oxygenation is a critical determinant in the rate at which wounds, inflammation, or infections heal. Findings from the research showed that oxygenation was effective in discouraging the progression of disease-causing pathogens while enhancing immune function.
IAMOXYGEN's Defender nasal hygiene spray is infused with millions of oxygen molecules and trace minerals, making it part of the armor against the anaerobic bacteria and viruses usually found in sinus cavities. The purifying properties oxygen can provide soothing relief from irritation and pain caused by infections.
The nasal hygiene spray contains billions of active oxygen molecules and ingredients like sodium chloride and distilled water, which are 100% organic and non-addictive, making it safe for users of all ages. Intense hydration is provided via nasal treatment in the form of stabilized liquid oxygen and saline, which helps moisturizes dry mucous membranes and aids your bodies natural development of a healthier respiratory system.
Aside from its Defender nasal hygiene spray, IAMOXYGEN also offers products for skin cell and cellular mist using stabilized active oxygen. Oxygen is known to help the removal harmful toxins present in your bloodstream and on your skin's surface and rebuild healthy processes.
About the Company
IAMOXYGEN creates vegan and cruelty-free products using concentrated bio-available oxygen therapies for aid in health rejuvenation and immunity boosting. It offers organically sourced products ranging from skincare therapies to ingestible electrolyte solutions and nasal sprays.
A satisfied client said, "My flu symptoms began to disappear just three days after using the Defender Nasal Hygiene Therapy, which allowed me to get back to my normal routine. Since then, I've used Defender to keep my seasonal allergies away and improve my oxygen levels."
Your lingering nasal condition isn't going to go away by itself. Visit IAMOXYGEN's website to make an order for your very own Defender nasal hygiene spray today!
Go to https://iamoxygen.com/product/defender-nasal-hygiene-therapy to find out more!