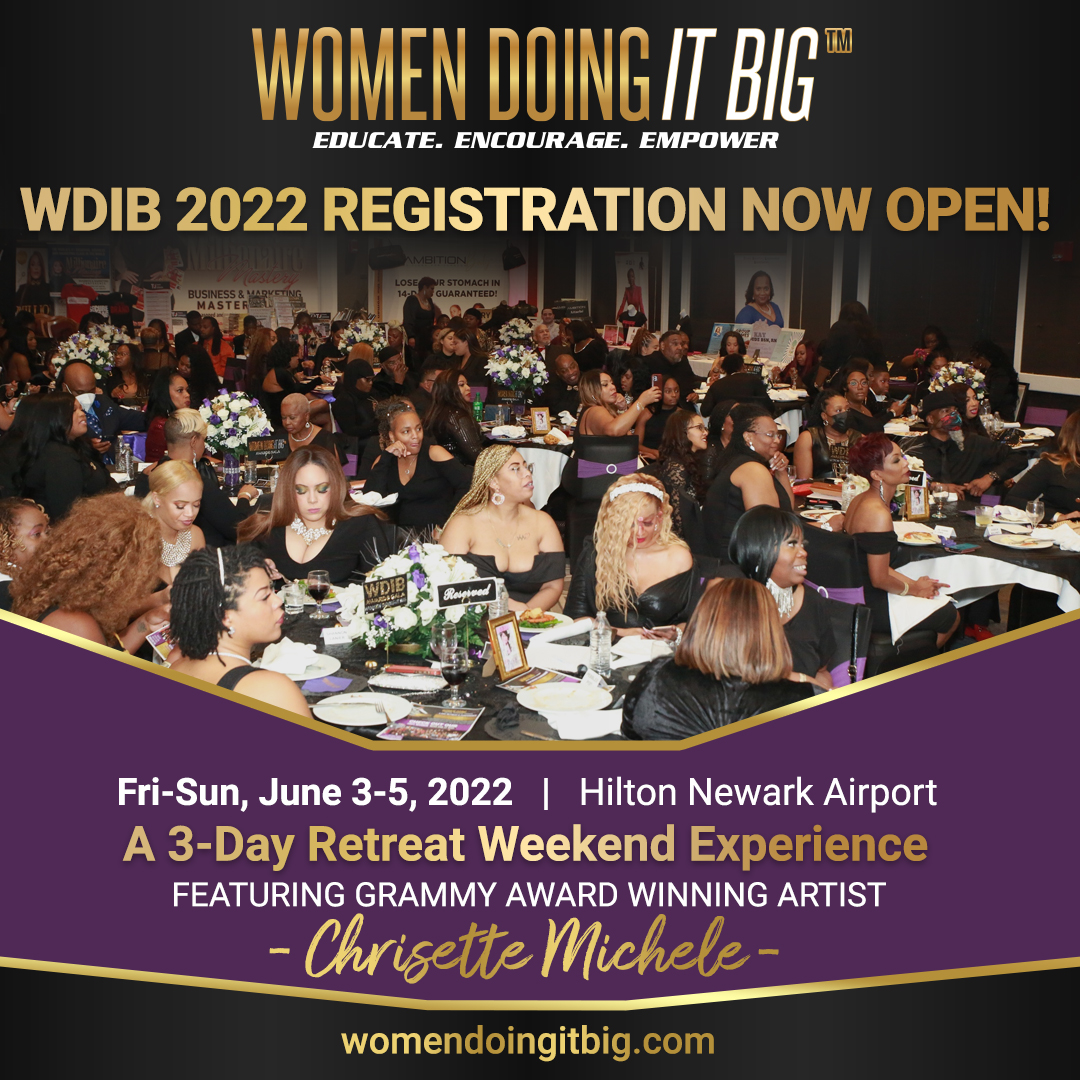 Hey, there, gorgeous! We see you! Thank you for being you and showing the world just how powerful a woman can be if she puts her mind to it. Join us for our 3-day event in June and meet more than 200+ women from all around the world who are just as amazing as you are!
World-renowned female entrepreneur, Tiana Von Johnson, is marking 2022 as the year of women empowerment with her three-day conference from June 3 to 5 at the Hilton Newark Airport. The 9th Women Doing It Big event will host more than 200 women from all around the world and will feature a series of talks hosted by an outstanding cast of celebrities and influencers.
Register today at https://www.womendoingitbig.com/wdib-home 
WDIB has always hosted amazing people from actress and producer Vivica A. Fox, Naturi Naughton from the hit show Power, the legendary Master P, R&B legends Lil Mo' and Syleena Johnson, Kenya Moore from Real Housewives of Atlanta, Miko Branch of Miss Jessie's, Actresses Elise Neal and Antonique Smith, Lisa Nicole Cloud from Married to Medicine, Dr. George Fraser, and many more.
The goal of our 3-day women empowerment conference is to help you realize that you are important. Wherever you are in life, you can make a difference in the world through the work that you do. Our female-led and -run program gives you the power to claim what was already there.
Women Doing It Big (WDIB) was founded by Tiana Von Johnson to educate, encourage, and empower women around the world to build their businesses, communities, and families through entrepreneurship. WDIB produces educational, entertaining, and inspirational conferences showcasing female business owners, community organizers, creative artists, activists, philanthropists, and influencers who do it big in every sense of the word.
The 9th WDIB event will feature Grammy award-winning R&B singer and actress Chrisette Michele, Bishop RC Blakes, a performance by the legendary Force MD's, and over 25 powerful world-renowned speakers, trainers, and experts. You will have an empowering weekend that includes celebrity and expert speakers, plated meals and buffet, workout parties, game night, rare affair celebrity fashion party, morning intensive classes with expert trainers, and men's leadership classes.
Tickets start at only $750 for the entire event. A discount room block is available at only $119 per night. Attendees are encouraged to contact us directly to discuss any payment options and promotions.
Mark your calendar and save the dates for this awesome BIG event!
DO IT BIG! We would love to see you soon! Go to https://www.womendoingitbig.com/wdib-home so you can learn more.