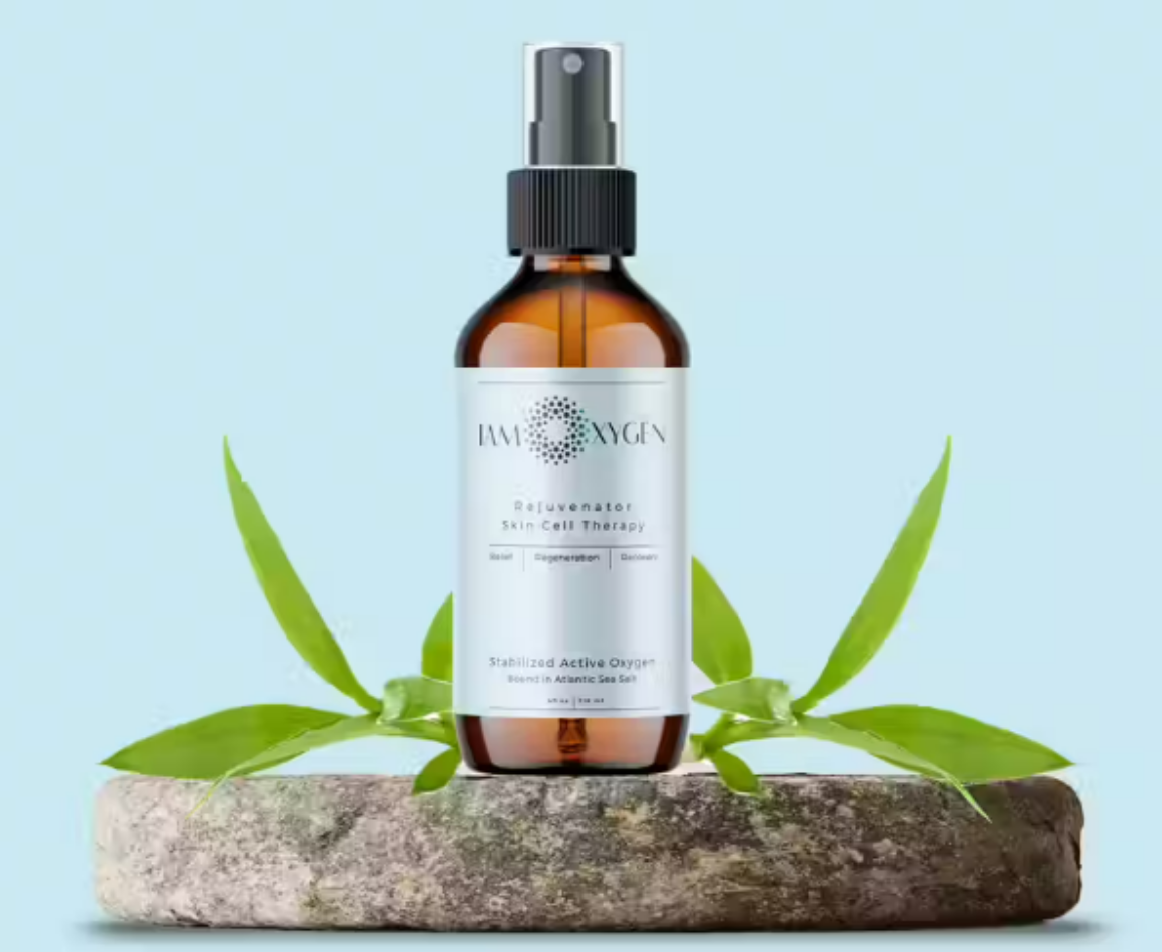 When it comes to skincare, it's only natural that you may feel the need to AIR your grievances about inferior treatments. It seems like in a market so oversaturated with unpronounceable chemicals, it's hard to find even a MOLECULE of hope!
I AM OXYGEN's Rejuvenator spray, however, change everything using the simple, natural power of - you guessed it - oxygen! The product can be applied anywhere on the body to feed your cells the diet they deserve, leaving you with softer, more supple, hydrated skin.
The oxygen-boosting spray is especially helpful for those healing up after a tattoo, and it can even help sunburns and scars to fade more quickly. The product offers immediate relief from highly invasive medical spa treatments.
To read more about the product, visit http://iamoxygen.com
Suitable for daily application, the skin cell therapy mist spray delivers pure stabilized bio-available oxygen to your skin. The product encourages collagen production and increases cellular metabolism, reinforcing your skin's recovery and accelerating tattoo healing thanks to its anti-inflammatory properties.
I AM OXYGEN's Rejuvenator skin cell therapy is pH-balanced, oxygen-boosting skin care product that offers you a natural alternative to traditional formulas that rely heavily on ascorbic and hyaluronic acids, which often cause inflammation and dryness when used on regular basis. The products are also suitable if you have sensitive skin and can also be used as a more cost-effective replacement for a medical spa oxygen therapy.
The company's bioavailable liquid oxygen sprays encourage cell production, increasing the amount of oxygen available to the underlying developing cells by fueling their metabolism. That way, you can help your body and cells recover from the inside out.
Each bottle of the Rejuvenator product contains 1,000 spray pumps and has a 2-year shelf life. In addition to 350,000 ppm of pure bio-available stabilized active oxygen, it also has Atlantic sea salt, and distilled water among its ingredients.
Alongside the Rejuvenator spray for external skin treatment, the company offers you an Infusion- internal cell therapy that you can add to water or place under the tongue to increase bioavailable oxygen to your whole body and improve immunity. Oxygen is necessary for constructing replacement cells in the body and with the depletion of oxygen from environmental pollutants, it is necessary to add an oxygen supplement to your daily routine.
I AM OXYGEN has also developed a nasal spray that helps open up your airways and enhance respiration. As the nasal passages are the first line of your defense against pollution, allergens, and other irritants, this product delivers a high amount of active oxygen and saline. Your nose is the ideal environment for germs and sickness and the only effective way to clean your nose is nasal irrigation. There is nothing more powerful than I AM OXYGEN nasal hygiene therapy.
The company is devoted to bringing new advances in oxygen, ozone, and bio-oxidative therapy to consumers across the globe. They value your health and care for the environment, so they create only products that are organically sourced, 100% natural, and cruelty-free. For every bottle purchased they donate to https://ozonewithoutborders.ngo and https://theoceancleanup.com/ The company understands that nature is the perfect regenerator so they donate to these two organizations to aid in the advancement of the science surrounding bio-oxidative therapies and without the ocean we will all parish.
Don't leave your skin out to dry - literally! The body is a complicated organism, and each part needs special, gentle treatment to function most effectively. The skin is no exception, so get the I AM OXYGEN therapy today and start treating your skin and cells right!
Get your Rejuvenator spray at https://iamoxygen.com/product/rejuvenator-iamoxygen-skin-cell-therapy-2