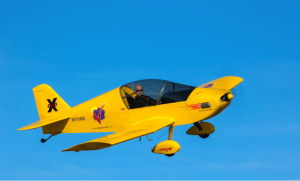 As you probably know, there are lots of options for engine choices with the Sonex. The original model was designed to use the 80-hp AeroConversions AeroVee engine, but the B-model, for example, can accommodate all the legacy options as well as the UL Power 260 and 350 series engines.
In other words, with Sonexes, you really can 'pimp your ride!'
BWI Aviation insurance, a 42-year-old, family-owned and operated agency has published a new guide explaining the challenges of insuring kit aircraft such as Sonex while detailing the steps that can be taken to ensure securing you the most affordable rates.
Check them out at https://bwifly.com/aircraft-insurance/sonex-aircraft-insurance-guide
The A+ rated aviation insurance firm, itself recognized as a pioneer in the field has released the new report to help owners better appreciate the insurance options available as they relate to that owner's specific situation/requirements. For example, if you want to finance your Sonex aircraft purchase, the lender will typically demand that you comply with specific insurance requirements. Moreover, certain states require owners to carry liability insurance.
American kit airplane producer Sonex Aircraft manufactures four kits for homemade metal monoplanes – the Sonex, Waiex, Xenos, and Onex, all lightweight, metal, low-wing, two-seat aircraft – as well as the SubSonex Personal Jet and Xenos-B Motorglider. All Sonex Aircraft builders are required to register their planes as Experimental/Amateur-Built Aircraft – and securing insurance for homebuilt aircraft can be difficult for the uninitiated first-time buyer. This is particularly true for Sonex models, which carry the reputation of being 'fun' planes.
In its new guide, BWI Aviation Insurance advises owners that aviation insurance rates on homebuilt aircraft are especially high, due to the unknown – and unregulated – nature of their construction. However, several steps can be taken to mitigate the higher rates, such as logged flight time on the make and model that you are attempting to insure: even owners with significant experience flying non-Sonex aircraft may not qualify for major rate reductions with some carriers.
The agency recommends – above all else – that you obtain at least 20-30 hours of flying experience in the same Sonex model being constructed. Doing this before activating any policy will help to lower your insurance rate. If such a course of action is unfeasible, BWI Aviation recommends getting experience with another type of aircraft and conducting practice flights with a certified flight instructor (CFI). A tailwheel endorsement and completed safety course should also prove beneficial for insurance purposes.
One BWI client commented: "Jackie was extremely helpful while insuring my first aircraft. She called within an hour of sending an inquiry online and found a very affordable rate. She was also very patient and accommodating with the binding date while the pre-buy was finished."
Whether you want to wheelies in the air or do some back-country explorations in your new plane, you should call BWI at 800-666-4359 once you're ready!
You can go to https://bwifly.com/aircraft-insurance/sonex-aircraft-insurance-guide to learn more about Sonex and your insurance options moving forward.