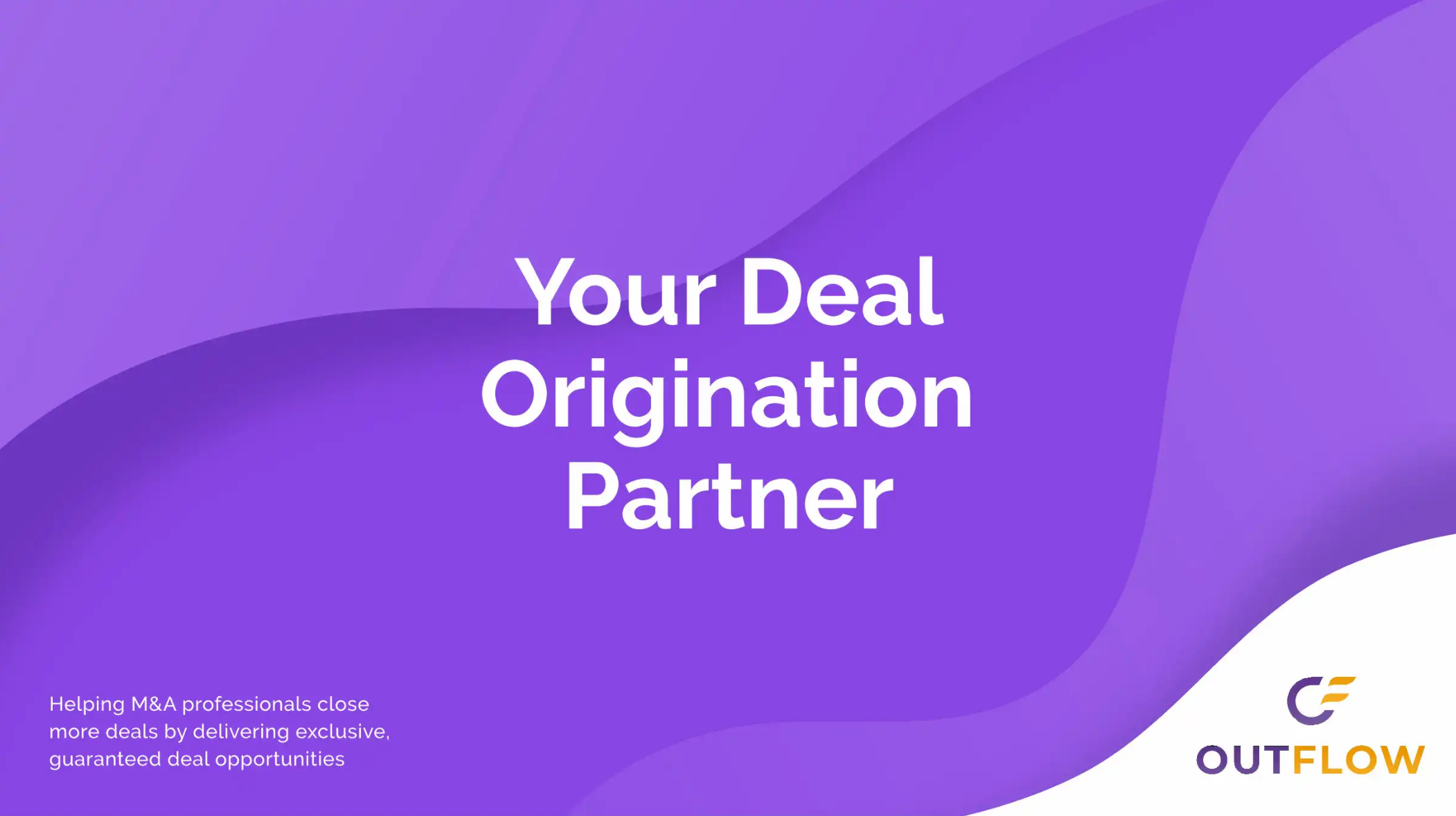 Are you an investment banker or M&A advisor looking for new prospects? Join OutFlow's deal origination platform to get reliable pipeline management strategies today!
The deal origination services, which include lead generation and qualification, will enable you to secure prospects, generate more conversions, and create a consistent investment pipeline.
Book a discovery call with OutFlow by visiting https://www.outflow.agency
The OutFlow platform will revolutionize your outbound marketing by developing sales pipeline strategies that identify and qualify prospects for you. The deal sourcing system can restructure your lead pipeline into a scalable asset by maximizing the volume of deals available to you.
The agency will then identify exclusive, off-market deals and evaluate their risks, before connecting you with sector-specific prospects, as well as vetted regional opportunities. As such, you can save time that you would otherwise spend conducting outbound marketing operations, searching databases, and following up on leads.
When you partner with OutFlow, you can focus your attention on closing deals and capitalizing on as many prospects as possible. Moreover, the platform ensures that these opportunities are reliable and consistently moving through your pipeline so that you can manage your targets and achieve your investment goals.
A consistent pipeline is a highly-effective asset for advisors, brokers, investment bankers, and private equity professionals alike. By streamlining your sales processes and increasing your turnover rate, as well as diversifying and managing your portfolio, the platform will help you develop a network of long-term connections and opportunities.
About OutFlow
The deal origination solutions provider is trusted by over 200 M&A advisors, investment banks, and exit planners. OutFlow helped the team of investment bankers at Global Wired Advisors secure a $40 million eCommerce deal by fostering sell-side demand and generating up to 30 new appointments each month.
A spokesperson for the company said, "Start getting in front of the right targets that you want to work with. Whether it be a specific sector, market, geographic region or size of company, OutFlow can get laser focused on your ideal prospect."
OutFlow will transform your investment pipeline into a scalable asset – visit the agency online to find qualified leads for your M&A or investment banking firm!
Browse case studies by visiting https://www.outflow.agency