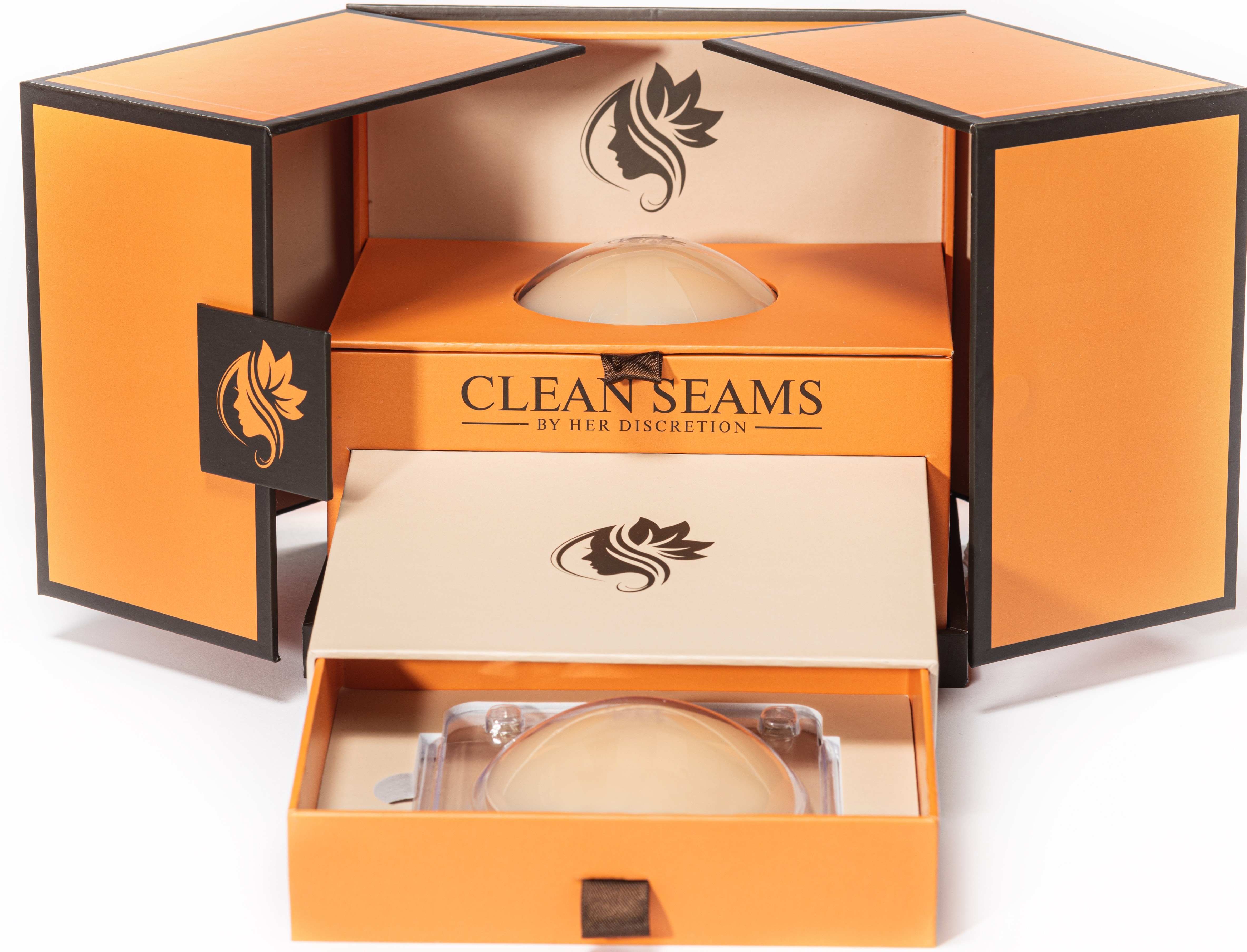 If you're someone who loves all kinds of fashion - especially see-through blouses and backless dresses - but you hate being limited by thin strapped camisoles and strapless bras that carve out a virtual valley around your body, now you have options!
CleanSeams by Her Discretion are adhesive, BPA-free nipple covers you can wear under anything! Whether it's translucent clothing, synthetics, sports clothing - including jogging singlets and swimwear - or anything else that reveals your lovely decolletage, CleanSeams gives you the smooth, natural look you want. And deserve!
Get two pairs now, along with a beautiful travel case at https://www.amazon.com/dp/B0B2W5TG6N?ref=myi_title_dp#customerReviews
Not all women's body types are suited to sports bras or conventional bras. Many women complain bras with a bigger cup size come with underwires and wide straps that are bulky and uncomfortable, create the dreaded back roll, and interfere with the way their clothing lays. CleanSeams by Her Discretion has the solution. Their nipple covers provide the discretion you want so you look and feel your best.
CleanSeams are ultra-thin, soft, flexible, and lightweight, making them comfortable for extended periods. Their no-show design gradually thins from the middle to the edges for a smooth and natural appearance. "We are thrilled to introduce CleanSeams to women everywhere," says a spokesperson for Her Discretion. "We know nipple covers are an essential part of every woman's wardrobe, but finding ones that are effective, comfortable and durable can be a challenge. CleanSeams addresses all those concerns."
Made from high-quality materials, CleanSeams are virtually invisible underneath sheer clothing and bulky sports clothing. They are also an ideal alternative to strapless bras for backless dresses and backless summer wear, and a slip-proof solution for every type of swim suit.
Easy to apply, Clean Seams are a peel-and-stick product that, with proper care, you can use again and again.
Your CleanSeams nipple covers come in a beautiful travel box with little drawers that protect each pair individually from dust, and any other type of damage, enhancing their longevity while providing you with a decorative accessory you'll be proud to display on your vanity or dresser.
A recent customer says, "I just ordered my CleanSeams nipple covers, and I couldn't be happier! The packaging is absolutely beautiful and the product itself is better than I imagined. These nipple covers are incredibly comfortable, provide great coverage, and are invisible under my clothing."
Her Discretion offers a comfortable, durable wardrobe solution you can rely on to make whatever blouse, dress, or tee you love, love you right back.
Is it time to stock up on the best nipple covers available? Learn more at https://cleanseams.com