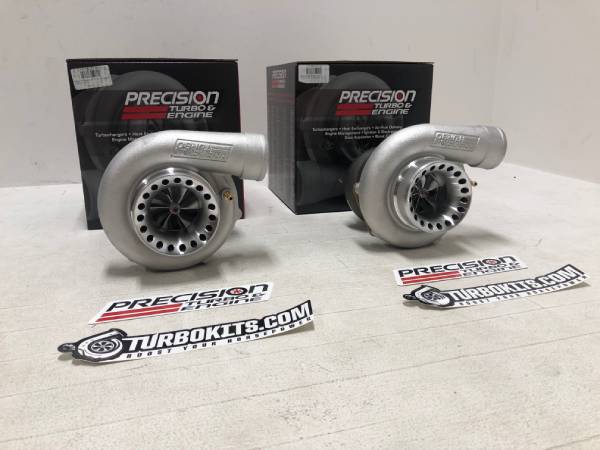 You now have access to Precision Turbo's Competition Engineered Aerodynamics billet wheel technology, which takes power and durability to a whole new level. Whether you're in the racing scene, or just want more bang from the same size, you need to check out this cutting-edge tech.
Go to https://www.turbokits.com/turbochargers/precision-turbo/cea-billet-wheel.html for more information.
The Precision Turbo products stocked by TurboKits.com have been designed to provide you greater levels of power without the need to increase your turbo size. In a nutshell, that means you get increased power output without having to change your whole system. Great news, right?
Let's take a quick look at billet wheels. Turbochargers increase performance in your engine through the use of a compressor wheel, which forces more air, and therefore oxygen, into the combustion cycle. There are two broad methods of producing compressor wheels: machining (otherwise known as billet wheels), and casting. The process of machining compressor wheels from forged metal gives you a material that is much stronger and more reliable.
The wide range of Precision Turbo products from TurboKits.com has been developed for use where you need high boost pressure, such as racing. Your racing engine will usually have super high stresses placed on it, so using a turbo that is stronger and more durable is a bit of a no-brainer.
You can buy Precision Turbo Gen2 products in many sizes and power output ranges, including the 900 horsepower 6466 Gen 2 model, the 1,100 horsepower 6870 Gen 2 model, and the 1,300 horsepower 7675 Gen 2 model.
For additional information please see https://www.turbokits.com/precision-7675-billet-turbo-cea-gen2-1300hp.html and https://www.turbokits.com/precision-6870-billet-turbo-cea-gen2-1100hp.html
About TurboKits.com
Along with the Precision Turbo range, TurboKits.com stocks some of the latest products from Garrett, Borgwarner, Xona Rotor, Bullseye Power, Turbonetics, and more. The company also supplies turbo kits and universal parts for most major makes and models of vehicles, including Audi, BMW, Chevy, Chrysler, Dodge, Ford, Mercedez-Benz, Toyota and More.
A company representative recently stated: "We know you want to be the best both on the track and off. Whether you're a diehard racer or just looking to boost your daily driver's performance, Precision Turbo products can meet every need. For exceptional power and unbeatable technology at an affordable price, PTE can help you find the perfect turbocharger for your unique setup."
Whatever your turbocharger needs, TurboKits.com is your one-stop shop for the latest technology and components.
See the huge selection today. Check out https://www.turbokits.com/precision-6466-billet-turbo-cea-gen2-900hp.html so you can learn more.