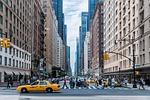 No more searching through hiring sites that present little more than a snapshot and an old resume! To bring in the best, you need to work with the best. Choose nationally-renowned staffers like the experts at Emerging Blue for your NYC hiring needs!
Proficient in filling positions for the fashion, digital, and home industries, Emerging Blue's services will successfully guide your NYC brand toward your ideal candidates. Having grown a pool of superstar talent over time, the agency identifies suitable fits for your temporary and part-time roles as well as full-time positions.
Click https://www.emergingblue.com now!
Through its services, the nationwide human resources partner further offers you its expertise handling essential aspects such as employer branding and marketing for luxury brands. This enables Emerging Blue to directly contribute to the completion of your hiring processes for jobs in areas spanning merchandising to product development, eCommerce, and others.
In addition, by working alongside your NYC brand as a partner and ambassador, Emerging Blue aims to gain longstanding insights into your team's culture and values. This, it says, allows the staffing agency to better match you with talent at all levels of your organizational hierarchy - from entry-level to C-suite executives.
With its EB 360 program, a special service that provides you with assistance across each stage of recruitment, Emerging Blue looks to optimize your hiring strategies. Its experienced team members are available to assess your candidate evaluation criteria while honing your social media campaigns and diversity policies for the best possible results.
You can also showcase your open positions for inclusion as part of Emerging Blue's expanding listings for the benefit of possible candidates. Simply head to https://www.emergingblue.com/open-a-job to get started!
"Let our team be your strength," says an Emerging Blue spokesperson. "You can shop our candidates, then review and interview as often as you'd like - on the interview platform of your choice with no fee attached. Once you've found the perfect fit, they are yours."
Referencing its work with luxury brand clients ranging from John Varvatos to Vince, TheRealReal, LVMH, Amour Vert, Scarce, and more, Emerging Blue positions itself to help your NYC company meet your hiring goals. Go to its website to select its comprehensive service programs, including its recruitment and EB 360 programs.
Say no to subpar staffing and replace it with super strategies! That's what Emerging Blue does for you!
Are you in or around the New York City metro area? Check out https://www.emergingblue.com/focus to learn more about Emerging Blue, the roles they fill, and their satisfied past and current clients!