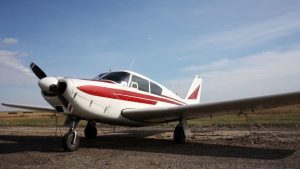 If you're looking for a better deal on coverage for your aircraft, read the latest guide from industry experts BWI Aviation Insurance!
The leading Corona, CA-based insurance provider's article helps you understand policies, declarations, and the importance of choosing the right broker.
Whether you're an owner, collector, recreational pilot, or fleet operator, get a condensed look at the essentials of coverage for aircraft, explaining what types of insurance are available and what they do or do not cover.
Take to the skies with confidence courtesy of BWI Aviation Insurance. More details at https://bwifly.com/aircraft-insurance/understanding-your-aircraft-insurance-policy
The article outlines some key terms that providers often use, what they mean, and why understanding them can be crucial to getting the kind of insurance and level of protection that you need. The BWI guide is the latest in a series of informational articles and editorial pieces frequently published via the company's website. You can read them all for free.
While aviation insurance is primarily aimed at aircraft owners, it is also a necessary expense for renters, flying students, hangar owners, and professional drone pilots. The sector was badly hit by the events of the global pandemic which saw a decrease in the number of insurers offering policies and underwriters implementing rate hikes too.
The BWI guide outlines the essential information contained in your policy's declaration page. This includes policyholder information, the policy number, start and end dates for your coverage, liability limits, details of your aircraft, hull value, deductible amounts where applicable, and coverage for physical damage.
The article recommends you check for exclusions that apply to any policy, conditions (affecting what can be claimed for in the event of a mishap), and endorsements that can add or remove coverage stated elsewhere in the policy documents.
About BWI Aviation Insurance
The company has been a pioneering presence in the aviation insurance sector since 1977, initiating the first Robinson Helicopter Insurance Program in 1979 and the Cessna 180 and 185 programs in the 1980s. BWI offers the aviation community a full suite of coverage solutions from multi-engine turbine aircraft to gliders.
A spokesperson says, "Over our 42-year history, BWI has built longstanding relationships with all of the above Aviation Insurance Companies. We work hand in hand with the above companies and leverage our experience to find the best market for your particular airplane insurance risk."
BWI Aviation Insurance remains a sector leader in versatile and robust coverage for aircraft owners and operators. Find out why for yourself.
You need more than a wing and a prayer for the ultimate protection up in the air. For aviation insurance that won't let you down, trust BWI!
For more info, go to https://bwifly.com/aircraft-insurance/understanding-your-aircraft-insurance-policy