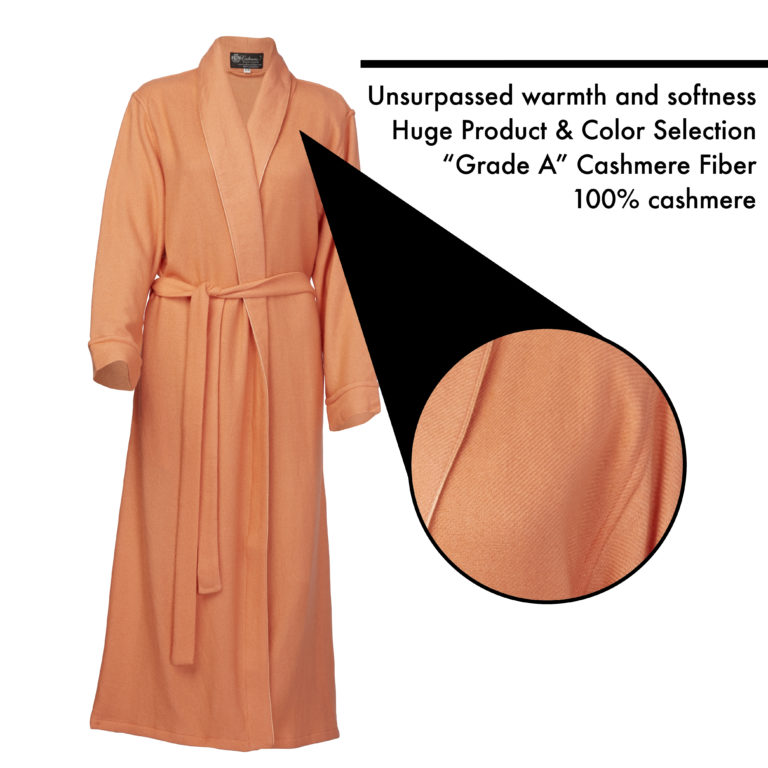 If you've never worn an authentic, pure cashmere robe in your life, you're missing out. The luxurious feel of the fabric, the flattering fit, and the warmth that it gives you is like no other. You'll never want to wear another after you've bought your first cashmere robe.
If you find that fluffy robes are just too itchy for you, cashmere is the solution. People with sensitive skin can wear cashmere because the natural fibers are so soft and breathable. Unlike nylon or polyester robes, cashmere allows your skin to breathe, minimizing irritation.
Get your cashmere robes here https://www.cashmereboutique.com/shop/women/robes/pure-cashmere-robe-for-women
Cashmere Boutique's robes are made of high-quality cashmere that do not overstretch or pill. With proper care and maintenance, these robes can last a lifetime.
Cashmere is made from the coat of a specific type of goat native to the highlands of Asia. High-quality cashmere uses more of the longer strands of hair from the animal. Cashmere Boutique prides itself on the quality of the cashmere they use for their new collection of robes.
Cashmere needs a little more care, and the brand only recommends hand washing. Using mild soap or shampoo, you must wash the robe in lukewarm water. To get water out after rinsing, you must gently squeeze the robe and then re-shape it while it's still damp. Cashmere should not be wrung or twisted, and it should be dried flat. The brand strongly discourages the use of bleach or harsh cleaning methods.
When storing, the robe must be folded and placed inside a garment bag with dehumidifier packs. Cashmere robes can lose their shape when hung because the weight of the fabric strains the shoulders, so these robes must not stay on hangers for a long time.
Established in 1999, Cashmere Boutique has proven to be a premier online shop for the finest quality cashmere sweaters, robes, scarves, hats, gloves, socks, shawls, coats, throws, blankets, and lots more.
"The Cashmere Boutique's products and service are all top-notch. All at a practical price. I would not hesitate to highly recommend them to anyone," a satisfied customer said.
What are you waiting for? Get the best quality cashmere robes at factory prices here https://www.amazon.com/Cashmere-Boutique-Women-Color-Medium/dp/B004T3Q5YE/ref=sr_1_1_sspa?crid=1PE5M8X64R77X&keywords=cashmere%2Brobe&qid=1666057955&qu=eyJxc2MiOiI2LjU0IiwicXNhIjoiNi4wNSIsInFzcCI6IjQuOTkifQ%3D%3D&sprefix=cashmere%2Brobe%2Caps%2C182&sr=8-1-spons&th=1&psc=1