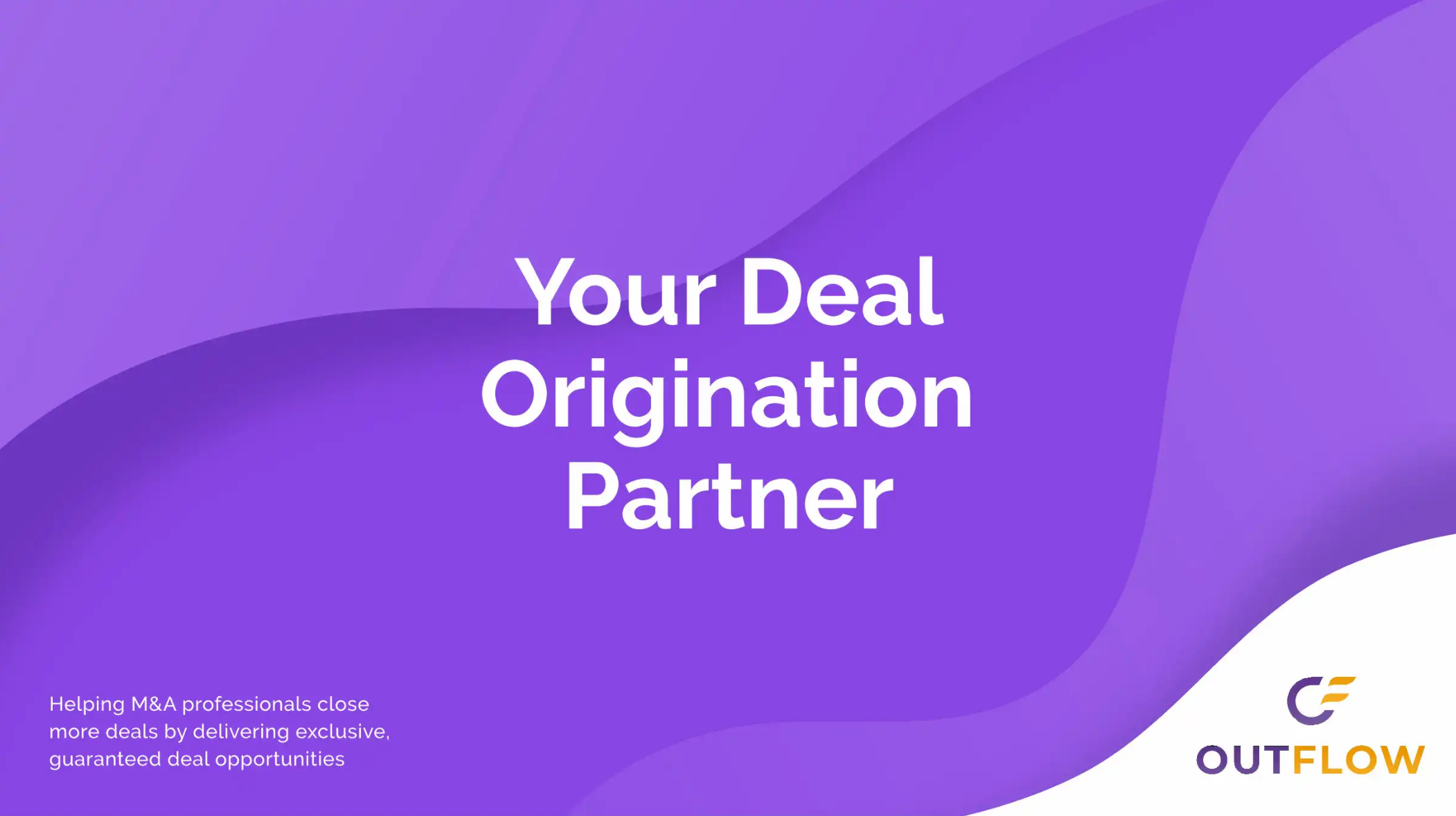 Track the progress of your leads and acquisitions all from one platform - sign up for access to OutFlow's pipeline tracking tool and get private equity prospects sent straight to your inbox!
The deal origination platform will verify the quality of its leads before handing-off top prospects to your private equity firm.
Find new M&A deals by visiting https://www.outflow.agency
OutFlow's platform delivers end-to-end private equity investment strategies, helping you scour your sector for optimal prospects, acquire private companies, and track the progress of your leads progress through the sales pipeline.
The platform scales operations by connecting you with growing enterprises interested in securing capital. To that end, it will generate and qualify a consistent influx of appointments and meetings with companies looking for buyers on investors.
Once you inform the agency of which sector, geographic area, or enterprise size they want to invest in, OutFlow will search its database of connections for deals that satisfy your ideal prospect profile. The agency will then make professional contact with private companies and secure meetings. As such, you can eliminate the labor time and costs associated with search and outbound marketing operations.
As well as finding top deals within your sector, OutFlow can help you implement diversification strategies in your private equity portfolio, strengthening your pipeline. You can track the progress of your deals in real time and receive helpful insights about your existing prospects.
Additionally, measuring the performance of your investments through the sales pipeline and making routine optimizations can help you pursue long-term targets.
The OutFlow platform tracks every stage in the sales pipeline - from first contact with prospects and monitoring the investment as it develops over time to the execution of an exit strategy. By generating consistent, prequalified prospects, OutFlow allows you to optimize your sales processes and investment strategies.
A spokesperson for the company said, "At OutFlow, we keep your calendar busy with prospects wanting to speak with you. We generate the volume of opportunities, on a consistent basis, with the right targets, so you can focus on what you do best."
OutFlow is the deal origination platform that will help you build and track a portfolio of private equity deals - check it out to find prequalified M&A partnerships!
Join the platform by visiting https://www.outflow.agency