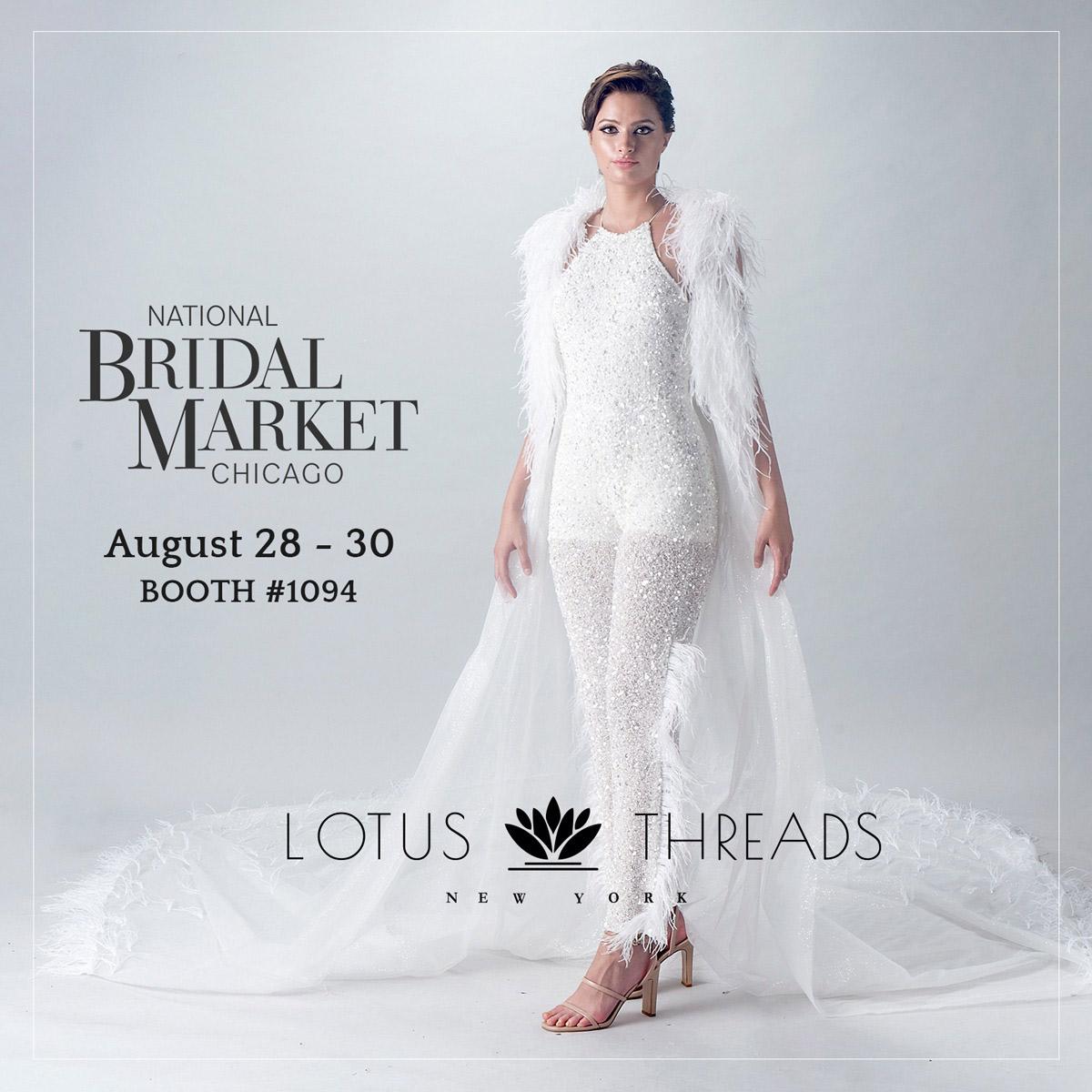 Lotus Threads is one of America's most popular and exciting bridal gown designers. This year, Chicago brides and bridal stores are in for a very special treat with their addition to the National Bridal Market Chicago.
The wholesaler and bridal gown designer, which is known for its unique dresses and the feminine power they exude, is going to be exhibiting a selection of bestsellers from its current collections as well as introducing a number of previously unseen gowns from its new unedited collection.
Go to https://www.nationalbridalmarket.com to find out more.
Lotus Threads is proud to announce to you its recent addition to the slate of bridal providers that are going to be exhibited at the popular bridal market. This year, the event will be taking place in Chicago, at theMART, between August 28 and August 30.
This annual event is a critical date that must be added to your calendar, as it is the state's leading trade show for everything bridal. This year, you will be able to visit over 150 brands in 14 different categories, including wedding dresses, event organizers, venues, florists, make-up artists and more.
Lotus Threads' inclusion in the National Bridal Market Chicago showcases its nationwide reputation as one of the industry's top designers and B2B wholesalers.
You will find the bridal store's stall at Booth #1094 on the 7th Floor Market Suites at 222 Merchandise Mart Plaza, better known to locals as theMART.
Lotus Threads currently has three popular collections. Firstly, they have their Forces of Nature collection, which channels the power and beauty of mother nature with its floral, flowing water and fire-inspired motifs. Also popular is their Evolution collection, which channels vintage elegance, classic lines and old Hollywood glamour. Finally, they have their The Mystical Garden collection, which offers brides a dreamy and feminine aesthetic.
If you attend the National Bridal Market Chicago, you will have the opportunity to view some of the distinct gowns from each of these beautiful collections and you will also get to enjoy a sneak peek at their next season looks.
Lotus Threads is a Demi Couture Bridal Brand . The collection is sold across the country and in Europe.
A spokesperson for the company said, "Lotus Threads will be attending the National Bridal Market Chicago from August 28 to August 30. One of the biggest bridal and special occasion shows of the year. We will be showing our collection's best sellers and introducing some new gowns from our new unedited collection. Retailers, don't miss our new trending and all-time best seller gowns."
Whether you're a bride or a bridal store representative, you better put Booth #1094 at the top of your list for the National Bridal Market Chicago.
Visit https://www.lotusthreads.com to get a better feel for the designer's incredible dress style ahead of your trip to the market.