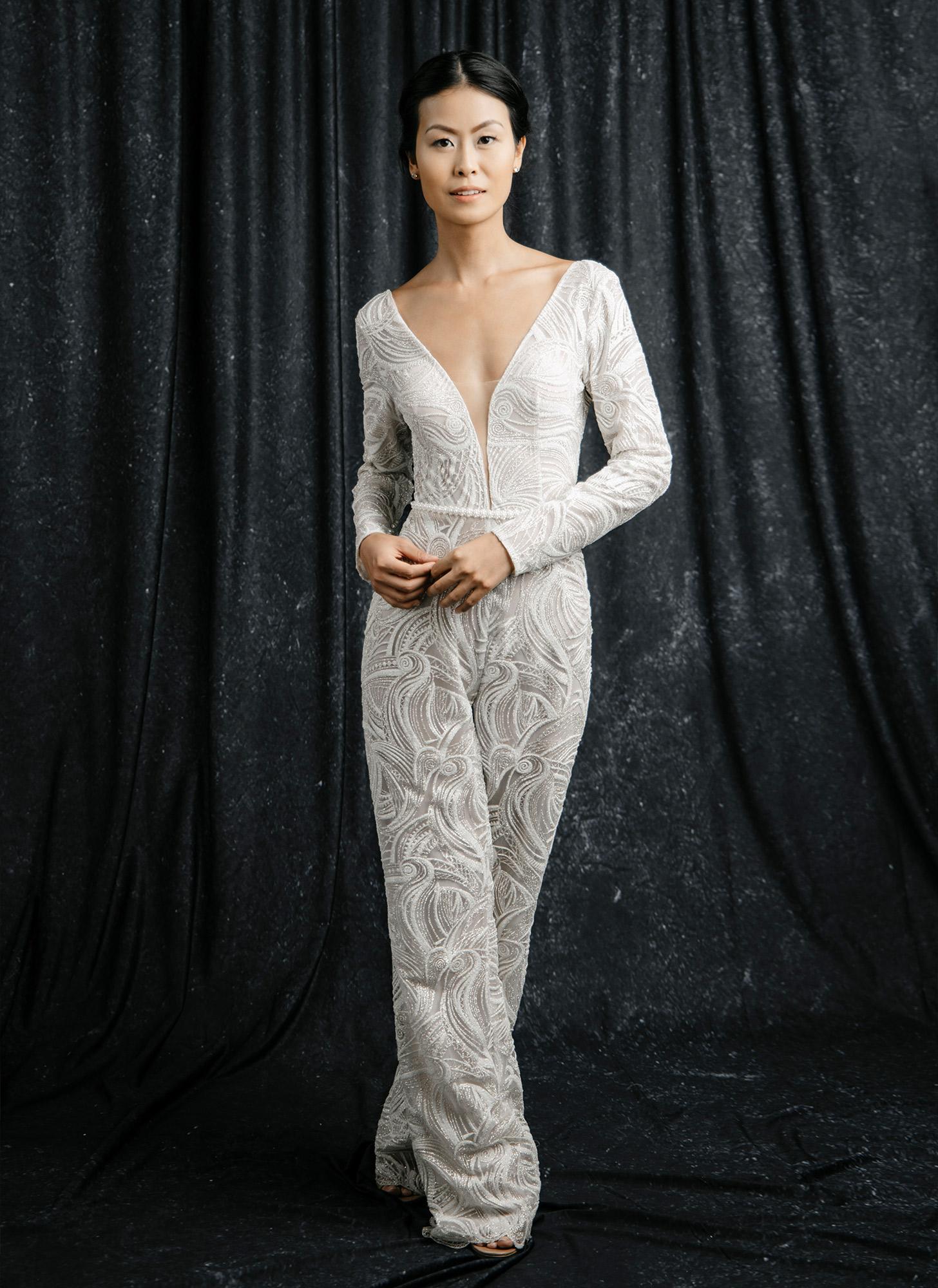 The dilemma between choosing a formal wedding dress or a wearable evening outfit is over! The Yonkers, NY bridal boutique Lotus Threads has designed adaptable skirt overlays that transform gowns into jumpsuits and modern cocktails in seconds!
Located in Tuckahoe, the wedding gown store can offer you unprecedented versatile dresses, including overskirts that create the appearance of a formal gown over a tailored, modern jumpsuit.
Browse the collections online at https://www.lotusthreads.com
Innovating the "two looks in one dress" trend, Lotus Threads can help you maximize your wedding budget. Using a ceremonial skirt or train, you can conceal a highly modern jumpsuit or dress until your reception begins.
For example, inspired by Greek mythology, the design of the Electra jumpsuit evokes the image of the goddess, with modern updates in its plunging neckline, beaded belt, and sheer pant legs. Veiled by a complementary beaded and layered skirt, you can wear the two-piece, coordinated set as a conventional gown during your ceremony, while presenting a more contemporary interpretation of bridal fashion during the evening.
Check out the Electra jumpsuit at https://www.lotusthreads.com/bridal/figure-flattering-jumpsuits/electra-jumpsuit-86367 and the overskirt at https://www.lotusthreads.com/bridal/must-have-seperates/electra-jumpsuit-86367-beaded-overskirt-87013
Similarly, you can hook the Audrey skirt onto many of the pieces in the Evolution Collection, elevating a knee-length dress with Chantilly lace, a tulle overlay, and detailed beading. Alternatively, the retailer showcases a range of wedding wear collections on its site, including dresses inspired by classical sources, as well as gowns for guests and members of the bridal party.
You can check out the Audrey overskirt by visiting https://www.lotusthreads.com/bridal/the-evolution-collection/audrey-overskirt-87006 or take a look at the Audrey dress at https://www.lotusthreads.com/bridal/the-evolution-collection/audrey-dress-87005
About Lotus Threads
The Tuckahoe bridal couture store stocks a range of full-length gowns and cocktail dresses that you can find online or in-store by appointment. Its designs have been influenced by New York fashion, both old and new, with the aim of creating timeless pieces that you can adapt and wear time and again. For more, go to https://www.lotusthreads.com/bridal/capes/pearl-cape-86342
A spokesperson for the company said, "We take inspiration from a time when fashion was intertwined with the quality of a garment. Celebration holds a prominent place in the identity of New York City. Each design from Lotus Threads embodies the confidence, style, and spirit of the people who make this city a cultural icon."
Lotus Threads is the wedding fashion label creating timeless designs that represent the desires of modern brides - give the Yonkers boutique a call at +1-212-947-8100 to schedule an appointment!
Visit https://www.lotusthreads.com/bridal/the-mystical-garden-collection/minerva-gown-86202 to find out more!