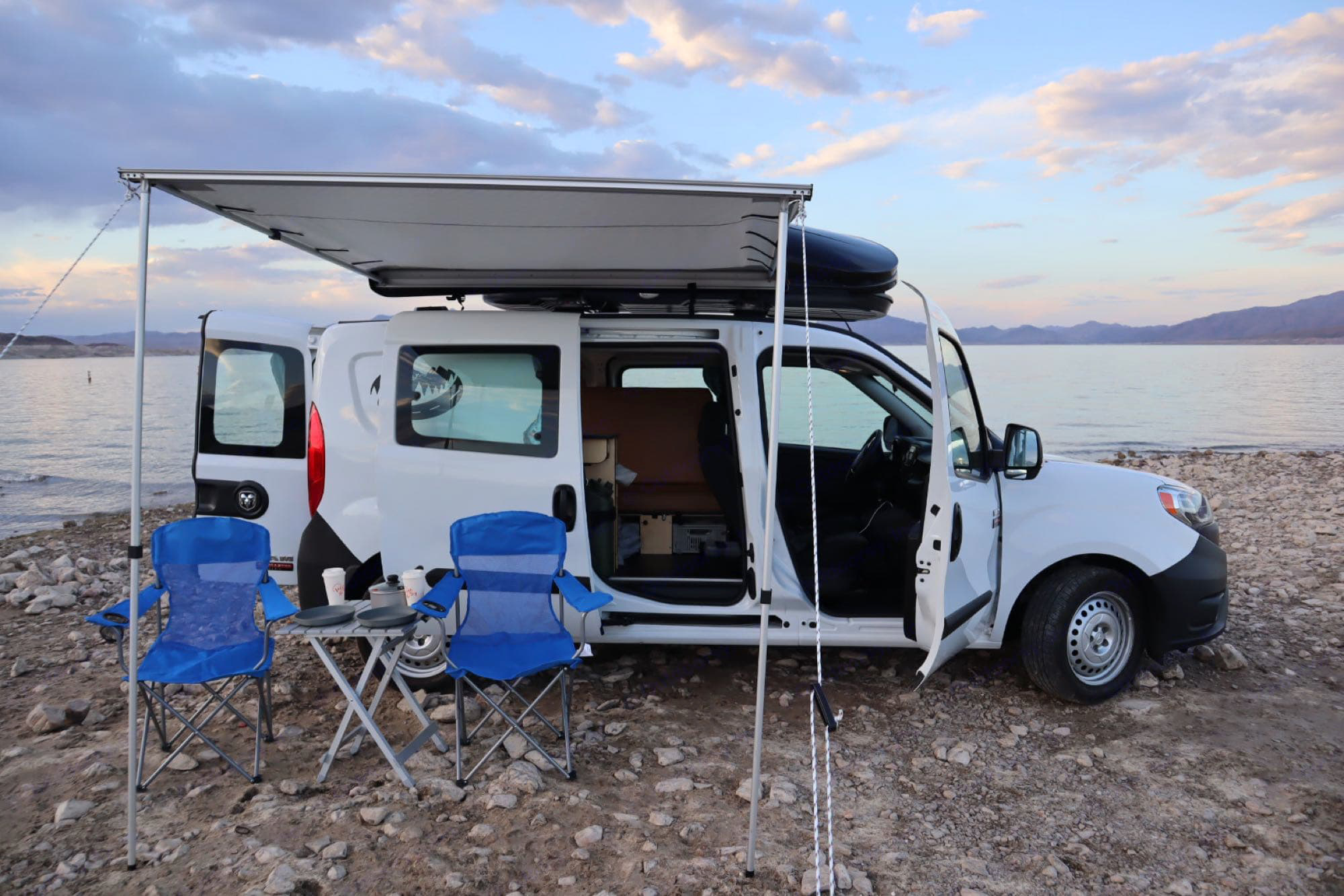 These super-cute campers include all your cookware, utensils, and a comfy bed for two with linen. You don't even need to worry about the kitchen sink. All the vans are fitted out the same, but the company even allows you to choose from several color and curtain combinations. Yup, every base has been covered.
Go to http://vegascampers.com for more information.
Along with Hoover Dam and Lake Mead adventures, Vegas Campers suggests a number of other 3-day trips that you might want to check out. These include Zion National Park, Bryce Canyon National Park, Grand Canyon National Park, Lake Powell, Joshua Tree National Park, and some hidden Vegas gems.
So, is Lake Mead quiet these days? According to the National Parks Service, some 7.5 million people visited Lake Mead National Recreation Area in 2019. Rather than decreasing during the pandemic, visitor numbers actually increased to more than 8 million in 2020, elevating Lake Mead to fifth on the National Parks Service's list of most popular sites.
Lake Mead is not too far from Las Vegas, which makes it perfect if you want to throw in a quick flutter on the roulette tables. While camper vans provide you with a convenient and comfortable option, vehicle size and the requirement to bring additional equipment have made this a less appealing option for some travelers. Vegas Campers has recognized these limitations, and their updated fleet aims to address these concerns.
The Promaster City Vans are easy to drive and you can park them in regular parking spaces, making them usable by almost anyone with a valid license. In addition to the amenities previously mentioned, the vans now include an outdoor shower and awning, solar panels and charging points, and a range of cleaning supplies and condiments. What more could you ask for?
About Vegas Campers
Founded by a Las Vegas native with a passion for adventure, Vegas Campers aims to give you everything you need to enjoy the attractions the area has to offer. You are provided with a pre-pickup training video, and you can rest assured that your van has been professionally detailed and maintained.
A satisfied client recently stated: "The camper van was exactly as described in the Vegas Campers listing, and then some. It was easy to drive, new and clean, and stocked with just about everything you could think of."
Plan your Lake Mead and Hoover dam adventure with Vegas Campers, and enjoy unrivaled convenience.
Check out the fleet today. Click on http://vegascampers.com so you can learn more.