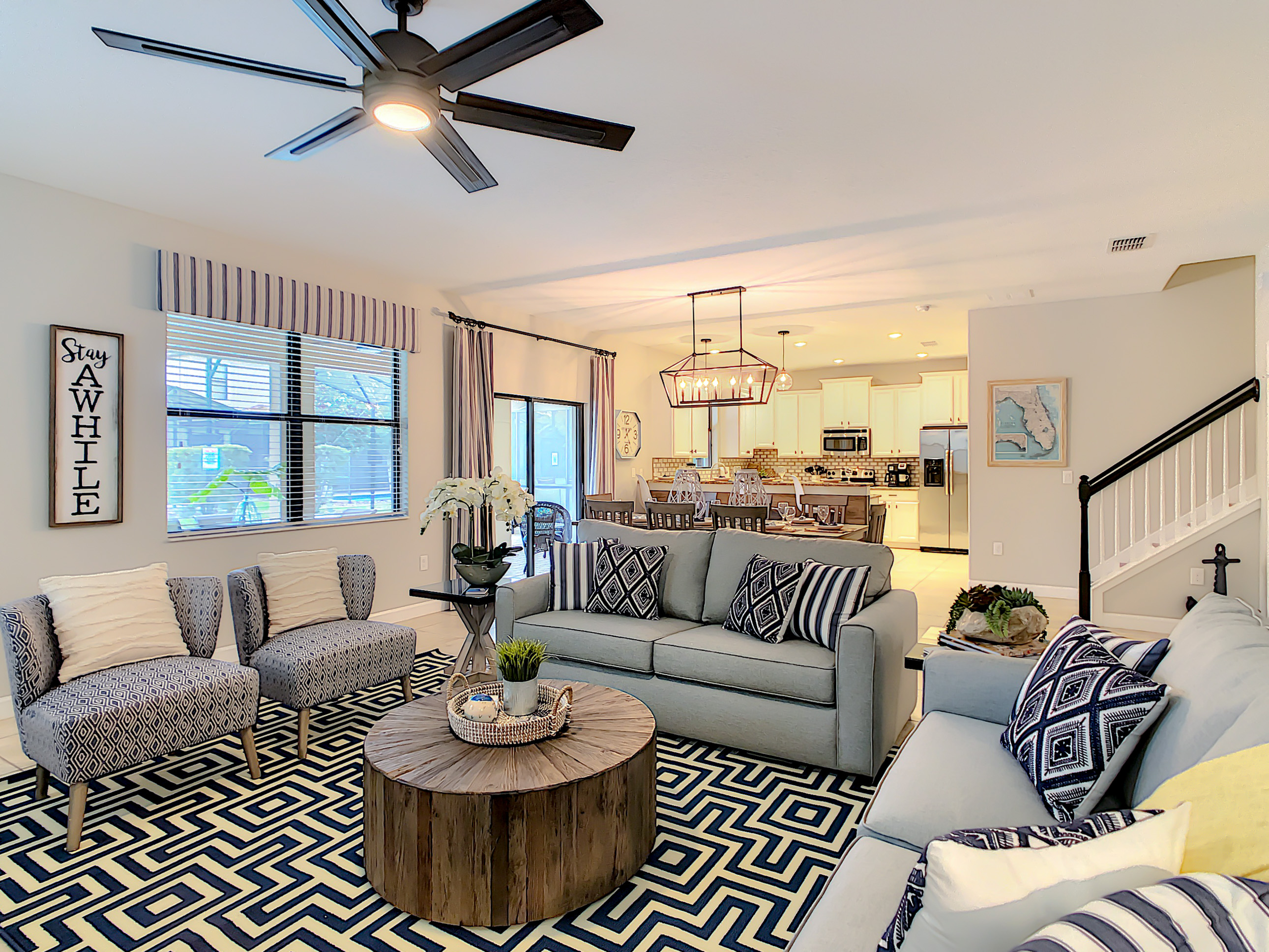 Finding a great self-catering vacation can be easier said than done – and you'll almost never please adults and kids alike! But if you stay at Coastal Vibes At ChampionsGate, the children will love the fun decor and amazing amenities, while you can relax at the resort in luxury. That's what we call a win-win situation!
The premier property – which can accommodate up to 14 guests for short and long-term stays – has availability for the upcoming months. It is ideal for families and groups who want to spend the summer break in the Sunshine State.
Go to https://coastalvibesvacation.com for more information.
Coastal Vibes At ChampionsGate has been thoughtfully renovated throughout recent years, with over $100,000 worth of changes and additions to the property. These include a spacious home cinema, heated pool, games room, and stunning updates to the wall decor featuring murals of popular characters from Marvel, Disney, and more.
Set in the exclusive ChampionsGate Resort, you can take advantage of the benefits of the resort in addition to the luxurious private home and its amenities. The resort offers you access to the Oasis Water Park and Clubhouse, private tennis courts, and a golf course throughout your stay – it's the prime location of the self-catering rental that makes it perfect if you're planning to visit the local attractions.
Take a self-guided tour of the property here https://www.nodalview.com/en/s/0kTQJ6PrH1jQnmOdzZBV64
The property is also ideal if you're visiting Florida to see the sights at Disney World, Universal, Star Wars: Galaxy's Edge, or Universal Studios since it is within an hour's drive of each. The house itself has a touch of the magical, though, thanks to the high-quality murals throughout, which include Marvel's Avengers-themed games room featuring Captain Marvel, Black Panther, and Thor; a bedroom showcasing Maui from Disney's Moana; and another bedroom dedicated to Harry Potter and Gryffindor pride. Downstairs in the home cinema, any Star Wars fan will appreciate the life-size cutouts of characters such as C-3PO and R2-D2, and murals of Princess Leia and the beloved Wookie, Chewie.
"We spent the Memorial Day weekend here and we were very pleased with the facility," said one satisfied guest. "It truly lived up to the pictures posted online. When we arrived the home was clean and ready for us to enjoy. All of the amenities were there as promised and the game room and movie room kept the kids in our group fully entertained. Overall this was an excellent vacation rental and we thoroughly enjoyed our stay."
Coastal Vibes At ChampionsGate is the luxury self-catering accommodation you can rely on for a comfortable stay with all the amenities that make a vacation memorable!
Ready to learn more? Visit https://vimeo.com/373140051/7a543e7f24 to take a look around.