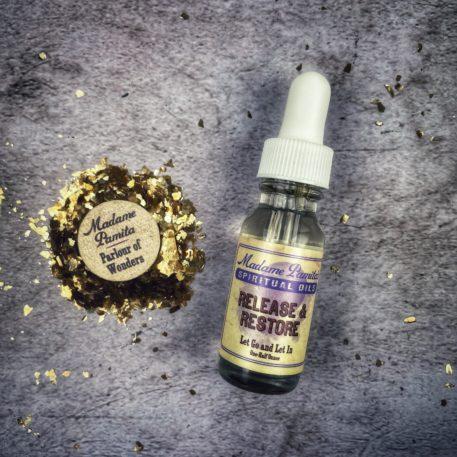 If you want to tap into the full power of your energetic and spiritual self, you need Parlour of Wonders' herbal skin oils.
Their new energizing oils are handcrafted in Pamita's Los Angeles studio from entirely organic materials and use a cosmetic-grade fractionated coconut oil base blended with carefully selected essential oils. Parlour of Wonders' herbal oils for the skin all come in the store's reusable half-ounce glass bottles complete with a dropper.
Go to https://www.parlourofwonders.com/product-category/spiritual-oils to find out more.
The release of a new range of their popular herbal and spiritual skin oils coincides with the ongoing boom of the global natural skin care market. According to Grand View Research, it is now a US$6.7 billion market, and one which is expected to rise at a compound annual growth rate of 6.6% every year until 2030.
With their expanded range of herbal skin oils, Parlour of Wonders is proud to be catering to those North American consumers like yourself who are aware of the health, wellness and ecological benefits of natural skincare products derived from organic ingredients.
All the store's proprietary formulations have been developed to soften and soothe your skin. Using strictly skin-safe ingredients, these oils are also fragrant, scented by natural florals known to have positive skincare properties.
Additionally, their new energizing oils have been crafted with a spiritual and holistic wellness purpose and can be used to help you feel spiritually reinvigorated and purified.
As such, Parlour of Wonders' herbal oils have been blended with specific intentions and manifestations in mind. Some of the blends you can select from in the new energizing collection include their Block Buster Oil, which features the powerful herb agrimony to remove the barriers to your success and to allow you to radically transform. Another addition to the range is their Supreme Confidence Oil, an energetically charged product that uses yarrow to help you feel strong and secure.
Parlour of Wonders is an online store for spiritual wellness wares based in Los Angeles. They offer fast shipping throughout the US and Canada.
A spokesperson for the store said, "The power of real herbs, crystals and essential oils makes a difference to our products. We believe that plants have strong vibrational qualities and these oils are powerful and extremely effective tools for positive manifestations and daily skincare."
If you and your skin have been feeling dull and dried up recently, Parlour of Wonders' energizing skin oils could be the answer.
Visit https://www.parlourofwonders.com/product-category/spiritual-oils to see which blend will have you feeling radiant and alive both inside and out.