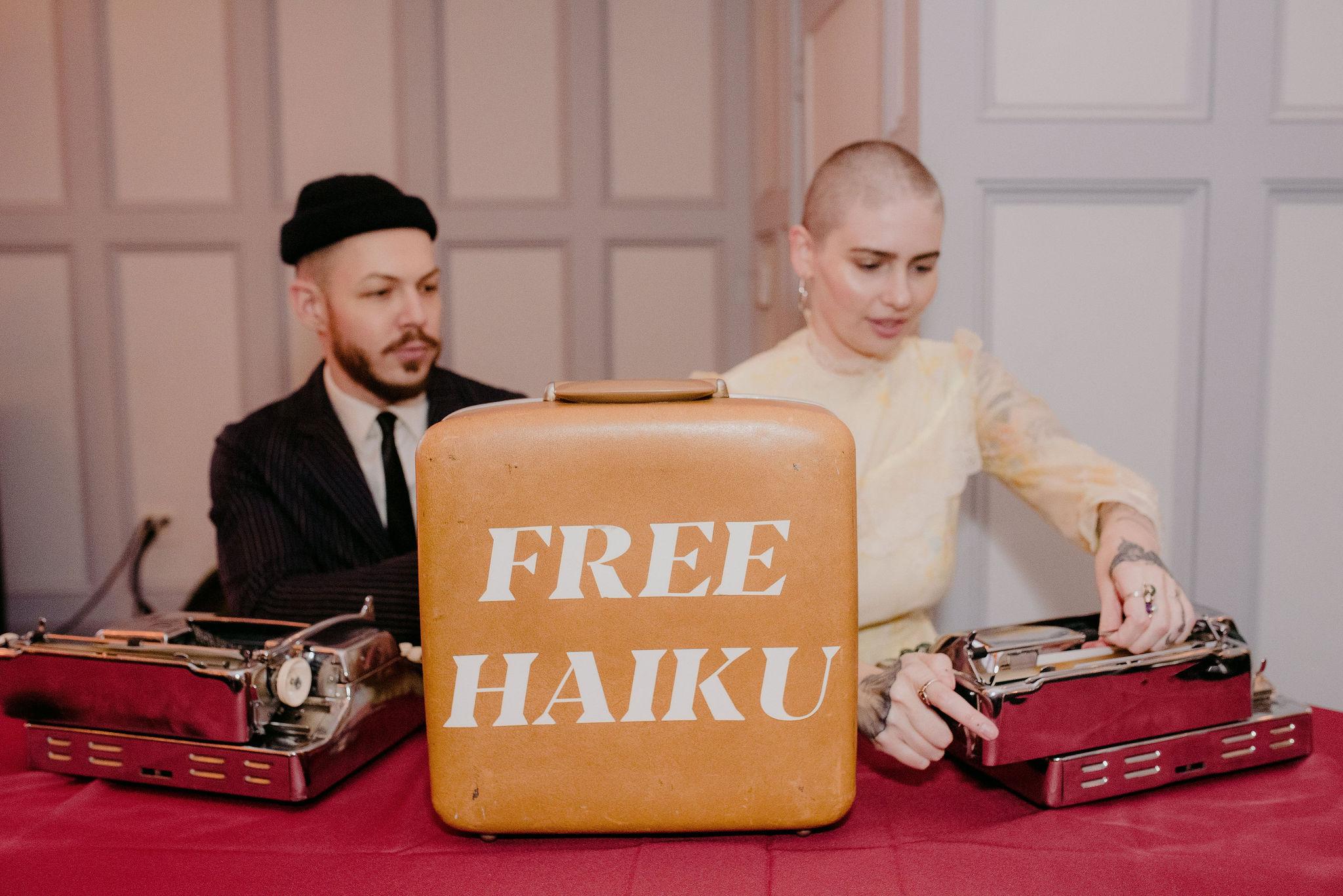 Carol Ann Duffy said, "You can find poetry in your everyday life, your memory, in what people say on the bus, in the news, or just what's in your heart." Why shouldn't guests find poetry at your holiday celebration?
Their event entertainment services include custom haiku poems written on the spot. Poets with vintage typewriters can capture your guests' festive feelings by writing a haiku in approximately 30-90 seconds.
Go to https://haikuists.com/event-entertainment for more details.
You can replace that traditional photo booth with a more personalized form of entertainment. A haiku is a tiny poem that captures the spirit or essence of something. It is essentially a photograph in words. Your party guests are used to snapping a quick photo, but they likely aren't expecting a snapshot for the soul.
A haiku poem is a memento that your guests can take home with them after the party ends. Recipients often frame their haikus, hang them on their fridges, and a dozen and counting have even tattooed their haikus on their bodies.
The writers' creative lines of poetry can make people smile, laugh, or cry. A haiku can capture a happy moment and help guests remember your event for years to come. The haiku writing company is available for holiday parties, birthdays, weddings, graduations, retirement parties, and more. Its writers also appear at corporate events and trade shows.
The company's founders Erick and Daniel began writing personalized haikus in 2012 in Brooklyn. Haikuists now have thirty poets performing in a dozen different US cities, including Los Angeles, San Francisco, Washington D.C., Austin, Boston, Denver, New York City, Chicago, Detroit, Las Vegas, among others.
Haikuists' writers perform at an average of 200-300 events per year, and its customers include companies such as Google, IBM, Airbnb, Bloomberg, Lululemon, and MGM Grand. The well-dressed writers simply need chairs and a table for their typewriters and signage. The "free haiku" sign will attract eventgoers eager to see their thoughts on paper.
A satisfied customer said: "The event was a huge success…much of that thanks to you, Chris and Deena, for creating such a wonderful atmosphere. Guests loved their interactions and the haiku card takeaways. A great memory of the night."
If you are planning a corporate or private holiday event, you will need engaging entertainment! Forget that old photo booth and hire the talented poets at Haikuists for something a little different, innovative and engaging.
Visit https://haikuists.com/event-entertainment to learn more.