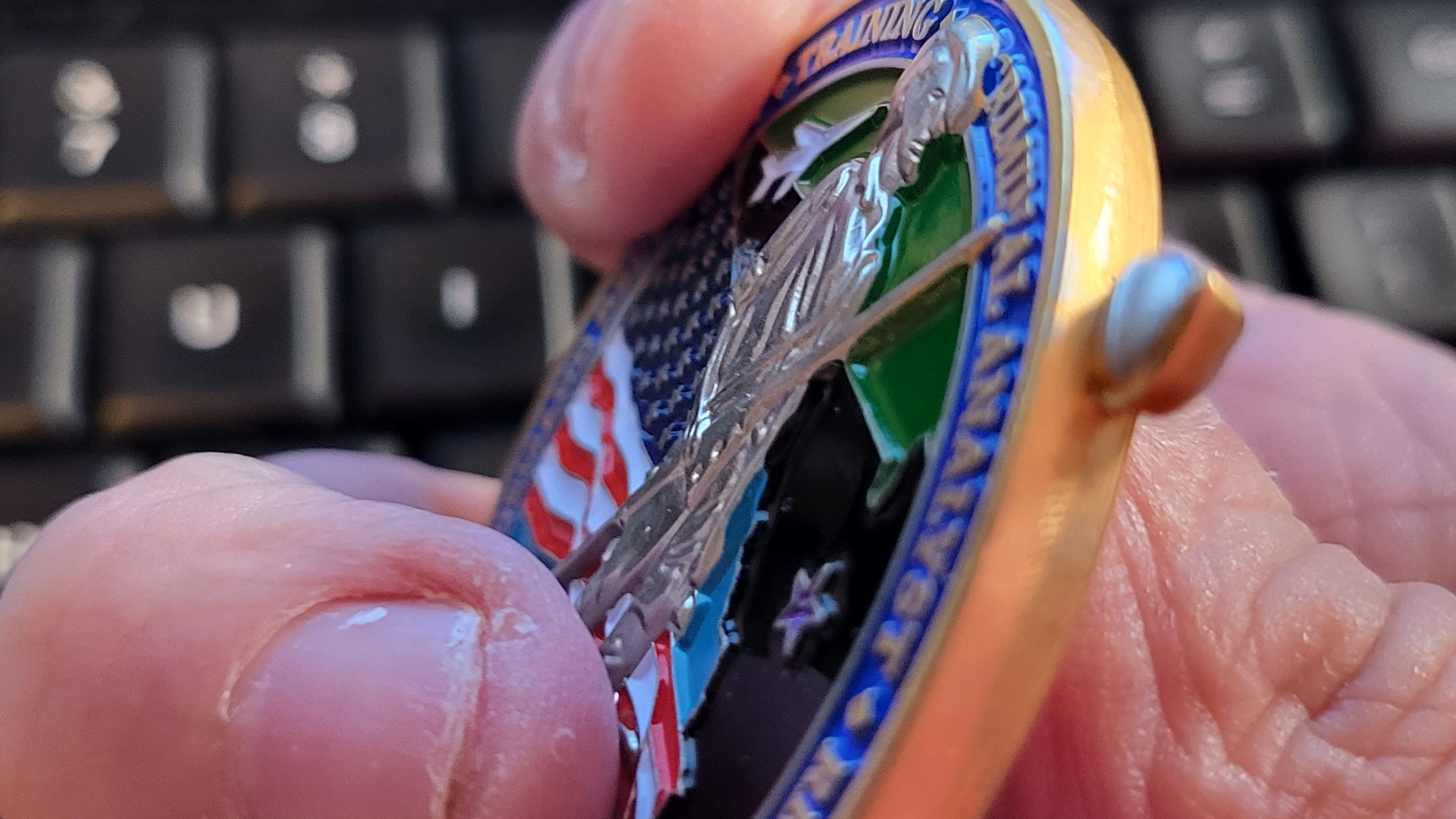 Whether or not you know it, there's a good chance that you've already used NFC and RFID technology this week. It's built into our bank cards, inventory tags at stores, security access cards, and so much more.
The problem is, and I hope that if you use this technology regularly, you don't take this the wrong way - it's ugly, cheap, and disposable.
Not the technology itself, of course, NFC and RFID tech have opened a lot of doors for us... literally.
It's the way we use it that's terrible. If you're like any of the millions of people who carry NFC or RFID tags around, take a look at them.
Chances are, they're just what I said - ugly, cheap, and disposable. The most common form today for NFC devices, is big ugly cards, little plastic tags, or disposable stickers. To be fair, the technology does still work in that form, but don't we deserve better?
Gray Water Ops solved the problem, with a new patented technology that embeds NFC chips into high-quality, custom-designed challenge coins. Finally, instead of a flimsy access card or key fob, we can have something that's just as useful, but also beautiful, durable, and with some meaning behind it.
It's a good thing Gray Water Ops got the patent for this because they make some of the best-looking coins in the world - they even have a nice feel to them. You can see some examples at https://www.graywaterops.com/nfcchallengecoins
In case you're not familiar with NFC, we'll do a quick refresher. If you already know what NFC does, feel free to skip ahead a bit, or just go straight to the Gray Water Ops website so you can see what their work looks like.
Wireless technologies like NFC have become omnipresent in the last decade, being built into every major smartphone, and used in everything from door locks to inventory tags. While many people aren't really familiar with it, they still use it nearly every day, without a second thought.
Though this technology is rumored to have been invented during World War II, it was officially patented in 1983 and is expected to become a $35.6 billion market by 2030. Today, NFC technology is most often used in contactless payment systems, but it also has applications in home and business security, information sharing, and automation.
Gray Water Ops coins come fully NFC enabled with re-writeable memory, which allows you to use the coins as security access cards, digital business cards, or for quickly sharing information such as a website or streaming video. Since the tags can be re-written a nearly unlimited number of times, the coins can also be repurposed using only your smartphone and an NFC-writing app.
With NFC technology pre-installed on nearly all major smartphones released in the last decade, digital business cards have been growing in popularity as a way to instantly share contact details. By wirelessly placing the information directly into your customer's smartphone, you never have to worry about missing an opportunity because of a lack of business cards or having a potential customer lose your card in the future.
The new NFC-enabled option can be added to nearly any Gray Water Ops custom challenge coins. If you haven't seen them yet, the coins are designed in America by an award-winning graphic arts team, and they're amazing.
If you're not familiar with custom challenge coins, you should definitely take a look right now. These coins are fully customized, and amazing, with options you might not expect such as heat-changing paint, glow paint, custom shape cutting, and silk screen printing.
One satisfied client said, "Just received my commemorative Security Police coin in the mail the other day. Thoroughly outstanding work, gentlemen. It is, bar none, the sturdiest, most professional-looking, and nicest finished of all the challenge coins in my entire service-career collection. Very proud of it. Thanks again."
With NFC technology, your options are nearly limitless.
Personally, I'm planning a new set of coins for members of our local rock-climbing club. The coins are going to look amazing, but they're also going to be able to unlock the building by tapping them against the scanner - or maybe we'll use them for the club's loyalty and rewards program.
Get custom coins made with NFC technology embedded for your business, your crew, or just for yourself. Visit https://www.graywaterops.com/nfcchallengecoins