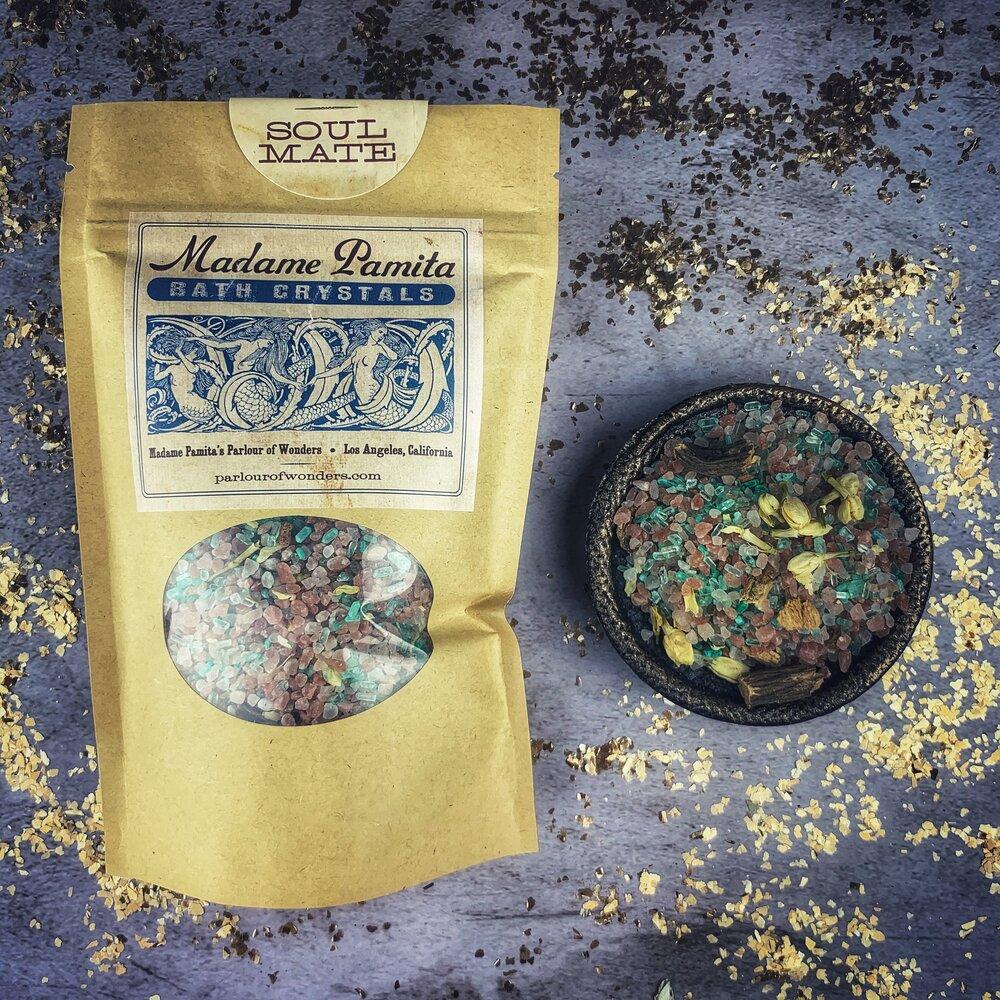 Feeling down in the dumps, or like you aren't getting what you want out of life? Many people feel this way nowadays, and while I can't offer you a miracle cure-all, there is something that might help - a tried and true method, as ancient as mankind itself: a nice, warm bath.
Imagine: warm water, epsom salts, essential oils. Fragrant botanicals whisk you away to a realm of inner peace after a long day at work.
Madame Pamita's Parlour of Wonders can help make that a reality. Their new line of bath crystals contains revitalizing, relaxing, moisturizing ingredients to make your next bath as internally cleansing as it is externally.
For a full breakdown of the bath crystal's revitalizing composition, visit https://www.parlourofwonders.com/product-category/spiritual-bath-crystals
The new salts come in a variety of compositions with different herbal profiles, each blend with its own scent and mood-boosting formula. The salts are a part of Parlour of Wonders' larger product line, which overall is meant to help you achieve inner and outer wellness simultaneously through relaxation and meditation.
Each salt is concocted to assist in a different kind of meditation, meant to leverage the vulnerability involved in bathing to help you move on from traumas or negative thoughts. While the bulk of this work relies on your intentions, the salts are meant to create an environment of relaxation to help with this internal healing process.
The salt mixtures each come in three different sizes, with over 25 different blends available in their online store. Each contains a unique blend of botanicals and minerals; for example, the "Joie De Vivre" mix features allspice berries and essential oils extracted from the St. John's wort plant, along with other ingredients.
The crystals have a number of recommended uses, including pour-over and foot baths as well as traditional tub bathing. Madame Pamita also recommends pouring some of the salts into your laundry in order to infuse the clothing with the pleasant and natural scent of the botanical blends.
The salts come in a small, medium, and large size, depending on the intended frequency of use and application of the product. The small size, for instance, is best for pour-over and foot bathing, as less salt is required. Larger sizes are best for those who, as Madame Pamita recommends, intend to bathe multiple days in a row.
Make your next bath one that benefits the mind as well as the body. Find the salt blend that best aligns with your needs, and start your spiritual and physical healing process.
To see the many botanical blends offered on the Parlour of Wonders, visit https://www.parlourofwonders.com/product-category/spiritual-bath-crystals