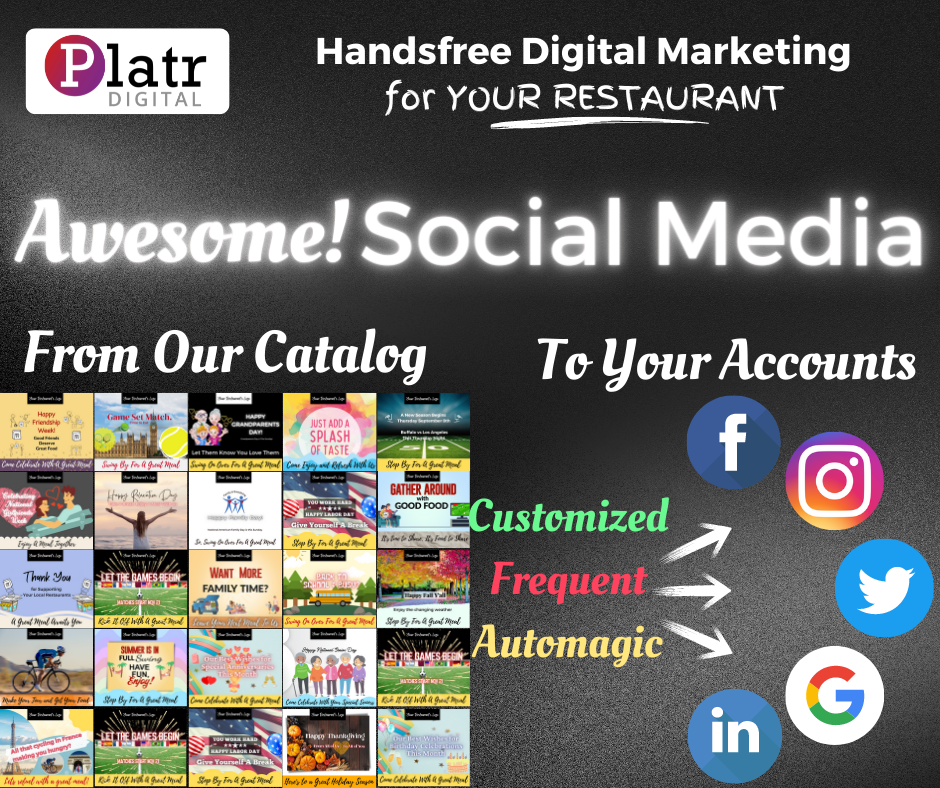 The battle between restaurants is no longer about who makes the best food; it's also about who can get keep the chatter going on Facebook, Instagram, and Twitter.
Social media engagement is an important metric of success now, and the savvier you are with your content, the better chance you have of keeping your establishment afloat.
If your social media game is not as good as your food though, all is not lost—because now there's Platr.
Platr is a digital marketing toolkit with automated social media capabilities for restaurant chains, fast food, cafes, and single-location food establishments. The software offers hands-free social media marketing capabilities, allowing you to promote your businesses online with little effort and investment.
Check it out at https://www.platr.co/automated-social-media
Platr allows you to post content on Facebook, Instagram, Twitter, LinkedIn, and Google Business Profile with just one click. The system has a built-in calendar that lets you map out your content schedule for the whole year and a content library of restaurant-themed templates that you can edit and use freely.
Further, the software can aggregate all online engagements, making it easier for you to respond to comments and reviews. Platr's creators noted that this feature is extremely useful, as 89% of diners switch to a competitor after failing to receive a response to their feedback.
Plus, the toolkit offers engagement statistics, allowing you to measure the effectiveness of your posts much more easily.
According to Platr, consistency is essential in building an online following, and many restaurants lack the time and resources for the upkeep of their social media pages. "Did you know that 90% of restaurants have Facebook pages, but that almost one-third of them post less than once per week? Building an engaged audience can be time-consuming, and for many restaurants, it's the reason why they quit updating their pages," it explained on its website.
Signing up for any of Platr's subscription plans will allow you to automate your social media promotions, so you can focus limited cash and human resources on more important business activities.
Both plans also give you access to the software's full suite of digital marketing features, which include email marketing, reputation management, in-store marketing, search listing management, and review solicitation.
Despite the ongoing recovery, the National Restaurant Association had stated that operators can expect their profit margins to be impacted by elevated costs. "Our digital marketing toolkit aims to lighten this burden," a Platr spokesperson said. "Instead of spending thousands of dollars on social media management, Platr can do everything for you with just one transparent and affordable subscription plan."
Not convinced? Give Platr a try for 30 days for free, and experience an instant boost to your social media presence!
Get started at https://www.platr.co