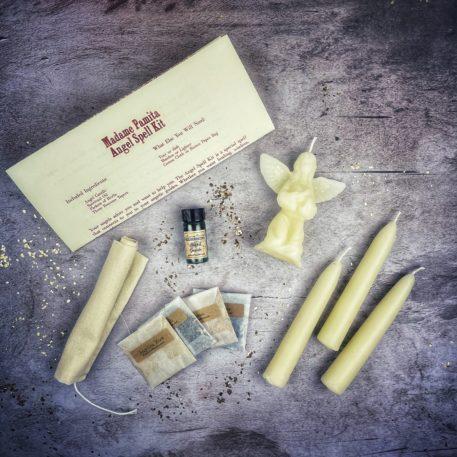 Whether you are looking for love, inner peace, success, power, money, or insight, Parlour of Wonders believes that they have the perfect spell kits for you to tap into your inner magic and manifest your destiny.
The kits, which feature unscented beeswax candles and accompanying spells, are available for fast delivery across both the USA and Canada. If you are seeking spiritual empowerment, all the spell kits come with easy-to-follow step-by-step instructions so that you can unlock their benefits, even if you are a novice practitioner of magic.
Go to https://www.parlourofwonders.com/product-category/candle-spell-kits to find out more.
The launch coincides with the latest Harris poll, which revealed that 26% of Americans believe in witchcraft. Parlour of Wonders certainly believes. Moreover, they are also convinced that there is power in carefully and deliberately setting one's intentions in life and manifesting what one desires.
The store also knows that setting aside time in your busy schedule devoted to relaxation, restoration and self-improvement is essential and invaluable in a world where more people are anxious, overworked, stressed, unhappy, and directionless than ever before.
As such, their candles are recommended to you if you are looking to access your inner magic and strength, or manifest positive changes in your life.
The spell kits feature an array of beautifully handcrafted organic beeswax candles that are made in distinct colors like red, blue, black, white, pink, and green. These colors all have a unique spiritual dimension and purpose that you can select from, according to your needs. The candles are also shaped into beautiful images, like an Egyptian queen, interlocked lovers, or the lucky cat, depending on the purpose of the spell.
One highlight from the new collection is the Angel Candle Spell Kit. This candle calls on the blessings, healing power, and guidance that reside in the highest spiritual realms of life. You can select which angel is the most appropriate for your needs, whether you are seeking the Angel of Awakening Gabriel, the Angel of Transformation Nathaniel, or another.
The spell kit contains the central handmade angel candle, three beeswax support tapers, a carefully curated selection of herbs to support the spell's intention, a complementary spiritual essential oil, and instructions for the spell, which are beautifully printed on thick aged beige paper.
Parlour of Wonders is the Los Angeles-based online emporium of Madame Pamita, a popular local teacher, author, and spellcaster.
A spokesperson for the store said, "Candle Spell Kits are the easiest way to get started with your magic today. Get everything that you need to do a real spell for your intention plus easy-to-follow step-by-step instructions to make your magic foolproof."
If you've been thinking about exploring the possibilities of magical manifestations, then Parlour of Wonders' spell kits are the perfect first step on your journey to spiritual awakening and empowerment.
Visit https://www.parlourofwonders.com/product-category/candle-spell-kits to see which spell will direct the course of your life for the better.