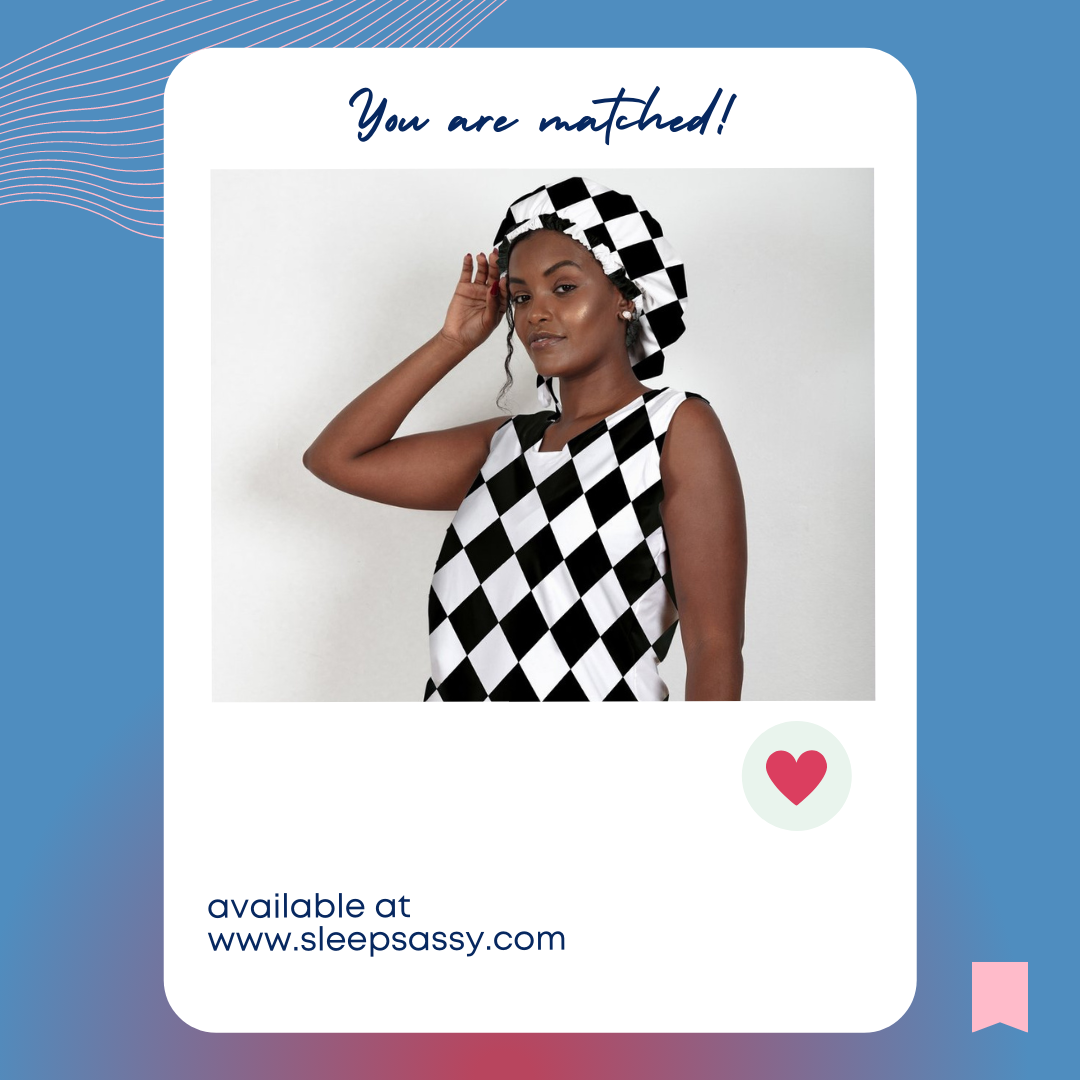 If you are sick of wearing a bonnet that doesn't match your sleepwear, Virginia's Sleep Sassy has added new styles and designs in a range of colorful, cute and comfortable pajama sets with matching satin-lined hair bonnets.
As women of color, we spend a lot of time, money and effort on our hair. If you've been spending top dollar on expensive products but still wake up to dry, frizzy or fluffy tresses, then Sleep Sassy's new hair bonnets and matching sleepwear are for you. 
The proudly African-American owned and run fashion brand has added new designs and these satin bonnets to their sets to ensure you wake up feeling refreshed and with hair that has been protected all night long.  
Go to https://www.sleepsassy.com to find out more. 
New products are being added soon, including a sleepshirt and long sleeve onesie. Black women have know the importance of protecting their hair and bonnets continue to rise in popularity. For centuries women of color have understood that wearing a bonnet helps prevent friction while sleeping at night, therefore reducing the amount of frizz you wake up with. Having your hair protected alleviates stress and helps to prevent split ends and dryness.
With their popularity rising for women of all ethnicities and of all hair types, including both curly and straight hair, Sleep Sassy wants to provide an option which is right for everyone. This includes their longstanding African-American clientele, who know intimately the importance of protecting their tresses correctly overnight. Most people spend 6 to 8 hours sleeping, so it's important to wear quality sleepwear. Sleep Sassy makes it easy to have comfortable sleepwear and look stylish with a matching bonnet.
As such, their bonnets are lined with a high-quality black stretch satin, satin being the optimum fabric for ensuring soft, manageable hair. They also come with a simple drawstring to adjust the fit. This means that the bonnets are suitable for all customers, regardless of hair type, length, or volume. If a women wears a short hair style, braids or loc styles, they all enjoy the ample fit and flexibility of the bonnet.
On the outside, the bonnets are available in the same colorful and unique patterns that Sleep Sassy has become well known for. This gives the look and feel of being well dressed, presentable and coordinated when it's time for bed.
More information is available at https://www.sleepsassy.com/collections/pajama-pants-sets.
All of Sleep Sassy's pajamas are made from 95% bamboo viscose from sustainably grown bamboo. This premium fabric means that their sleepwear is softer and more breathable than standard cotton or polyester blend products. One customer commented, "I realize that I don't sweat as much when wearing my sleepwear from Sleep Sassy."
Bamboo also provides superior heat regulation, and sweat resistance, and is hypoallergenic. This ultra-soft and luxurious material is then blended with 5% spandex to offer wearers even greater stretch and comfort.
Sleep Sassy's sets come with options for nightgowns, shorts and full-length pants. Similarly, their tops are available in a crew neck tee or a stylish tank. Recent additional styles include a button up night shirt and a long sleeve onesie.
They have a cut and style to suit all wearers, with one new highlight being their affirmations design in red.
Sleep Sassy plans to continue adding additional styles such as robes and sexier styles. All of these will include a matching satin lined bonnet.
Sleep Sassy was founded by two sisters who were born and raised in New Jersey and now living in Suffolk, Virginia. They are focused on providing fashionable, coordinated sleepwear and loungewear combined with quality hair protection to women all across the United States.
A spokesperson for the online store said, "Our mission is to change the way women of color choose their sleepwear while protecting their hair. We provide our customers with colorful, cute, comfortable, lightweight, coordinated sleepwear they won't mind being seen wearing, including a matching satin-lined bonnet to protect their tresses."
More information is available at https://www.sleepsassy.com/collections/night-gowns-sleepshirts