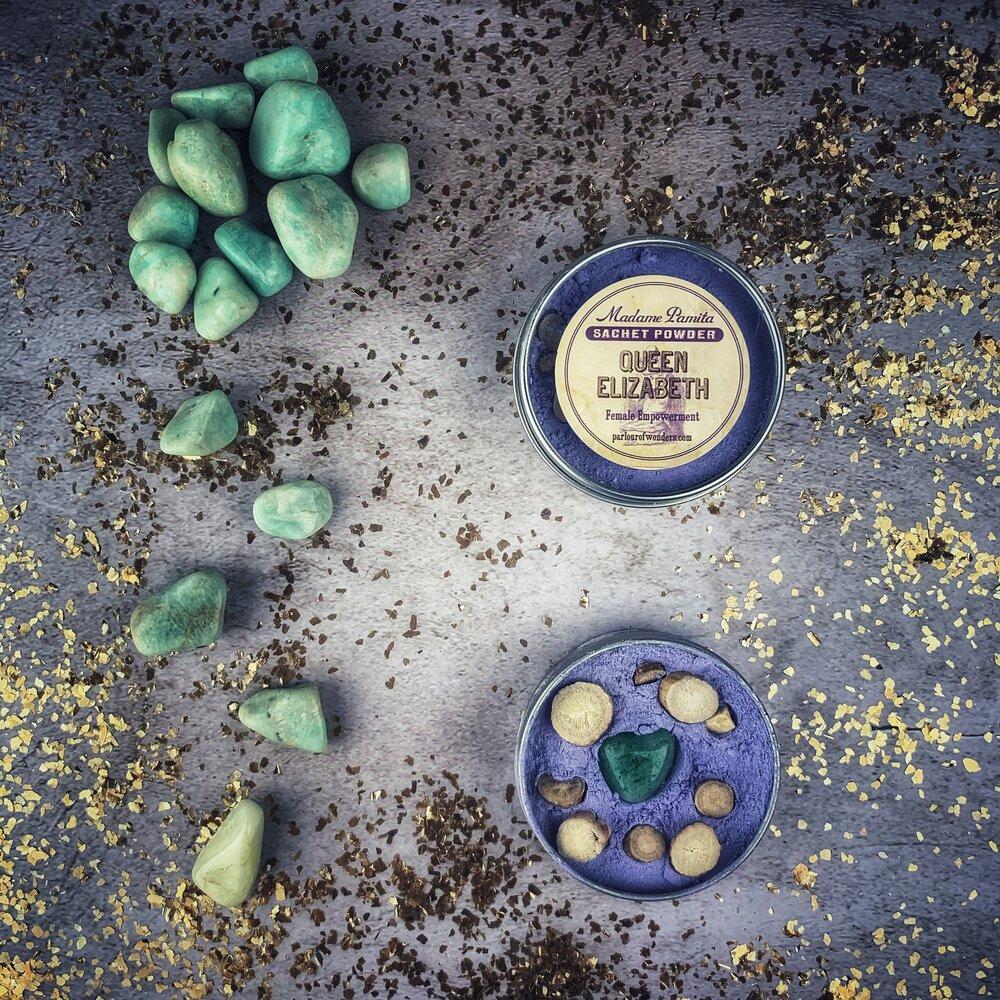 Parlour of Wonders' new spiritually charged perfumed powders are the perfect holistic beauty product to make you smell and feel incredible all day long.
Their scented powders are made according to a unique proprietary formula from all-natural botanical ingredients using a skin-safe cornstarch base. Parlour of Wonders' founder, Madame Pamita, handcrafts the floral perfumed powders in their LA studio using fragrant and spiritually potent essential oils.
Go to https://www.parlourofwonders.com/product-category/spiritual-sachet-powders to find out more.
The launch of their herbal perfumed powders coincides with a recent expose on the health dangers of conventionally perfumed, mass-produced products. According to their researchers, as many as 1 in 3 adults experience health problems related to manufactured scents, meaning that you could well be one of them. These problems occurred whether the scent was in a perfume, soap or laundry detergent, with symptoms including asthma and migraines.
However, Parlour of Wonders also understands how drawn to scents we are, and what a powerful impact they can have on your mind and your body.
As such, their hand-blended fragrant powders draw on the rich smells of flowers, spices and herbs and are entirely free from any chemical agents. The cosmetic-grade talc-free cornstarch base that is used in all of their powders helps to amplify these natural scents while soothing your skin.
Parlour of Wonders' new powders can be applied directly to your skin as a perfume substitute or dusted onto the objects that you most frequently use.
Most significantly, they can also be used as a part of your self-care and positive manifestation rituals. The store's new collection features a wide array of powders which have been handcrafted with a distinct spiritual purpose in mind. As such, each powder also comes with a charged natural crystal.
For example, their High Creativity sachet is recommended to you if you are seeking flashes of creative brilliance and greater mental clarity, and it features top notes of sage. Alternately, sachets like Release and Restore have a woody lavender fragrance and help you to let go of that which no longer serves you and to begin healing your spiritual and emotional self.
Parlour of Wonders is the online home of Madame Pamita, a well-known speaker, author and advocate for the spiritual self and for holistic, natural beauty care. All of their products are made from the finest and purest organic ingredients.
A spokesperson for the store said, "Parlour of Wonders is all about empowering you with the tools to create positivity and meaning in your life. Our Spiritual Sachet Powders are one of our favorite tools for strengthening your self-care regime and any other positive manifestation intentions you set. The botanical essential oils and herbs are finely ground into a powder, blended with cornstarch, and then a full-sized crystal is added to each package to enhance their fragrance and effect."
Say goodbye to chemical, fake perfumes and say hello to naturally fragrant and healing scents with Parlour of Wonders.
Visit https://www.parlourofwonders.com/product-category/spiritual-sachet-powders to choose your favorite scent today.