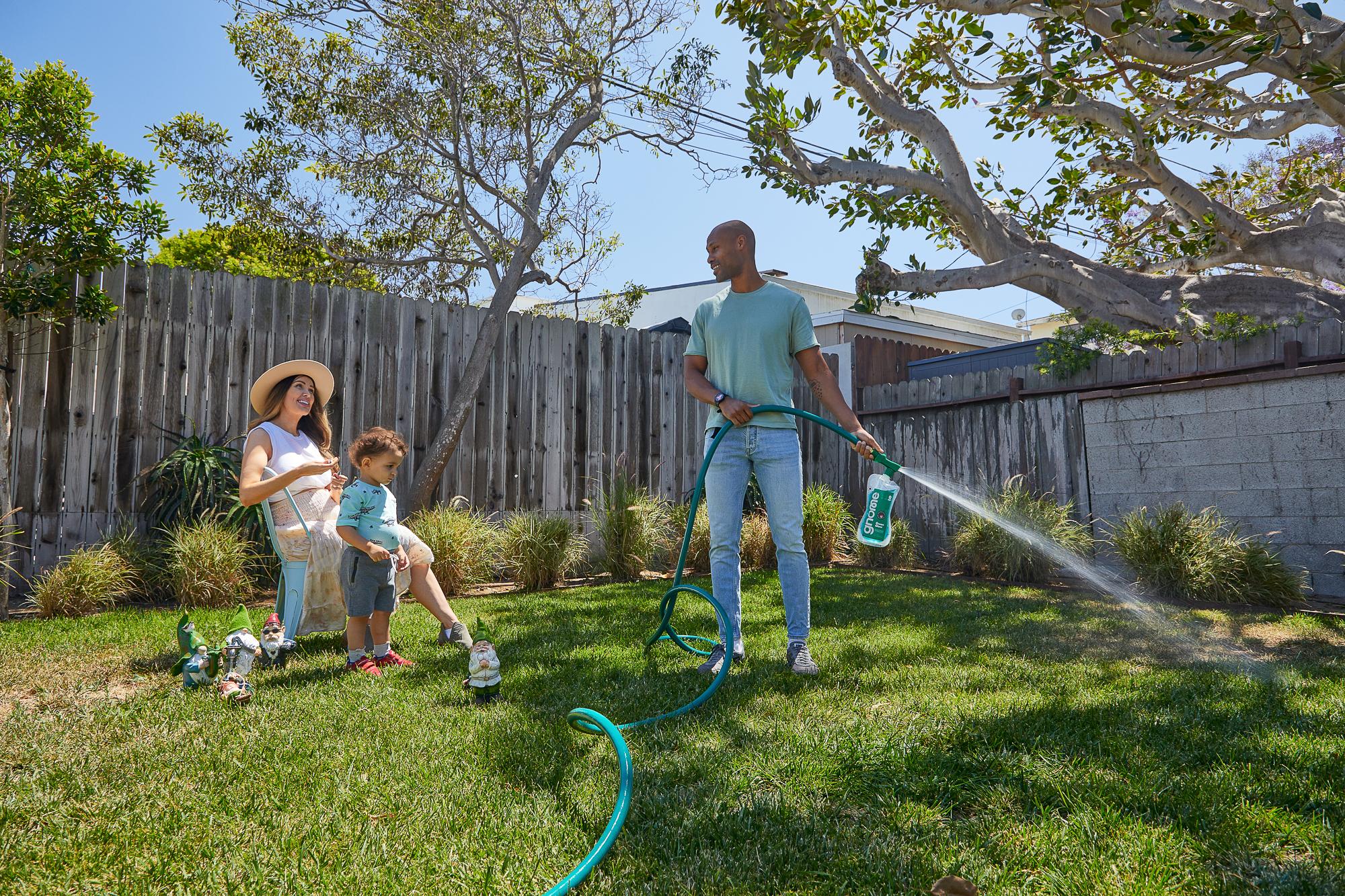 Get the lawn of your dreams, without the harmful chemicals. Gnome delivers nutrient packs direct to your door, making it easier than ever to care for your lawn. The innovative company is leading the US with their people-, pet-, and environment-friendly green grass fertilizer sprays.
Unlike traditional fertilizers, which often contain high-risk chemicals that can be ingested by your pets or kids, and which cause toxic runoff in your local waterways, Gnome's products are completely harm-free.
Go to https://trygnome.com/pages/learn to find out more.
The launch of their new liquid fertilizer line coincides with a recent exposé from The Guardian. Citing a study by the Centers for Disease Control and Prevention, The Guardian reported that glyphosate, a toxic chemical routinely found in off-the-shelf standard herbicides and fertilizers, was found present in 80% of urine samples drawn from children and adults in the US. Given glyphosate's proven link as a cancer-causing agent, it is cause for concern.
Gnome believes that the time for you to make the switch to natural lawn care solutions is now. With their new liquid spray line, they are confident that you can say goodbye to both dusty and dangerous fertilizer pellets and harsh herbicides.
Beyond the risk to humans and pets, it has been well established that traditional fertilizers, normally in pellet form, are an environmental hazard. A recent study by the Massachusetts Institute of Technology (MIT) revealed that less than half of the volume of traditional fertilizers is absorbed by the lawns and plants to which they are applied. What happens to the fertilizer that isn't? It becomes harmful runoff in waterways or is broken down by microbes in the soil and released into the atmosphere as nitrous oxide, the highly damaging greenhouse gas.
In contrast, Gnome's sophisticated liquid delivery system greatly enhances the absorption of their nutrient pouches, eliminating both runoff and nitrous oxide emissions.
So, if you want a healthy and thriving green lawn that is safe for your kids and pets, without harming the environment, Gnome now offers a suite of products to meet your lawn's distinct needs.
Gnome's flagship liquid lawn fertilizer series offers three products that address different components of your lawn's health. These advanced formulations are Green Glow, Iron Strength, and Soil Balance. For the ultimate healthy, green lawn and soil, Gnome offers a Magic Lawn Plan, a subscription service tailored to your specific grass type, climate, and lawn size. They even provide easy to use instructions with your lawn care plan. Already have a good idea of what your lawn needs? Gnome offers their full suite of products off the shelf as one-time purchase options.
The brand's easy-to-use liquid spray pouches can be attached to your garden hose head for full lawn coverage, each bag only taking 10-15 minutes to apply.
At Gnome, they believe that there is a better way to take care of your lawn. They deliver cutting-edge formulations developed by top scientists and horticulturists.
A spokesperson for the company said, "Our mission is to respect the planet, especially our dirt, and to empower people to save the world one patch at a time."
Thanks to Gnome, the future of safe lawn care is here.
Visit https://trygnome.com/pages/learn to learn more about how to take care of your lawn today.