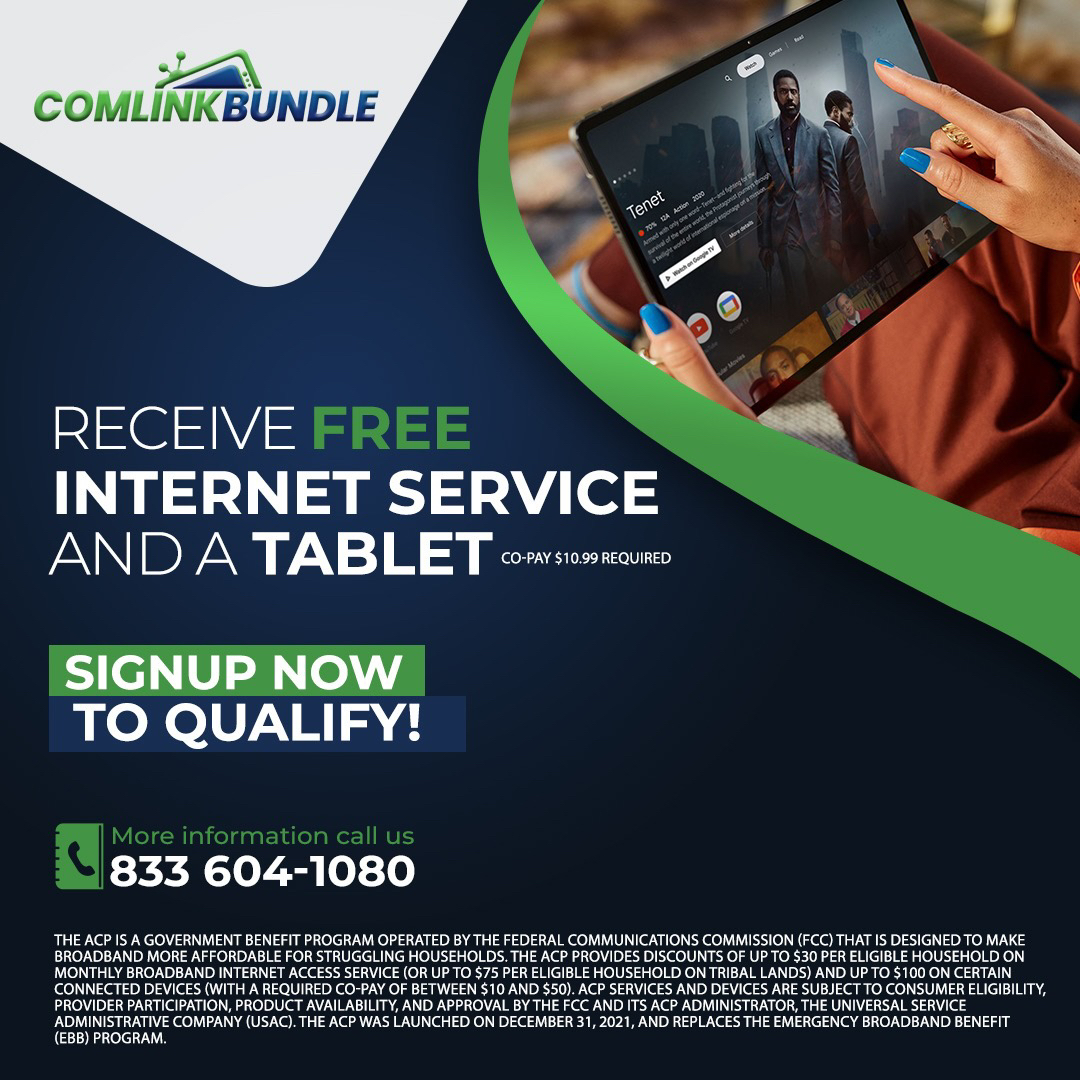 Over the last few years, we've learned a lot of lessons, individually and as a nation.
One of the most important things we learned, is that the internet, computers, and phones, are not a luxury anymore - they're an essential part of existing in an increasingly online, mobile, and connected society... and they can also be incredibly expensive.
It's not a great combination, essential and expensive, and that's why the ACP (the Affordable Connectivity Plan) was born.
If you qualify for free internet through the ACP, you can also apply for unlimited talk and text phone services through a provider like Comlink Total Solutions.
If you're not sure if you qualify, then it's a good idea to check out their website, or even give them a call - because potentially getting all that stuff for free is definitely worth a few minutes to find out.
Visit https://saleslinkcrm.com/ampifire to learn more about how it works, or to begin an application.
Comlink Total Solutions can use the ACP to provide you with free (or super affordable) access to unlimited internet service, an internet-connected tablet, and unlimited mobile service if you're in one of the millions of struggling households across the USA. The program is open to any household that qualifies for the federal ACP, just visit their website to see the full list of guidelines.
The ACP was launched by the FCC as a permanent replacement for the Emergency Broadband Benefit (EBB) which ended in December 2021. Its purpose is to provide access to reliable internet with no data limits, either at a reduced cost, or no cost at all, by providing discounts of up to $30 per eligible household, per month, or up to $75 per household on eligible tribal lands.
What's important to understand, is that Comlink can provide you with unlimited, reliable internet, even in rural locations, for $30 per eligible household - which conveniently works out to be 100% free for you.
Their new tablet program is based on research from the Universal Service Administrative Company (USAC), which found that 98% of EBB and ACP applicants preferred tablets over desktop or laptop computers. How it works is simple, just ask for a tablet when you apply, and they'll provide one nearly free - there's just a small co-pay of $10.99, which is required by the ACP guidelines.
What if you don't qualify for the tablet program? You could still be eligible for a SIM card connected to the T-mobile network. These SIM cards are totally free, include unlimited calling and text messages, and have 10 GB of mobile data, all of which is replenished every 30 days at no cost.
You may have noticed a trend here - and it all comes down to one thing. If you're living in a household that's struggling to get by, you should still be able to access the internet, phone services, and a computer or tablet. By working with the FCC's ACP, companies like Comlink are making that a reality.
Comlink uses existing 4g and LTE networks to provide wireless data to rural clients across the USA, without having to install additional infrastructure. This means it's easy to set up, no matter where you are, and you don't have to worry about connecting to satellites, or any of that hassle.
It's easier than you think to qualify for the ACP, but you can't possibly qualify if you don't apply.
Just visit https://saleslinkcrm.com/ampifire to learn how you can apply, and what kind of free services you qualify for.