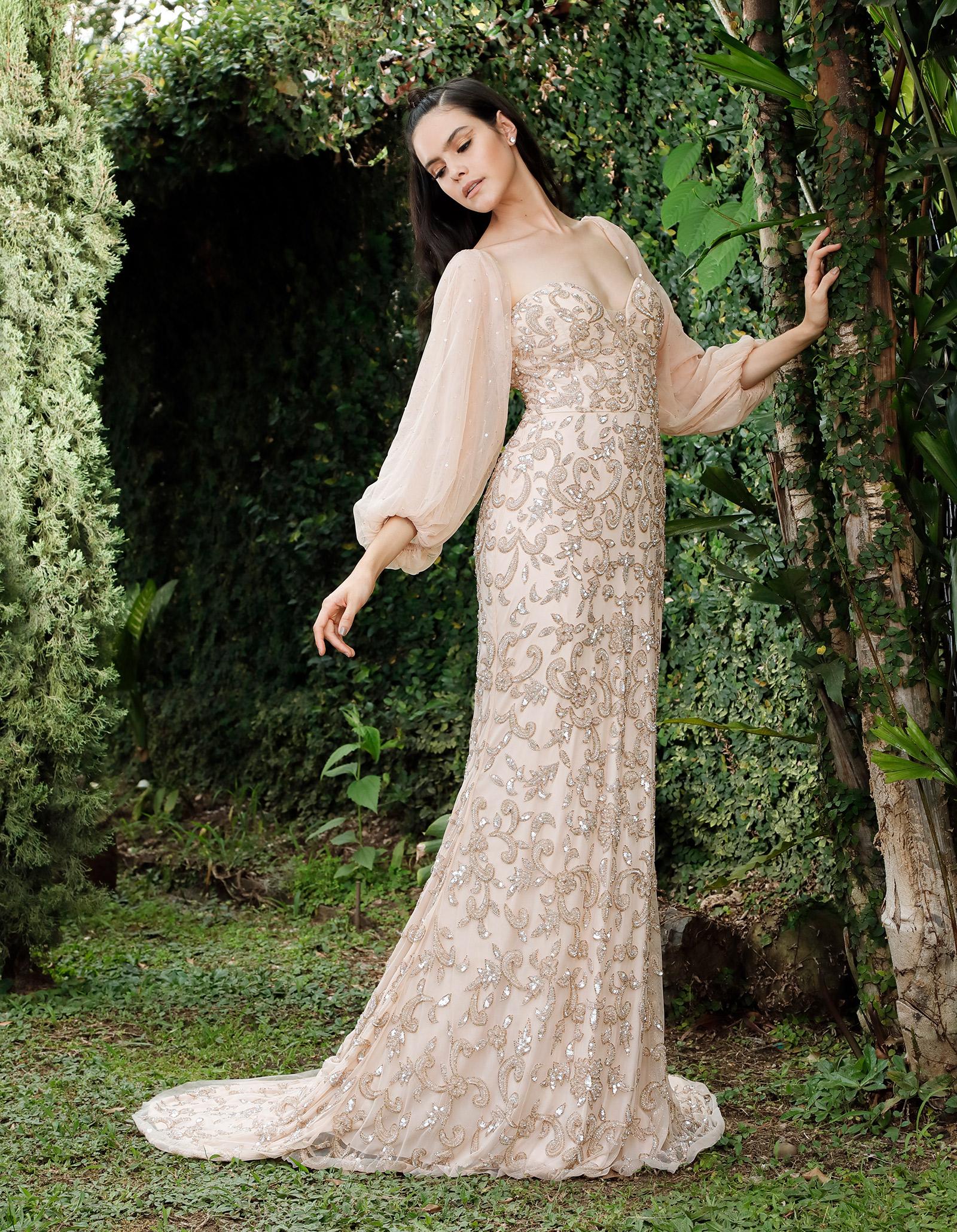 During lockdowns of the past 2 years or so, the closest most of us got to a special occasion was taking the bins out or transitioning from one room to the other. The days of getting dressed up were over…
But not anymore! It's not surprising that time spent away from friends and family has made us want to make wedding celebrations even more memorable and special. And of course, that includes having the best, most flattering dress!
This Tuckahoe bridal house presents you with a wedding gown collection that exudes class, sophistication, and impact. With hand-crafted detailing and unique color choices, these dresses are sure to turn heads and bring out your inner goddess!
Lotus Threads' new gowns feature floral appliques, square necklines, train skirts, semi-transparent long sleeves, and color options including blush, crème, and black.
Check it all out at https://www.lotusthreads.com/bridal/lotus-classics/mia-gown-85048
The atelier's original designs can be altered or shortened for a bespoke fit. Focus is placed on selecting high-quality materials and hand-crafted details such as beading and embroidery.
According to a New York Times report, there is a greater emphasis on making wedding days momentous after so many were canceled during the pandemic. It notes that New York Bridal Fashion Week 2022 trends included traditional gowns with impactful modern twists. Popular designs from the industry event featured modern floral embroidery, dramatic skirts and trains, strapless bodices, and removable sleeves.
Highlights from Lotus Thread's collection include the Mia Gown with hand-cut floral applique accents. The dress features a trumpet skirt train and is available to you in rose and crème color options.
The boutique's Luna Gown is decorated with texture on the sides and buttons at the back. The sleeveless, square-necked dress has a mermaid fit skirt silhouette and statement chapel train. For more go to https://www.lotusthreads.com/bridal/the-mystical-garden-collection/luna-gown-86360
The Raven Gown offers you a modern spin on a classic shape with a strapless bandeau top and a tiered tulle ballgown skirt. Lotus Thread's Fianna Gown is hand-embellished with a floral filigree pattern and detachable puff sleeves. The Zaila Gown provides you with a long-sleeved option with hand-beaded and embroidered flowers.
Other bridal wear includes jumpsuits, separates, short dresses, and modest and curvy gowns. Forces Of Nature, The Evolution, and The Mystical Garden collections are also available at the bridal house. For more details, go to https://www.lotusthreads.com/bridal/the-evolution-collection/raven-gown-88506
Lotus Threads garments merge contemporary and classic New York fashion styles. The founder Maribel Diaz emphasizes figure-flattering, elegant designs that you will feel comfortable with throughout the whole wedding event.
You can book a fitting appointment at the Tuckahoe, NY showroom or visit one of the wholesale branches throughout the US.
A spokesperson for the company said: "I design for a woman who sees herself as sensible. I see her as a goddess, writing her own story in our universe. She is timeless, sophisticated, and elegant. Designers think of their garments as art. I think my gown only becomes art with the addition of the woman wearing it." To see more, visit https://www.lotusthreads.com/evening/beaded-gowns/fianna-gown-85088
For the most fashionable, form-flattering wedding dress designs for 2022, contact Lotus Threads today at 212-947-8100.
Book a fitting now at https://www.lotusthreads.com/bridal/forces-of-nature/zaila-gown-22129