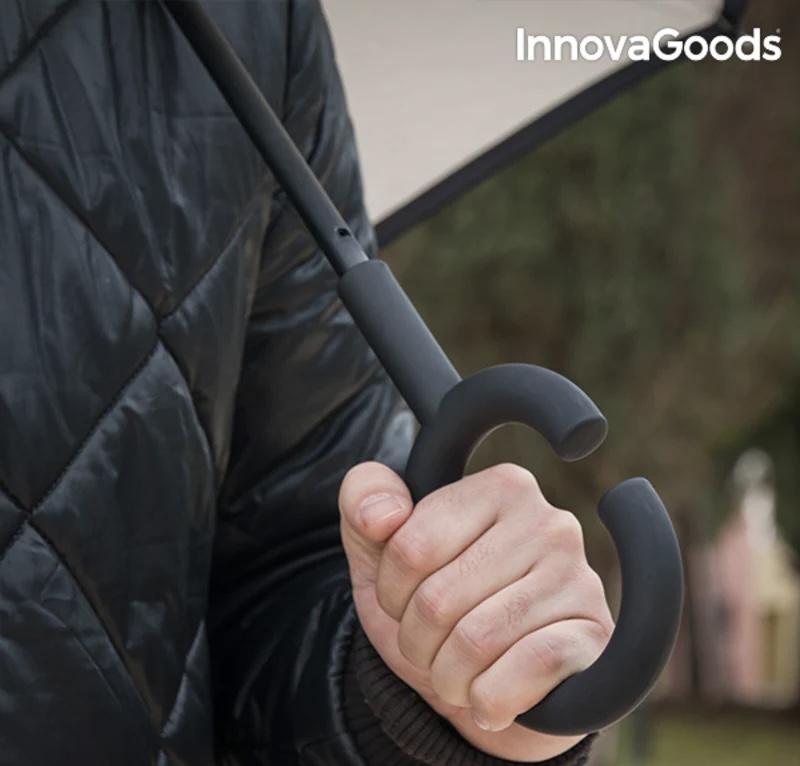 In the UK, we're used to rain – but that doesn't mean we like getting wet. Whether you're shopping with friends or travelling for work, this ergonomic umbrella is about to become your best friend!
Doviaste focuses on providing you with original items at a cost-effective price. The design of the umbrella is well suited to city use because you can enter and exit your vehicle while protecting yourself from the rain.
Visit https://doviaste.com for more info!
The InnovaGoods umbrella can be operated with one hand. Once the product has been closed, it stands securely on the ground without needing to be stored.
With a quick-folding design, the umbrella is highly portable and fits into car doors more easily than standard umbrellas. A video on the online store demonstrates its features and shows drivers entering and exiting vehicles quickly.
The easy-to-use umbrella also features a circular handle that allows you to wear the product on your wrist. While holding it in this way, both hands are free, letting you access your phone, wallet, keys, or bag.
InnovaGoods wanted to create a product that was useable in all weather conditions. To this end, the ergonomic handle attaches to robust and durable material with non-drip, quick-drying properties.
Made from polyester with natural rubber and metal, the reverse-closing feature makes you more likely to remain dry when you arrive at your destination.
The open umbrella has wide coverage to protect you from the elements more reliably. The reverse-closing functionality prevents water spillage and carries the wettest parts of the material on the inside.
With the product launch, Doviaste continues to provide you with quality accessories for stylish, lightweight transport. InnovaGoods is known for functional, efficient products, and the online store offers many of its other options.
In addition to the latest umbrella release, Doviaste also provides you with jewellery, bags and wallets, and original gift ideas for all occasions.
A spokesperson for the company states: "This handy and practical umbrella with its reverse-opening and closing system, allows you to get out of a car easily and without getting wet on rainy days, as it folds down the other way round to a conventional umbrella."
If you want the best umbrella for trips to the city, you're in the right place!
Go to https://doviaste.com for all the details you need!