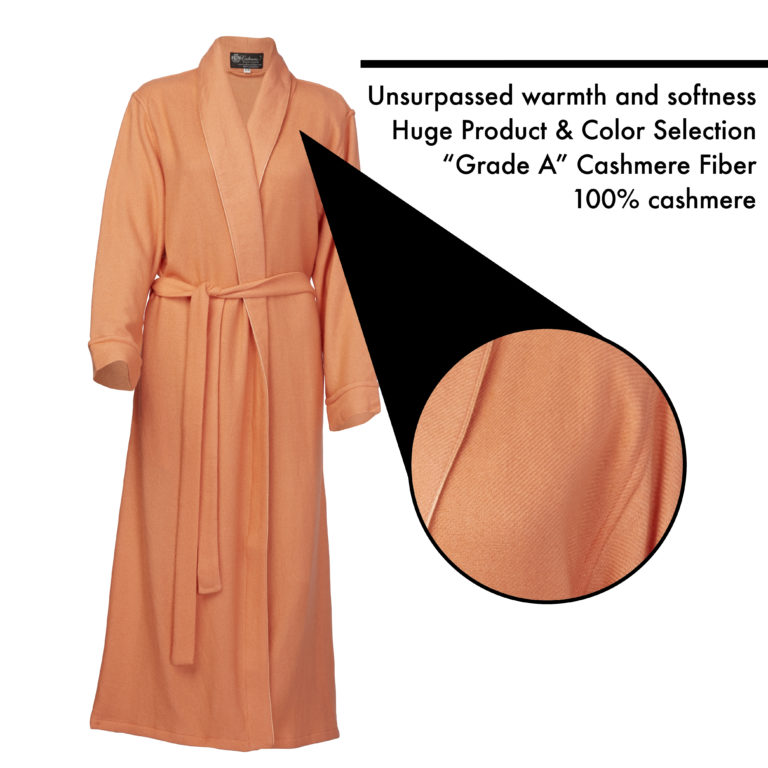 While getting out of bed on a freezing cold winter morning can be a real drag, the experience can be made dramatically more enjoyable with the help of a fine-quality cashmere robe!
This luxury winter leisurewear will not only score you major points in the Christmas gift choice department, but it'll transform everyone's mornings from dreary to delightful! Get them for your loved ones and heck, get one for yourself too!
Made from 100% pure cashmere, these opulent garments are the epitome of softness, warmth, and comfort. They provide the perfect transitional attire for getting out of bed, the shower, or even for that sip of your first beverage on a brisk Christmas morning!
Visit the store here https://www.cashmereboutique.com/product-category/women/robes
The sumptuous leisurewear is available in small/medium and large/extra large women's sizes and lengths of 51 and 53 inches. The volume of material is certainly not skimpy and provides ample coverage to wrap yourself in without the need for pulling the robe's fabric to fit.
The winter cashmere robes feature a shawl collar, a sash tie, and inseam pockets. The array of color choices spans blue sapphire, camel, charcoal, crimson, sage green, and much more!
Cashmere is a type of wool made from the undercoat of cashmere goats. The specialty hair fiber is known to be one of the softest and most luxurious types of fabric in the world. The store's grade A 4 ply robes consist of 4 threads twisted together to make the cashmere yarn. This makes them warmer and more durable than lower plies and well suited to colder weather.
As a natural fiber, cashmere is breathable and naturally absorbent. It keeps the wearer warm without making them sweat. Cashmere Boutique's winter robes are made from 100% pure Capra Hircus goat down from the high plateau regions of Kashmir, Nepal. The fabric is not blended with other types of wool or synthetic fibers. A company spokesperson said: "Indulge your every fantasy when you wrap yourself in our high-quality cashmere robes. Only when 100% pure cashmere touches your skin, will you know the meaning of pure luxury."
The boutique's leisure robes can be dry cleaned or hand washed using hair shampoo. After washing, the garments should be gently squeezed to remove excess water, re-shaped whilst damp, and dried flat.
Since 1999, Cashmere Boutique has served over 250,000 customers worldwide. Its products include a wide range of men's and women's clothing, pashminas, accessories, throws, blankets, gift ideas, and more. Items are available via the website or Amazon store and are shipped from North Carolina, USA.
A satisfied customer said: "This robe is as soft to the skin as you'd expect cashmere to be - even worn with nothing else under it. It feels very luxurious and it's perfect for wrapping up on a winter's night or going down for that first cup of coffee on a cold morning."
Visit Cashmere Boutique today for the perfect Christmas gift she won't want to take off!
Get yours now at https://www.amazon.com/Cashmere-Boutique-Women-Color-Medium/dp/B004T3LWCE/ref=sr_1_1_sspa?crid=1PE5M8X64R77X&keywords=cashmere+robe&qid=1666057955&qu=eyJxc2MiOiI2LjU0IiwicXNhIjoiNi4wNSIsInFzcCI6IjQuOTkifQ%3D%3D&sprefix=cashmere+robe%2Caps%2C182&sr=8-1-spons&psc=1