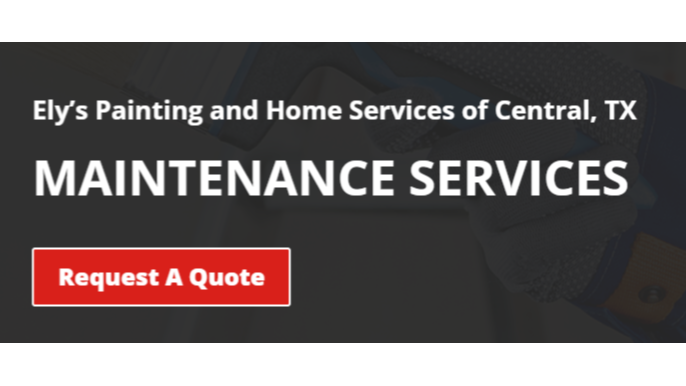 No job is too small for Ely's Painting and Home Services!
The professionals at the home remodeling and renovation company now cover a variety of smaller tasks within your home, including painting, repairs, installations, grouting, patching, and more. The maintenance services are offered as part of a day-rate package, allowing for multiple jobs to be completed in one visit.
Go to https://elypaintandhome.com/maintenance-services to find out more.
If you're like a lot of other homeowners, it's probably easy to ignore minor problems around your house. But over time, those minor problems start to add up and if they're not taken care of promptly they can affect your property value as well as the structural integrity of your home. The home improvement professionals at Ely's Painting and Home Services are trained to fix these smaller issues before they become bigger ones.
Ely's Painting and Home Services helps clients with various tasks, including bathroom grouting, appliance installation, patio cleaning, and electronic re-wiring. They are also experts in painting and repainting. Their certified professionals are capable of painting a variety of surfaces and materials, whether they are on walls, ceilings, or trim.
Whatever projects need completing, Ely's Painting and Home Services' team also handles all the prep work. They use drop cloths and sheets to protect your floors, walls, and furniture. They also fill holes and cracks and ensure that stains are sealed and surfaces are sand scuffed.
Ely's Painting and Home Services' maintenance solutions are available as part of a day-rate package that the company offers. The package permits you to have an experienced service technician finish smaller tasks around your home all in one consultation, which saves you from having to contract the work out to multiple companies.
"We had our front door and deck doors painted by Ely's Painting and Home Services," said a satisfied customer. "They helped us pick the color for our doors, and we couldn't be happier with how they turned out. The technicians were punctual, clean, and excellent at communicating. We would definitely use them again."
To schedule an appointment, you can either call Ely's Painting and Home Services or fill out the form on their website. One of their technicians will be in contact with you to discuss your issues and ideas, and provide a free, no-obligation quote for the project.
About Ely's Painting and Home Services
Ely's Painting and Home Services offers a wide range of home remodeling and renovation resources. Their technicians are trained and certified in a variety of home improvement tools, materials, and techniques, and are committed to providing reliable, trustworthy, and professional workmanship.
As a mobile service, they serve Austin and the surrounding area, including Waco, San Antonio, Fredericksburg, Brenham, College Station, Cedar Park, Leander, Round Rock, Pflugerville. and Georgetown.
Get your house looking its best again by visiting https://elypaintandhome.com/maintenance-services