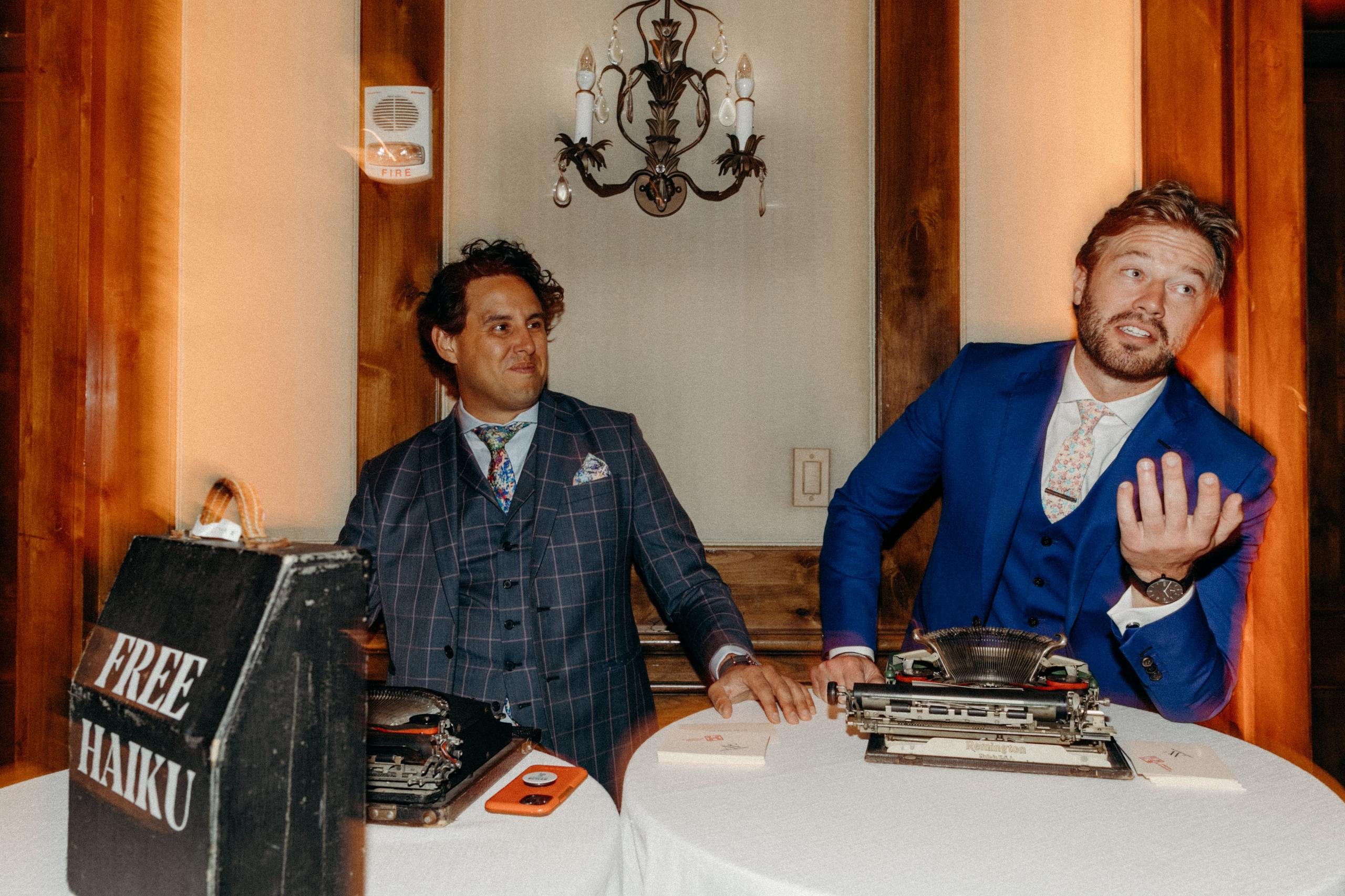 So, what is it Haikuists do exactly? They create personalized haiku on the spot for guests attending special events. Whether you need entertainment for a holiday party, private dinner, gallery event, festival, conference, or any event or setting imaginable, they'll come to your venue and gift everyone a one-of-a-kind haiku.
Check it out at https://haikuists.com
Haikuists' personalized poetry is a great way to give guests a keepsake while offering them innovative and interactive entertainment. The group believes that haiku are, "a photobooth alternative for the soul."
So how does it all work? Two poets show up dressed to the nines equipped with vintage manual typewriters. They set up a table in a busy area and open their typewriter cases, which are decal-ed with 'FREE HAIKU.' Ta-da! Soon enough, a curious flock of people surrounds the table, and the festivities begin. Usually, interactions begin with a short explanation of haiku and how the experience works. Then, guests give haikuists a topic – any topic – and haikuists work their magic: composing custom haiku on vintage typewriters in less than two minutes!
People do all kinds of things with their haiku – frame them on the wall, hang them on the fridge, and some even get them tattooed. Each haiku is written on high-quality craft paper and stamped with a logo or monogram to commemorate the event.
The poets at Haikuists want to inspire everyone at your event to be creative and express themselves through haiku poetry. "A haiku is a tiny poem whose purpose is to capture the spirit or the essence of something," said a haikuist. "It's like a photograph but in words," they added.
While Haikuists are big enthusiasts and proponents of the haiku poetry form and subgenre, what they're most thrilled about are the interactions the haiku encounter sparks. Simply put, the haiku encounter brings guests joy and creates lasting memories, as evidenced by the success and growth over the company's last decade of operation. The company that started with two guys in one city is now operating in over a dozen cities across the U.S.
So, if you're in Las Vegas, Boston, Baltimore, Philadelphia, Washington D.C, NYC, Los Angeles, San Francisco, Chicago, Detroit, Portland, or Austin, give them a call – they love phone calls!
Call Leah, the booking manager, at (213)-633-7380