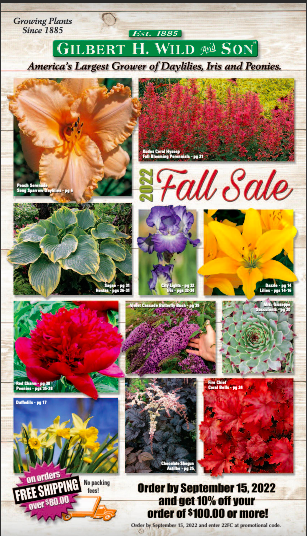 The next time someone asks you how does your garden grow, thanks to Gilbert H. Wild & Son's exceptional fall catalog, your answer will be that your plants are more than in a row, they're blooming all over!
The nursery, which was established in 1885, is America's largest grower of daylilies, irises and peonies. Their new catalog features an array of vibrant seasonal fall variants of these three flowering genera, as well as many other distinct and beautiful plants.
Go to https://issuu.com/ghwild/docs/_22_fall_catalog?__s=90f4f2hthrrik9zx72qk to find out more.
The fall catalog has been released ahead of the prime autumn growing season to give you ample time to plan what you would like to cultivate this year. Seen widely as the best time of year to begin planting, late summer and early fall offer you cooler air, pleasantly warm soil and ample rain showers.
Gilbert H. Wild & Son believe these conditions make it the perfect time to plant spring-blooming bulbs and perennials, as well as shrubs and trees. If you want to enjoy all the vibrant colors and wonderful fragrances of spring next year, you are encouraged to plant your bulbs this fall.
As such, the nursery's fall clearance catalog contains a rich variety of the daylilies, irises and peonies that have given the growers their fine national reputation. You can access more information on their flowers and history at https://gilberthwild.com
Highlights for fall include their Strawberry Candy Daylily. This Stout Medal Winner would be a prized asset to your garden with its pastel pink petals, deep pink eye and contrasting golden-green throat. You will enjoy the stunning hues of this long-blooming daylily for a full spring. Another popular option is their Gardenia Peony. This variety is characterized by its large, softly formed, delicate blush white flowers and is perfect both in your garden and cut for an interior floral arrangement.
In addition to their daylilies, irises and peonies, the nursery also has an extensive collection of flowering daffodils, hibiscus, cone flowers, chrysanthemums, butterfly bushes, and full-blooming, native, sun-loving and shade perennials that you are sure to love.
To accent their colorful array of flowering plants, Gilbert H. Wild & Son has also included ready-to-plant hen and chicks and dwarf, medium, tall and giant hosta in their fall catalog. Check out the clearance selection at https://gilberthwild.com/clearance
Gilbert H. Wild & Son has been growing and selling plants to avid gardeners in the US for over 130 years. You are encouraged to take advantage of the deals that are on offer in their fall clearance catalog and which are available until September 15, 2022.
A spokesperson for the nursery said, "Gilbert H. Wild & Son is home to America's most talented garden designers. We have spent years procuring and cultivating the finest plant varieties for your garden."
For the finest garden on the block, nay, in the suburb, buy your fall blooms from Gilbert H. Wild & Son and enjoy their exclusive discount code. Get 10% off when $100 or more is spent by using the coupon code: 22FC at checkout!
Visit https://gilberthwild.com/gilbert-h-wild-catalog to start growing your garden today.