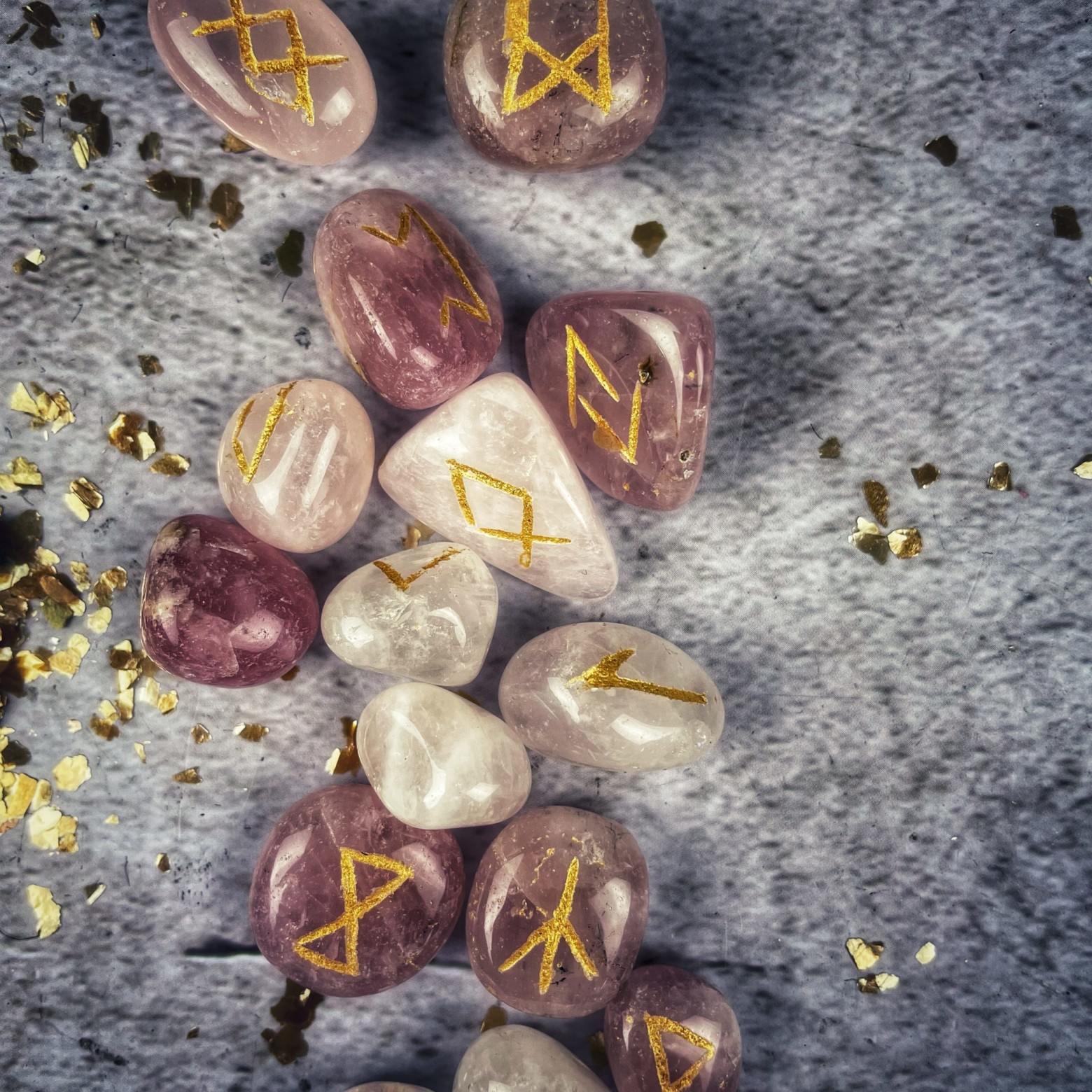 Taking up the mantle from Sunnydale's Magic Box, Parlour of Wonders is "Your one-stop spot for all your occult needs."
Madame Pamita's witchcraft emporium sells everything from love spells to magic runes. The store's new Rose Quartz Gemstone Runes Set includes 24 Elder Futhark runes and an additional blank rune. Use it to promote self-love, feelings of peace, and inner calm, or to attract your heart's desire! Just be careful not to overdo it – you don't want to attract everyone's love (ahem… Xander).
Get your witchcraft supplies at https://www.parlourofwonders.com/product-category/rune-sets
Along with Rose Quartz, you'll also find Lapis Lazuli and Black Agate Gemstone Rune Sets. If you're looking to attract some good fortune – and, who isn't? – or to tap into some divine energy, the gorgeous blue Black Agate rune set is the ideal choice. If, however, you need some wisdom and clarity in this crazy world, use Lapis Lazuli to channel psychic awakening into your divination work.
But do be cautious! "Rune stones have a powerful and magical history and hold strong divinatory powers," explained Parlour of Wonders owner Madame Pamita. "Rose quartz can be used in spells or readings to heal relationship problems and promote mutual understanding," she added.
Thought to possess nurturing energy, rose quartz is known as the stone of unconditional love. As such, Parlour of Wonders has designed its new rune set to promote healing and inspire compassion and kindness. And we could all use more of that!
The Elder Futhark runes featured in the new set are the oldest known runes which date back to 150 to 800 AD. They were used by Germanic tribes throughout Northern Germany and the Scandinavian countries for magic and fortune telling. So they have a proven track record!
You'll love that Parlour of Wonders engraves the Runic alphabet on genuine rose quartz gemstones which are polished to a fine shine. Your collection of 25 rune stones is then packaged in a beautiful deep blue velveteen storage bag.
Along with rune gemstone sets, the online emporium sells a variety of spiritual tools, including candles, soaps, sachet powders, and spell kits. Founder and witch Madame Pamita has also published several books; her latest title, Baba Yaga's Book of Witchcraft, explores ancient Slavic magical practices and Ukrainian folklore.
Whether you're witchcraft skills are at season 2 Willow or season 7 Willow (just don't be Dark Willow!), you're welcome at the Parlour of Wonders. Book private spiritual coaching with Madame Pamita, watch her how-to videos, or join her Spell Squad – a place for all spiritual rebels, magical explorers, astral adventurers, and all the witches and warlocks!
Parlour of Wonders is your online Magic Box and Madame Pamita is your Rupert Giles. Go to https://www.parlourofwonders.com/product-category/rune-sets to check it out!