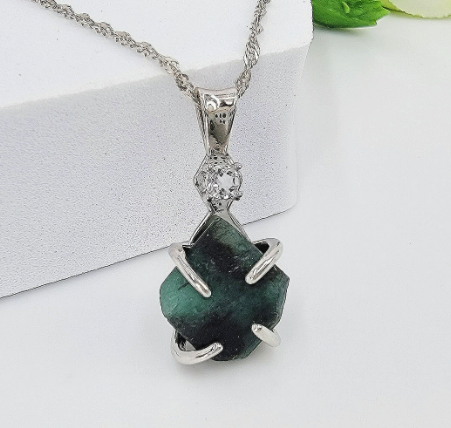 Treat the person you love on their special day with an unforgettable and unique birthstone bracelet from Uniquelan Jewelry.
Whichever month of the year your favorite person was born in, the online boutique now has a raw stone bracelet to match. In Uniquelan Jewelry's new collection, you can choose from January's garnets to February's amethysts, March's aquamarines, December's blue topaz and everything in between.
Go to https://uniquelanjewelry.com to find out more.
The launch of their new birthstone collection coincides with a recent article in Vogue magazine, which labeled birthstones the chicest and biggest jewelry trend of 2022. Most of the pieces they recommended for each month also featured the style of organic, one-of-a-kind and bohemian raw stones which Uniquelan Jewelry also features in their distinct pieces.
One addition to their birthstone bracelet line you're sure to love features a simple link chain in 24k yellow, rose or white gold over sterling silver. Each bracelet has a central raw stone of between 1.5 and 2 carats and is framed on either side by two smaller clear quartz stones. You can choose the bracelet in a length of 6, 7 or 8-inches.
You can select this timeless but fashionable, handmade piece in garnet, amethyst, aquamarine, diamond, emerald, alexandrite, ruby, peridot, sapphire, pink tourmaline, citrine or blue topaz. You may also like to opt for Uniquelan's bracelet and ring sets, which come with a matching ring featuring the same distinct rock crystal.
As a specialist in natural gemstones, they also offer you unique takes on the standard birthstones with rare stones like the Herkimer diamond available for April and rare amalgam stones like ametrine, a naturally fused citrine and amethyst, available for February or November birthdays.
Uniquelan Jewelry believes that birthstone jewelry is the perfect gift for you to give for a birthday, but also as an anniversary, Christmas or Mother's day present, because each stone has a rich meaning, history and energetic power. They also believe that the raw stones that are their signature style perfectly capture the true textures and shades of each unique birthstone.
Also in birthstone jewelry, the brand has a new collection of tennis bracelets made entirely from a combination of raw and polished stones.
If you are looking for a different gift, whether for yourself or for a loved one, you can also select from the brand's necklaces, earrings, and standalone rings.
Uniquelan Jewelry is an online jewelry boutique based in North Carolina that ships across North America. They have become renowned for their one-of-a-kind natural raw stone jewelry.
A spokesperson for the jeweler said, "We have an amazing and unique collection of bracelets that are made from genuine tested gemstones. They are the perfect piece to have and perfect as a gift. Every purchase comes with a jewelry box and a gift card."
Pick the most beautiful gemstones for the most beautiful person in your life thanks to Uniquelan Jewelry.
Visit https://uniquelanjewelry.com to see which one of their birthstone pieces will make the perfect gift.