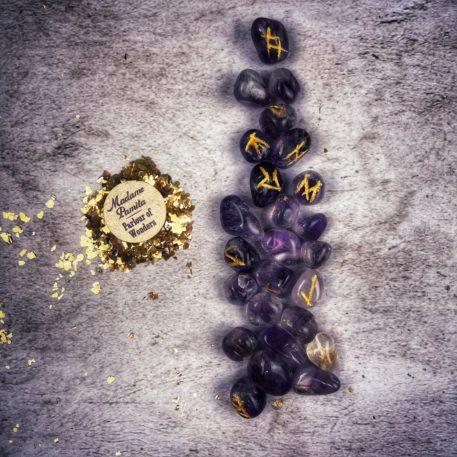 If you want a beautiful, high-quality rune set that meets your spiritual needs, you need one made with powerful gemstones. This Rainbow Moonstone Gemstone Rune set from Parlour Of Wonders will make the perfect addition to your collection!
The set contains natural and polished rainbow moonstones that feature all 24 characters of the Germanic Elder Futhark runic alphabet and an additional blank rune.
Visit https://www.parlourofwonders.com/product-category/rune-sets for more information.
This eye-catching selection of rainbow moonstones will help you strengthen your intuition, cultivate divine feminine energy, and help fertility. What's more, it can make a perfect gift for a friend or a loved one you want to help welcome love in their life.
Having been among the magical methods for divination since the 4th century, many contemporary spiritualists still use them to encourage personal growth and personal transformation. However, as a modern practitioner, you may struggle to find high-quality rune sets that also include the traditional Elder Futhark carvings. Parlour Of Wonders' new Rainbow Moonstone Gemstone Rune Set ensures you have access to a collection that is durable, well-crafted, and features accurate carvings.
The polished rainbow moonstones have a creamy white color with vibrant blue tones to create a magical and eye-catching finish. The mystical properties of these natural gemstones will also help you bring balance and harmony to your life while shielding you from negative energies.
In addition to their rainbow moonstone set, Parlour Of Wonders also has rune collections featuring Rose Quartz, Carnelian, Bone, Lapis Lazuli, Black Agate, Sunstone, Moss Agate, Clear Quartz, Tiger Eye, Amethyst, Green Aventurine, Red Jasper, Peach Moonstone, and Tree Agate stones. Each 25-piece rune set also comes with its own velveteen storage bag for safekeeping.
For all of their rune carvings, the online emporium uses the oldest known Elder Futhark runic designs. These carvings were used by Germanic tribes as far back as 150AD, and the company's dedication to authenticity allows you to own a collection that links back to this earlier and more spiritual time.
Parlour Of Wonders offers has a wide range of spiritual and mystical items, such as tarot decks, spell kits, candles, and incense. You can also book spiritual sessions and one-to-one magical instructions if you are looking to advance your practices.
A spokesperson for the company said, "Our goal is to empower you and to provide a helping hand to assist you in finding the path to your success."
Get this rainbow moonstone set from Parlour Of Wonders and bring happiness, optimism, and light to your life!
For more information, you can visit https://www.parlourofwonders.com/product-category/rune-sets where you can see all the store's rune collections.