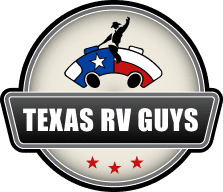 If you're one of the millions of Americans who discovered the joy of RV-ing during the pandemic, welcome to the club! In order to enjoy a safe and reliable experience, your RV will also need annual checkups, and that's where Texas RV Guys can help.
The team of experts will inspect and/or repair all the important parts of your RV that could ruin your next adventure, including hoses, belts, brakes, lubricants, and tires. However, this team goes above and beyond your run-of-the-mill service center, offering free roof inspections that will make sure nothing rains on your parade.
Go to https://www.texasrvguys.com for more information.
Having an annual maintenance inspection will not only keep your new RV in a safe and reliable condition, but it can also help improve its resale value when you're ready to upgrade. Texas RV Guys is the leading repair center in the Dallas-Fort Worth Region, and they can also help you find your next vehicle.
The RV Industry Association reports that a record number of recreational vehicles were sold in 2021, with similarly high figures in 2020 and 2022. Up to 80% of sales were attributed to first-time owners wanting to enjoy an outdoor experience during the pandemic. With many newcomers having recently discovered RV adventures, popularity is expected to continue growing in the coming years.
Texas RV Guys explains that you might not know the unique maintenance requirements of an RV, especially if you're a new owner, which is why their specialist services are so important. The center employs a team of experienced and qualified specialists who have an in-depth knowledge of common faults. Why chance it?
In addition to annual maintenance, Texas RV Guys is fully equipped to conduct RV repairs, including leaking roofs, appliance faults, collision damage, and more. The team maintains supply agreements with some of the country's leading manufacturers and parts suppliers, so you won't be faced with long delays waiting for spare parts to arrive.
About Texas RV Guys
Based in Haslet, Texas RV Guys is a leading provider of RV sales and servicing in the wider Dallas-Fort Worth region. The center stocks a comprehensive selection of pre-owned vehicles and also offers competitive pricing if you want to sell an RV.
One RV owner recently stated: "Texas RV Guys replaced the roof on my Rockwood Wind Jammer, and it looks better than new. The team's workmanship was excellent, the staff is very friendly, and they also offer very good prices. I also really appreciated that they completed the work on time."
Enjoy the peace-of-mind that your next RV adventure will be trouble-free, with expert annual maintenance services from Texas RV Guys.
Request a repair or maintenance quotation today. Check out https://www.texasrvguys.com so you can learn more.