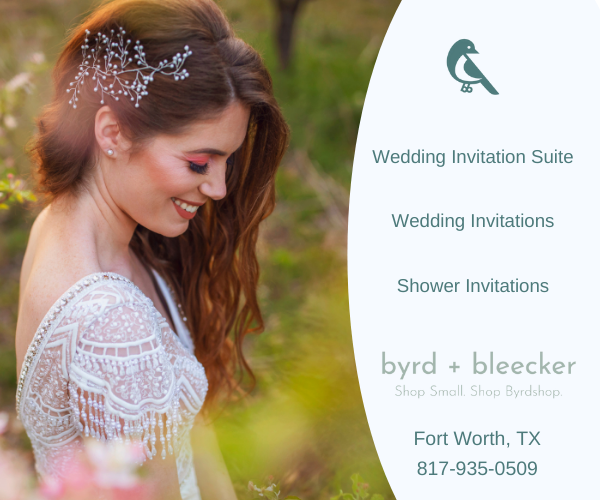 When you're first engaged, it's easy to get swept up in planning the big moments and forget about the little personal details. But the first impression most of your guests will have of your wedding is the stationery and invitation you send when inviting them - and choosing tailor-made, classic but modern designs will set the tone for your important day.
Luckily, with the bespoke invitation and stationery services from Byrd & Bleecker, you can work with the best artists and paper craftspeople to ensure those memorable details don't get missed!
Its services are ideal for the many couples who have had to postpone their wedding dates in the last 24 months, and can now start planning their big day with high-end custom invitations and stationery.
Go to https://byrdandbleecker.com for more information.
Byrd & Bleecker's range provides you with a selection of artisan invitations and stationery from some of the best craftspeople in the industry, for a special and personal touch to elevate your most important milestones.
Founded by Melanie Jones, the company began life as a way to bring the curated boutique feel of Brooklyn to Texas, offering modern, fun, and feminine products to customers in the form of gift wrap, greetings cards, and more. However, after this transitioned to a gift-wrapping service for local customers, Melanie soon expanded further to create the bespoke and innovative stationery company that Byrd & Bleecker has become.
The company works with a number of artists and designers to offer you tailor-made invitations and stationery, including Bella Figura, Arzberger Stationers, and Missing Q Press. Each partner has been chosen for their exquisite skill and artistry with paper to add the little details and finishing touches to your event that make it truly memorable.
In addition to the store's services, you can browse the company website for a selection of carefully curated merchandise, gifts, and essential products ideal for couples who are to be married, brides-to-be, engagements, and wedding showers. Popular items include the Lafco Chamomile Lavender Candle, scented with calming chamomile, lavender, and sage if you need a high-end, premium wedding or engagement gift choice. For a fun and thoughtful bridal shower gift, you might also choose the Future Mrs. Sweatshirt, which is cozy, comfortable, and ideal for the bride-to-be in your life.
Melanie works with clients needing custom wedding invitations in Fort Worth TX, but also Dallas, Southlake, Colleyville, Arlington, and many areas in the DFW Metroplex and North Texas areas.
"The owner is knowledgeable, friendly, and kind," said one satisfied customer. "She took copious notes during our initial meeting to design the perfect invitations and RSVP cards for our organization's event. The finished printed products are amazing - wonderful work, and a beautiful shop."
Byrd & Bleecker is the artisan invitation and stationery specialist you can trust for premium, tailor-made designs of the highest quality.
Ready to learn more? Visit https://byrdandbleecker.com to browse the range of services.