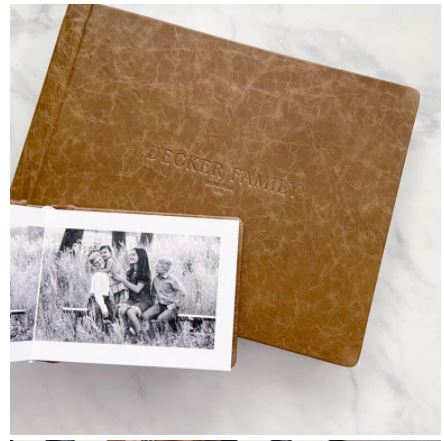 When you run your own business, you're always looking for ways to offer a better service - and make a bigger profit! With a photography business, that little something extra can be as simple as a beautiful, custom photo album for your clients - one that they can cherish forever as a physical memento of their memories. And at Serendipity Albums that's exactly what you'll get.
Developed for industry professionals, the photo albums are of premium quality and can be added to packages for weddings, engagements, senior, newborn, and more to provide your customers with a treasured keepsake.
Go to Serendipity Albums for more information.
Serendipity Albums' custom albums are well-suited to photographers who are interested in boosting their revenue, and can be included as part of packages and made-to-order to your custom design.
Though physical photographs are less common than they once were, the rise of digital photography has not slowed down the popularity of physical photo albums, which are still a common request for wedding & portrait photographers, and desired by many clients as a souvenir of their special occasions. Where digital files can be lost or corrupted, physical prints remain a thoughtful way to pass on cherished memories to the next generation, handed down through families in remembrance of a special day or loved one.
At Serendipity Albums, the company believes the albums should be as beautiful and unique as the memories they contain, and as such offer a range of luxurious covers to choose from with each custom order you make. Options include premium Italian leather, French velvet, Japanese silk, or natural linen in a selection of stunning colors that your clients will love. The albums have been developed for professional photographers as a beautiful addition to your photography packages - and can create a significant boost in revenue when you sell them for a profit. Now available for you to order for delivery in Indianapolis, Indiana, and across the USA, each album is made using high-end, heavy-weight paper for a truly premium feel that adds the perfect final offering to your packages.
Custom album designs are available with direct drop-shipping and can be produced in around 15 business days. Every album includes a lifetime guarantee against manufacturing defects, and can be customized with cover debossing, print type, and cameo options. You can even have your studio logo added.
Find out more at https://news.marketersmedia.com/nyc-custom-made-leather-photo-book-album-for-professional-photographers-launched/89040670
The company is able to provide sample albums for you to share with your clients in order to help them understand the value of the items. Samples are sold with a 35% discount and are labeled as "studio sample".
Serendipity Albums is the premium album manufacturer you can trust to help you add the final, beautiful addition to your professional photography packages.
Ready to learn more? Visit https://news.marketersmedia.com/philadelphia-pa-photographers-linen-velvet-leather-photo-album-designs-updated/89038479 to learn more.