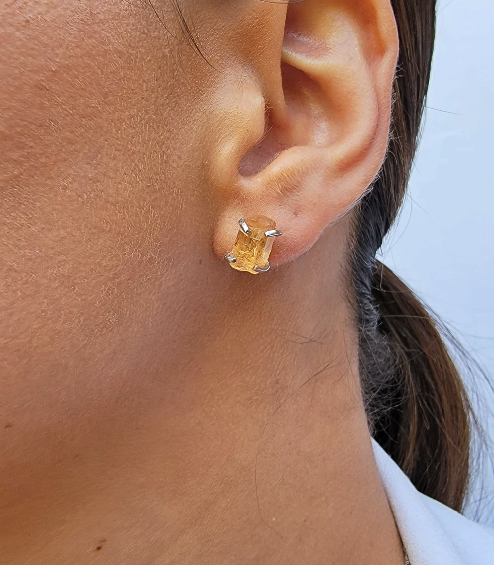 December is a month of merriment and generosity. That's why Uniquelan Jewelry offers you a gift collection that embodies all of these characteristics!
Its selection includes stud earrings, a chain bracelet, and a ring. Each piece features an earth-mined topaz gem that has been polished but not cut to retain its rustic appearance.
You can learn more by visiting https://uniquelanjewelry.com/collections/topaz
The collection highlights the fact that Topaz is one of the birthstones for December, making it suitable for loved ones who are celebrating their birthday this month. Furthermore, you can also gift this semi-precious stone for your 4th, 19th, or 23rd wedding anniversary.
Imperial topaz possesses an intense reddish-orange or golden hue caused by chromium. It is often mined in Ouro Preto, Brazil and is associated with energy, abundance, generosity, and good health.
Raw crystals are believed to have pure energy, which is why Uniquelan Jewelry polishes rather than cuts its gemstones. Furthermore, this process creates unique crystals since the raw stones are not cut into standardized shapes and sizes. After all, your loved ones deserve a one-of-a-kind gift!
You may select white, rose, or yellow gold as the base for your earrings, bracelet, or ring. All metals used for these pieces are tarnish and heat-resistant, ensuring longevity and durability. Moreover, the accessories are hypoallergenic, meaning you can confidently give them to people with sensitive skin.
All items come with a deluxe gift box with a message card. Shipping costs are waived for purchases over $50 if you are in the United States.
About Uniquelan Jewelry
Uniquelan Jewelry, a purveyor of fine accessories, uses its online platform to make purchasing gifts a seamless experience. In addition to topaz, it also sells other December birthstone jewelry featuring tanzanite, turquoise, and zircon. The company likewise maintains a blog that offers you valuable information about gemstones and their properties.
A spokesperson says: "If you're looking for a present that recipients will love, jewelry is a good choice. With our broad selection of topaz birthstone pieces, you can find a gift that is extra meaningful. We provide fast and reliable shipping so your loved one gets their present on time."
It's not too late to buy this season's most stylish gift. Check out Uniquelan Jewelry's imperial topaz collection and take your pick!
Just go to https://uniquelanjewelry.com/collections/topaz for full details.