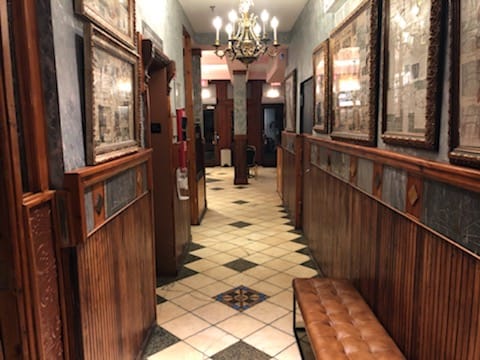 Are you sick of staying at hotel chains that seem the same all over the world? For a pleasant change of pace, try the boutique Blue Moon Hotel on the Lower East Side.
This restored 1879 award-winning hotel at 100 Orchard St. is committed to providing you with an unforgettable experience in New York City's trendy, artsy neighborhood.
Visit https://www.bluemoon-nyc.com for more information.
If you have traveled to Manhattan before, you may have found your choice for lodging limited to mega-hotels in shiny high-rise buildings that do not have any flavor of the city, but you now have an option in a historic, 22-unit boutique hotel that gives the experience of the glamour of old New York – while still having the convenience of smartphone booking and keyless entry.
The website explains that the refurbishment of the Blue Moon Hotel was the vision of artist Randy Settenbrino, who spent five years transforming the 1879 tenement building into an award-winning small hotel.
Settenbrino purchased the tenement in 2001 with the idea of transforming the five-story building into an eight-story elegant hotel. Residents had abandoned the building's apartments in the 1930s when then-Mayor LaGuardia imposed stricter codes that would have required cost-prohibitive renovations.
When reopened 70 years later, those apartments held a treasure trove of personal effects, artifacts, old newspapers, calling cards, 1920s sheet music, and wooden material. Settenbrino wanted to maintain as much of the original building as possible, so he oversaw the refinishing of every salvageable artifact, fixture, and personal effect that could be used.
The website goes on to describe how these items were then reintegrated into the hotel's design and repurposed throughout. For example, the wrought iron that originally formed beautiful fire escapes was repurposed as elegant window balconies. Original hinges and knobs can now be seen on closet doors, and collages made from personal effects of former residents appear in decorative touches throughout the hotel.
The Blue Moon Hotel has been featured in 50+ articles that mention the artistic value in the refurbishment and the unique experience available to travelers, including the LA Times, the International Herald Tribune, and the NY Times. It has also received accolades from the National Geographic Traveler, Citi Search's Best Boutique Hotel, and Rizzoli's Best 100 Little Hotels.
Owner, artist, and developer Randy Settenbrino stated, "Hospitality company Jurny provided the expertise needed to restore and revitalize the Blue Moon Hotel. Their design and tech brought our historic hotel into the future without sacrificing its charm."
Does this hotel sound like just what you're looking for? Book a room at the Blue Moon Hotel at 646-787-5503, or go to https://www.bluemoon-nyc.com for the information you need.