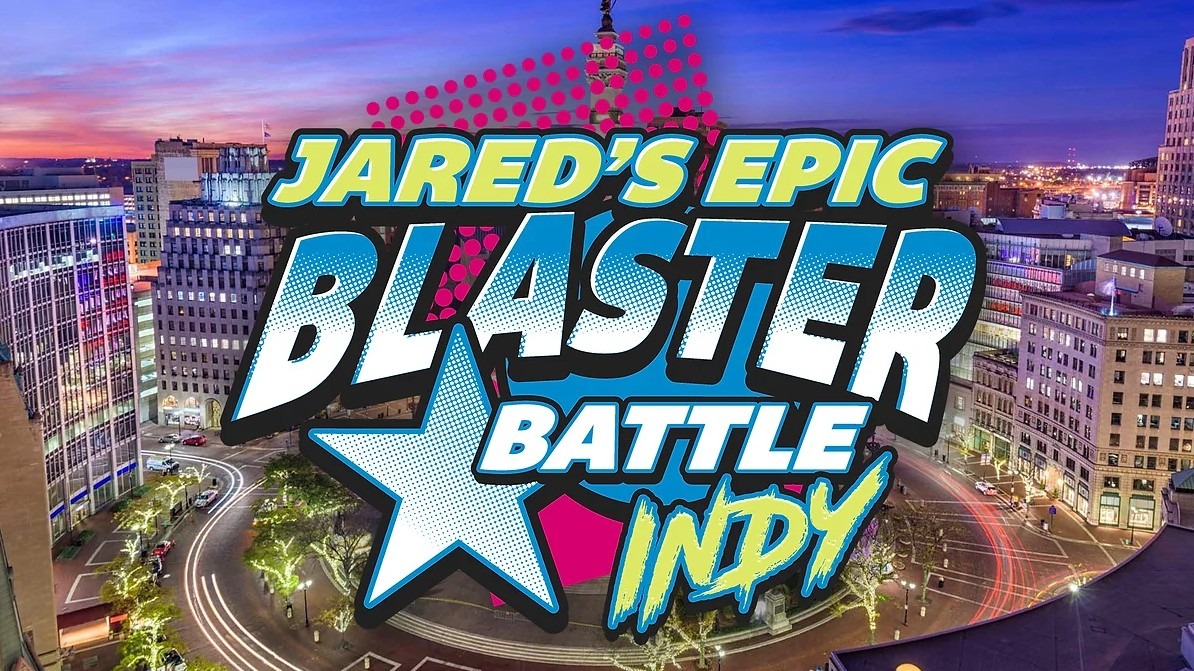 Are you and your friends looking for a bigger, badder blaster challenge? Are you tired of your little brother constantly bragging about his super sniper skills? Does your mom think she could take on anyone in a Nerf gun fight? Well, it's time to put those claims to the test at Jared's Epic Blaster Battle event in Indianapolis!
This is the ultimate opportunity for families and friends to prove their worth and show off their blaster skills… with hundreds of other combatants! Imagine the look on your little brother's face when you take him down in the most epic of all foam gun battles, or the satisfaction of seeing your mom take out your dad with a perfectly aimed shot. It's all fair game at this event, so gather your family members, arm yourselves with your favorite blaster toy guns, and get ready to battle it out for the ultimate in bragging rights. Trust us, this is one event you won't want to miss!
Get ready to blast your way into the ultimate foam gun battle with Jared's Epic Blaster Battle at https://www.blasterbattle.com
So, what exactly is Jared's Epic Blaster Battle, you ask? Well, it's only the Guinness World Record Holder for "Largest Toy Pistol Fight"! With 15 different mass participation games across four hours, you can expect amazing surprises, special guests, and global exclusive product reveals.
And where is this epic battle taking place? Oh nowhere special, just… Lucas Oil Stadium! Yes! That's right, the actual NFL field of the Indianapolis Colts is where you'll be battling it out with your friends and family. You couldn't ask for a better venue than that!
So grab your unmodified blaster toys, don't forget that all-important eye protection, and pack lots and lots of ammo. Participants are warned in advance to expect a high attrition rate of foam ammo, but the event organizer will bring an additional 50,000 darts to hand out to attendees - so you won't go home empty-handed.
Those booking online will be able to opt for the event's Ultra VIP ticket option, which includes a VIP laminate, early event admission, a t-shirt, and photo and autograph sessions with the event's special guests, as well as access to a VIP lounge with refreshments. I mean, who wouldn't want to be a VIP at the world's largest foam blaster event?
It's fun for the whole family! Those aged 2 years old or above must have a ticket to enter the stadium, whether they are participating or merely spectating (well, someone's gotta keep score!).
Plus, with exclusive merchandise, collectibles, surprises, and more, you'll leave this event feeling like the ultimate blaster battle champion. And you will have this once-in-a-lifetime chance to meet your favorite content creators and YouTube celebrities in person!
"This is the greatest blaster battle of all time. Everywhere we go, we sell out. You've never seen anything like this," said Jared Guynes, CEO and founder of Jared's Epic Blaster Battle. "We are thrilled to bring our national tour to Indianapolis and give participants this amazing opportunity to play with their own blaster toys on a real NFL stadium field. Most folks never experience a blaster battle on this scale! Expect the unexpected and have your camera at the ready for product exclusives, celebrity sightings and epic memories with friends and family!"
If you're looking for a fun, action-packed, and downright epic event to attend in Indianapolis, then Jared's Epic Blaster Battle is the place to be on June 10, 2023. Get your tickets now at https://www.ticketmaster.com/event/05005E6E867F16A3