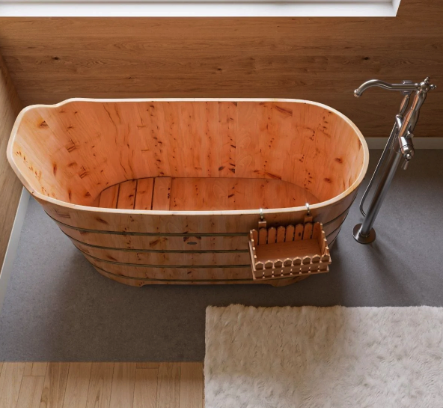 What better way to end your day than to soak your stress away in a bathtub? If you're in the market for a new one, American Bath Store has two excellent options for you!
The online retailer offers you a clawfoot acrylic soaking tub and a cedar wood bathtub with a bench. These two options have a classic look but come with all the features you'd expect of a modern tub.
Learn more by visiting https://americanbathstore.com
These bathtubs feature stylish designs and space-saving profiles, easily fitting into any bathroom. Either option works with a wall or floor water outlet, allowing you to quickly fill the tub.
The clawfoot tub is made from heavy-duty acrylic and galvanized steel for durability. It has a curved back that allows you to recline comfortably, similar to the experience you will get in a spa.
The cedar wood tub has a height of 26 inches, making it suitable for deep soaking. The custom-made seat sits inside the tub for greater comfort but you can remove it if needed.
In addition to providing added comfort and leisure to your bathroom, freestanding tubs offer practical advantages, too. These bathtubs offer greater flexibility in addition to creating the illusion of more space.
While contemporary freestanding bathtubs are widely available, you might be after options with a more vintage or rustic appeal. As such, American Bath Store continues to expand its collection of classic-inspired tubs, adding new designs that combine functionality and luxury.
The store will serve you no matter where you are in the US, fulfilling your order within seven business days.
About American Bath Store
American Bath Store believes that the bathroom is the most important room in the house and that it should be a place where people can relax and unwind after a long day. As such, it offers a diverse range of deluxe bathtubs, so you can design your ideal bathroom. The retailer has partnered with leading logistic partners to ensure orders' safe and timely delivery.
A spokesperson says: "A tub is a crucial component of your bathroom, so careful consideration is needed when buying one. We work with esteemed names in the industry so you can access top-notch products in one place."
Make your dream bathroom a reality by adding a luxury tub! No matter what your tastes or needs are, American Bath Store has a bathtub that will tick all your boxes!
Go to https://americanbathstore.com for more details.