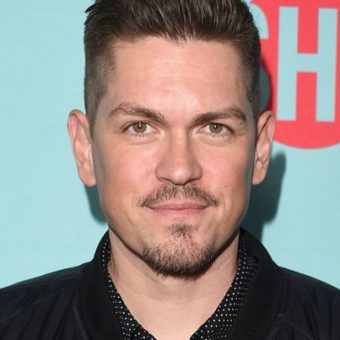 Where are all my Shameless fans at? Fitness freaks with good taste, I salute you!
Now we all know that the real Shameless success story wasn't the highs and lows of Frank and his family, but the complete and utterly stunning transformation of bartender Kev from cuddly teddy bear to hulking man-beast.
Damn! What happened there?! It was like a magical, overnight transformation. Well, actor Steve Howey has made no secret of the fact that it took a complete overhaul of his diet and his approach to working out to keep him looking better than most twenty-year-olds as he celebrated his fortieth!
To make a transformation like that, you need an expert combo of fitness guru and nutritionist, and Steve found his in one great guy, celebrity fitness trainer: Phil Catudal.
Check out Phil's full range of in-person and new online coaching programs at Online Fitness Training Services .
"Phil is the best trainer. Seriously. I've used many trainers before and never had even near the results that Phil gave me," said Steve. "I felt better in days, looked great in mere weeks, and was totally transformed within six months. Just check how different I look from Season 5 to Season 6 of Shameless! It's the total nutrition, plus the training, plus the motivation that he gives you: the whole package. It works!"
But what was it that made Steve's transformation so next level? Science, baby! The latest research behind health and weight loss has shifted to account for different body types, instead of the traditional one-size-fits-all approach which lets so many people down. This scientific knowledge is at the core of Phil Catudal's fitness programs, which are developed to account for your individual body type, lifestyle, diet and fitness level.
"Approximately seventy percent of people are exercising the wrong way," explains Phil. "To achieve lasting fitness and health, you should work with your natural-born body type and do the optimal combination of cardio, strength training, and flexibility exercises, as well as consuming the right proportion of macronutrients for your physique."
A world-renowned expert in fitness and nutrition, Phil has consulted with businesses around the globe to upgrade their corporate health and wellbeing programs. He has also worked with several other well-known television stars, including TV commentator Van Jones and The L Word's Sarah Shahi, who recently starred in the superhero movie, Black Adam.
"Consider yourself to have won the lottery if you get the opportunity to train with Phil," said Sarah, who worked with Phil after the birth of her twins. "He's THE MOST effective trainer I've ever worked with. I saw results in as little as three sessions. He pushes, he encourages, and you want to please him because he's just too good of a person to disappoint. He'll make you a better human AND give you a better body."
High praise indeed! Although it's not at all surprising for a fitness instructor whose life motto is "work hard and be nice to people." Phil really cares about his clients, and his new virtual training program includes a weekly thirty-minute phone call to help boost motivation and ensure your constant progression towards achieving your health and fitness goals.
Phil Catudal is an Atlanta-based celebrity fitness trainer, health coach, public speaker and the co-author of 'Just Your Type: The Ultimate Guide To Eating And Training Right For Your Body Type'. He is currently working with clients all across the globe, including Norway, Dubai, England, and Australia.
Don't delay on accessing your best fitness training program. As Steve Howey says, "it works!" Get the lowdown on all of Trained By Phil's in-person, group and virtual fitness programs at https://trainedbyphil.com