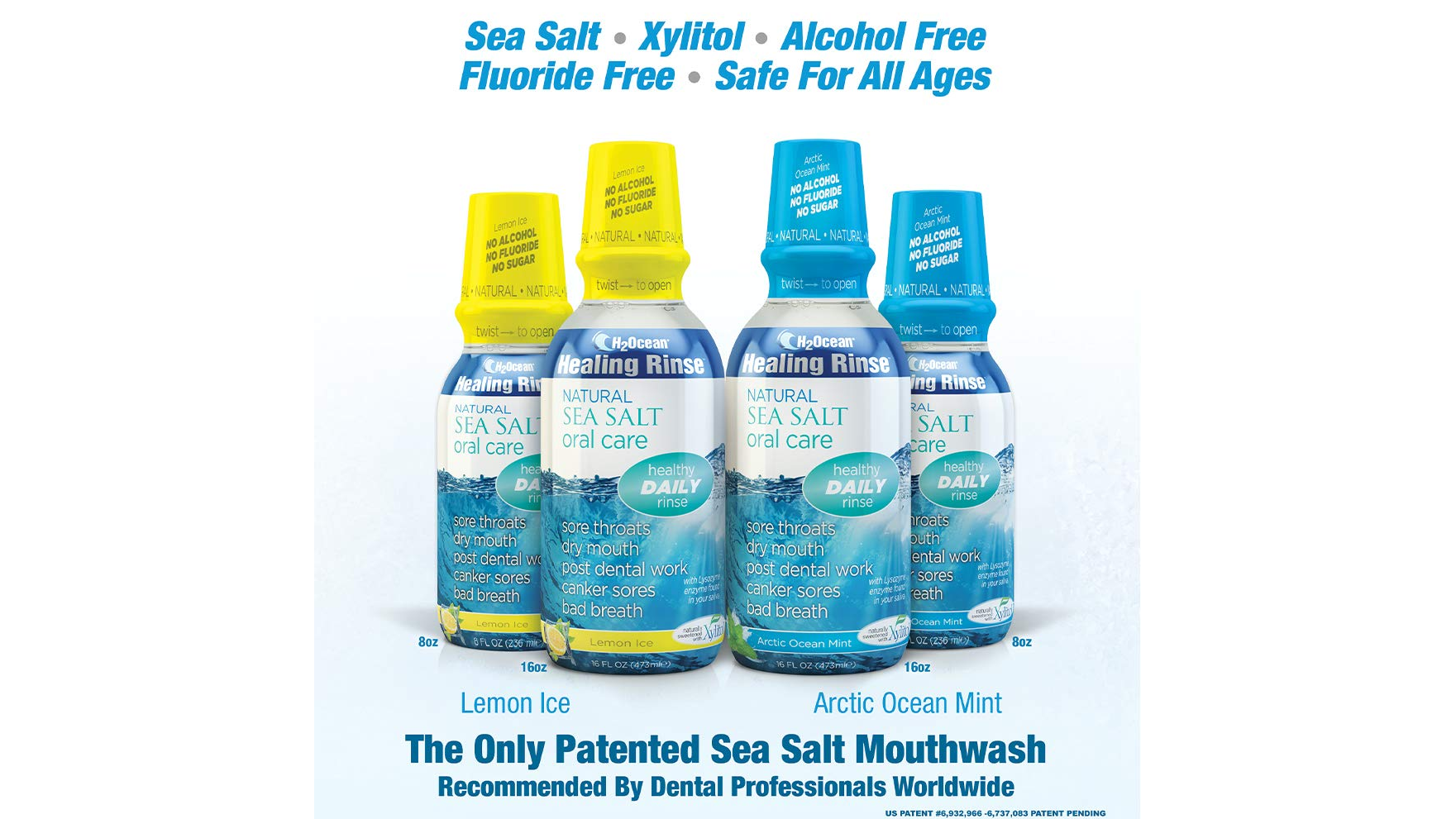 If you're battling dry mouth or xerostomia, consider today your D-day because thanks to the science of sea salt, your war is over!
A study published in the Journal of Biological Regulators & Homeostatic Agents concludes Arctic Ocean and Lemon Ice Sea Salt Healing Rinses produced by H2Ocean - the first in first aid - are proven to combat dry mouth and xerostomia.
They're also the number one Dentist recommended standard for post-dental oral care but here's the bonus: they taste great!
Learn more and get the relief you need at https://h2ocean-mouthwash.com
H2Ocean offers a full line of natural, organic, sea salt-based products with plant-based ingredients that ensure efficacy and are safe for all ages. Their patented oral rinses are just part of an eco-friendly line of sea salt-based remedies and body care products that are good for you, and good for the planet, too.
Formulated with xylitol, a natural sweetener that helps prevent dry mouth, fends off strep, and keeps plaque from forming on your teeth, and lysozyme, an antibacterial enzyme that forms part of your innate immune system, H2Ocean's oral rinses help optimize saliva production.
If you've been diagnosed with xerostomia or you battle dry mouth because of medications, an autoimmune disease, radiotherapy or chemotherapy, or a hormone disorder, you can rinse with Arctic Ocean or Lemon Ice Sea Salt mouthwashes to get this problem under control.
The idea of using antimicrobial agents like lysozyme or xylitol to battle xerostomia is not new, what's new is that neither were ever tested before. And now that the data is out, these natural agents are indeed proven effective remedies.
If you've tried the moisturizers, and the toothpastes, and the chewing gum, and those sugar-free lozenges, and nothing has ever really worked, you can ditch all that and turn to H2Ocean mouthwashes for the solution you deserve. Easy oral care. Delicious, fresh taste.
All natural and recommended for use as a rinse and a gargle, Arctic Ocean and Lemon Ice Sea Salt Healing Rinses remedy bad breath, sore throat, canker sores, gum irritations, and help patients recover from oral surgery. With over 80 trace minerals and nutrients essential for living cells, the rinses also help lift out stains from tooth enamel. Want whiter teeth and a normal salivary flow? H2Ocean sea salt rinses will do the trick. Look great, feel great!
The science of sea salt and its natural healing benefits for humans have been published in eight peer-reviewed medical journals to date. H2Ocean Sea Salt Rinses put these benefits to work to give you a bio-active natural oral care product with recognized therapeutic qualities.
A company representative says, "Our unrefined mineral-enriched sea salt is hand harvested from the world's most diverse ecosystem to provide the ultimate healing solution. Our natural products are put through testing to make sure all the FDA, cGMP, EU and other standards are met."
Are you ready to wave good-bye to dry mouth and hello to whiter teeth? Learn more at https://h2ocean.com