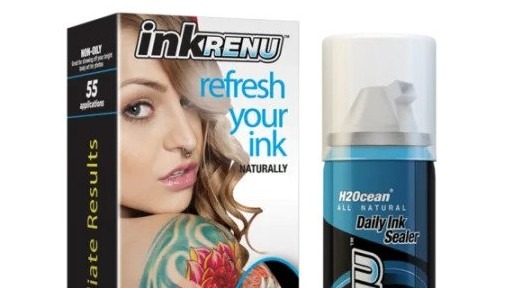 Bring your tattoo back to life with H2Ocean and enjoy years of rich brightness that do justice to your beautiful body art.
With all of their tattoo aftercare products, the brand harnesses the natural healing power of sea salt and other natural marine minerals and compounds. Now, H2Ocean has launched a new tattoo brightening product, their InkRenu Color Enhancing Tattoo Moisturizing Foam, which has been developed to restore the richness of both your black and colored ink tattoos.
Go to https://h2ocean.com/product-category/tattoo-aftercare to find out more.
H2Ocean knows that when it comes to tattoos, one of the biggest complaints is that they fade, with a recent article on Allure suggesting that most people notice a considerable drop off in vibrancy and color within as little as three or four years.
Given that you likely want your tattoo or tattoos to last a lifetime, H2Ocean knows you need a way to maintain their luster without needing to get them re-inked. That's why they have developed their innovative new color-enhancing moisturizing foam for you.
Unlike competing products, H2Ocean's InkRenu is primarily derived from hypoallergenic and natural ingredients. It uses active organic ingredients like sea salt, sea kelp and coconut acid—which are rich with minerals, vitamins and anti-aging and anti-inflammatory compounds—to naturally restore your skin and bring your tattoo back to life.
Their patented new InkRenu Color Enhancing Tattoo Moisturizing Foam is also both a natural foam silica ink sealer and a versatile all-purpose nourishing, anti-aging and anti-bacterial healing product that you can use on irritated skin, psoriasis and more.
In addition to their sea salt-based tattoo brightening foam, H2Ocean also has an expansive line of safe, eco-friendly and natural tattoo care products for you, whether you have tattoos or are a tattoo artist. This includes products for your daily tattoo skin care and to promote fast healing for new tattoos.
They ship across the United States from their Florida-based research and development center to your door.
A spokesperson for the sea salt experts said, "InkRenu Color Enhancing Tattoo Moisturizing Foam naturally renews the brightness of your older-looking ink with the patented InkRenu moisturizing foam silica ink sealer. This formula will restore your tattoo to look new without an oily shine or that sticky feeling. This product is designed as a daily ink sealer that gives you softer and younger-looking and feeling skin."
For a brighter, better-looking tattoo naturally, you need H2Ocean.
Visit https://h2ocean.com to see how easy it is to restore your tattoo and nourish your skin with the power of sea salt.