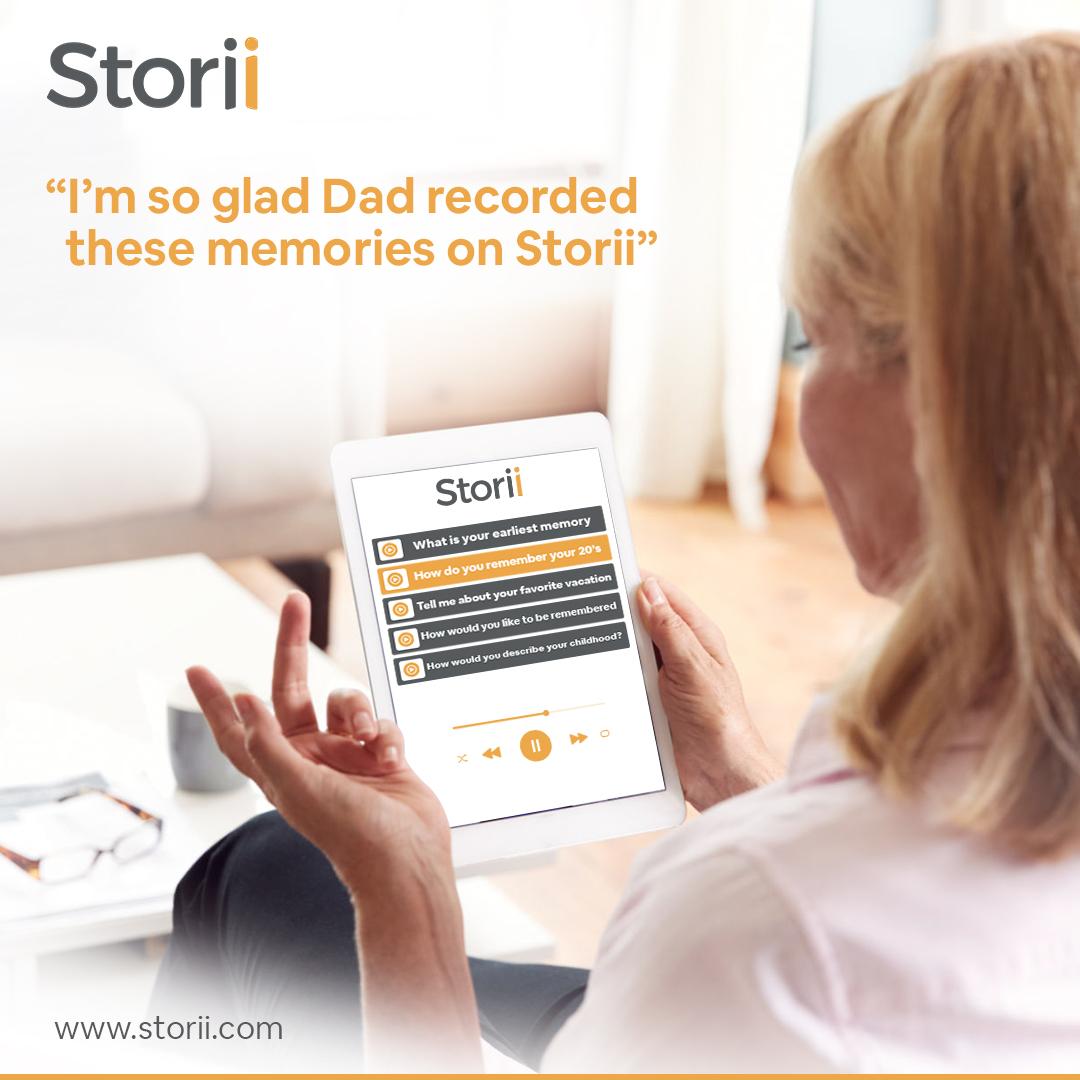 Our grandparents are our first storytellers. Clutching on to our blankets as grannie talked about how she met grandpa, we realized the beauty of love and the infinite universes that awaited us once we got older.
But then time passed and we forgot their stories. Now, everything is all about the "job" and we scramble aimlessly to live a life that always seems just out of reach.
What if you could hear the magic again? What if you could hear your grandparents' voices, telling the stories that made you believe in love and princesses and dragons again? What if - this time - you'd never forget?
Storii is a new type of memoir-writing platform. The private personal journal and memoir app allows your grandparents to record their stories using a series of telephone prompts.
The app connects to a mobile device or traditional landline telephone set. Three times a week, at a chosen intervals, the software will call one of your grandparents, issue a conversation prompt, and record their answers for 10 minutes. The response will then be logged into the system where you can read them at any time.
You can find out more at https://www.storii.com
Storii comes as an alternative and convenient memoir-writing platform for seniors, especially those with memory problems. By recording their life story, and for only a few minutes a week, they have the opportunity to exercise their brain, remember the past, and leave a memorable gift for their family or friends.
The app helps your parents and grandparents build their story with more than 1,000 telephone prompts that encourage a different chapter in the memoir. Want to ask your own questions? No problem! You can also create your telephone prompts by accessing the software and writing your own questions. You can also edit recorded responses on the platform and include media files such as pictures and videos for a more interactive experience.
A Storii paid subscription includes three phone calls per week, with more than 1,000 Life Story questions that can be answered with text, photo, video, and audio recordings alongside the calls received. While calls are made at a predetermined time and day, users can call in at any time convenient to them if they miss scheduled calls.
After a user completes their life story recording, the audio file will be stored on their Storii profile and a notification will be sent to those connected to their account (aka you!). An automatic transcription text will be posted below the stored audio recording, which you can edit for grammar or readability.
The best part? You can download audio recordings or print out the responses, which you can give to your grandparents for their story to last forever.
Every subscription is linked to only one person. This means that if you want to surprise both your parents with Storii as a gift, you need to make separate subscriptions.
Currently, Storii is available in the United States, Canada, United Kingdom, Guernsey, Israel, Mexico, and Australia. All calls are made in English, but users can answer in whatever language they choose.
Help your grandparents leave a lasting legacy with Storii!
Visit https://www.storii.com so you can learn more.