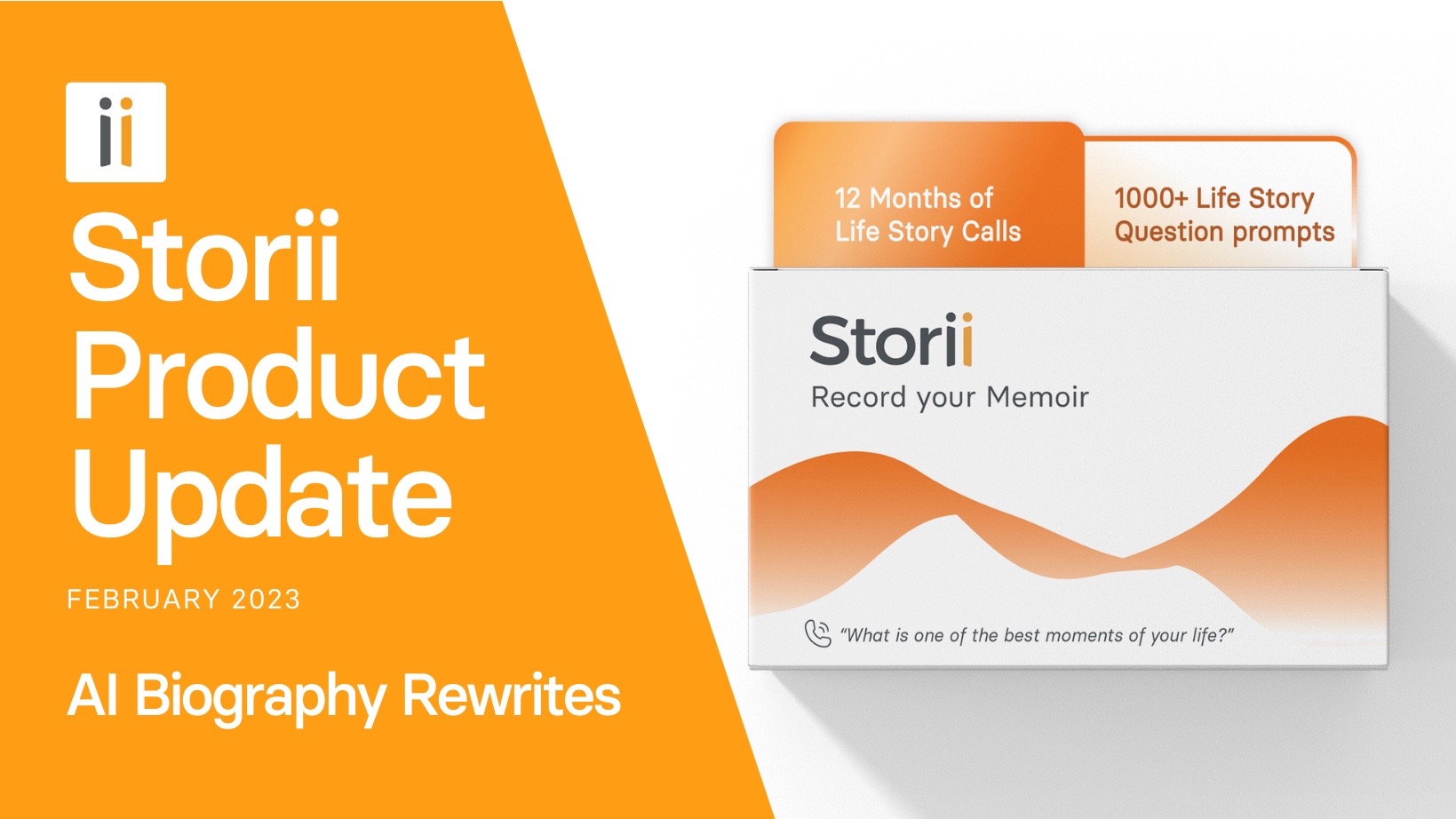 Thinking of the perfect gift for your grandparents? Why not a personal journal and memoir writing subscription so that their stories are immortalized in an easy-to-use platform? Storii was created to celebrate everyone's story - and now it's even better.
Storii is so excited to introduce its newest AI transcription feature, AI Biography Rewrites. The tool converts any direct audio recording into a grammatically correct transcription so that each memoir is easier to read and edit.
The feature was designed to create an even more convenient experience for users to record their life stories. After recording an audio file, Storii will analyze the recording and generate a well-crafted story that can be easily shared with loved ones. A direct transcription will also be available, just in case you or your grandparents want to see it or compare it to the AI transcription.
Read more about this exciting new feature at https://www.storii.com/blog/introducing-storii-ai-biography-rewrites
Storii introduced its newest update after receiving feedback from previous users that a direct transcription is often challenging to edit. Now, all recordings have the option to have an artificial intelligence transcribe the audio file so that stories flow easier, are more readable, and are much simpler to edit.
The memoir writing app is a unique and intimate platform that allows people to record their life stories in 15-minute sessions. With a paid subscription, users will receive three Life Story phone calls per week which can be scheduled at pre-determined days and times.
Family members or friends related to the user account can select from over 1,000 Life Story prompts or create their own questions for the user to answer. This makes the platform an ideal gift for children who want to hear personal stories from their parents or grandparents.
The best part? It doesn't require any complicated setups or hard-to-explain downloads. All you need is for your grandparents to have an active phone number where they can receive their calls and that's it!
After a recording is completed, the file is immediately sent to the user dashboard and you are notified of the latest story. You then have the option to edit the recording or add images, videos, or other forms of content to the specific recording. You can also download the file so that you have a permanent record of your grandparents' life story.
Currently, all prompts are sent in English, but users have the option to answer in whatever language they prefer. The AI transcription feature, however, is only programmed for English at the moment.
A spokesperson for the company wrote, "We're confident that Storii makes the perfect gift for anyone who has a story to tell, and our Storii Gift Box is the ideal way to get started. Remember - no smartphone or even internet is required to record answers with Storii - all you need is an active phone number."
Go to https://www.storii.com/blog/introducing-storii-ai-biography-rewrites so you can learn more.